Apple decorates McEnery Convention Center with WWDC livery [u]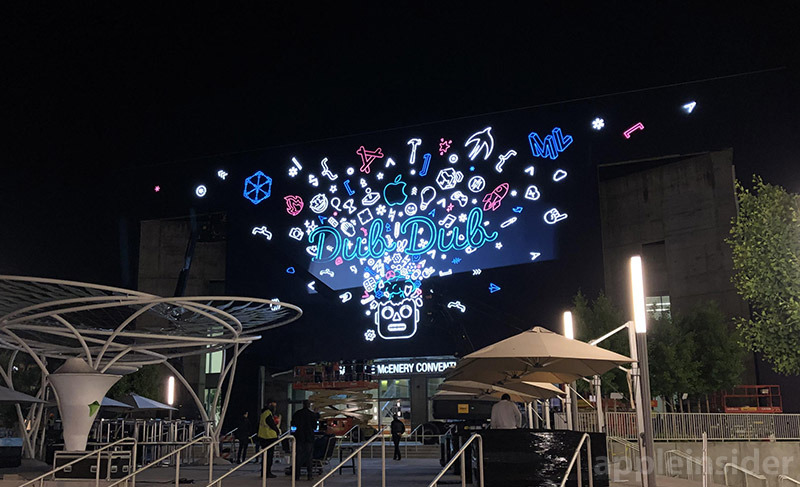 Apple is livening up San Jose's McEnery Convention Center and the surrounding area with banners, flags, signs and other paraphernalia in preparation of its annual Worldwide Developer Conference next week.
As seen in the photos above and below, decorations for WWDC 2019 have been installed in and around McEnery Convention Center proper as of Friday. Thousands of developers will descend on the locale next week to learn about Apple's latest operating systems and software.
Banners, flags and posters were put up on lampposts, trees and advertising kiosks early this week, but work on the convention center's facade is ongoing as of this writing.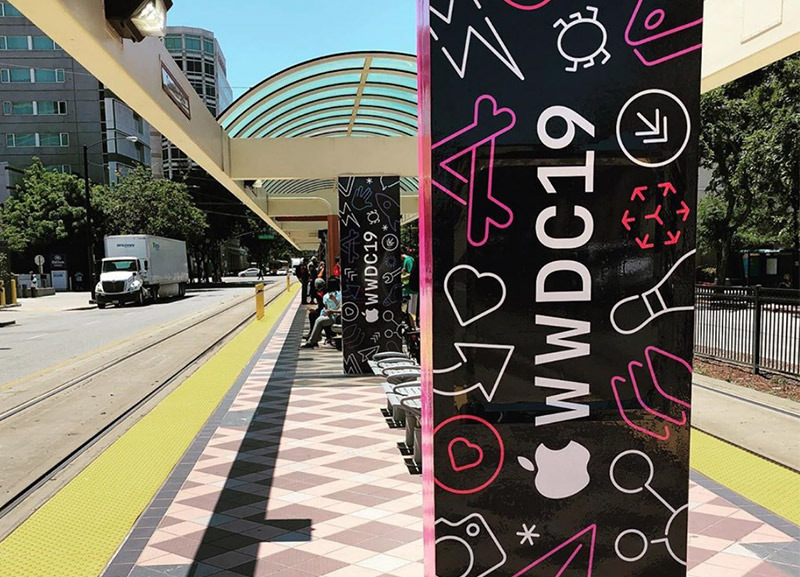 Photos shared on Instagram by photographer "JCROW" show workers wrapping McEnery's front facade with a large cloth covering bearing a design that borrows graphical elements first seen in Apple's WWDC announcement in March. Subsequent promotional material has featured a head (or unicorn Animoji) exploding in a cloud of smoke, with Apple-related bits like logos for specialized APIs, emoji and coding characters spewing forth.
The artwork at McEnery differs from prior designs in that it bears the words "Dub Dub" realized in large script, a reference to WWDC's nickname.
A photo of the convention center installation from AppleInsider reader "Swat167" shows custom neon lights illuminating the banner's icons, emoji and "Dub Dub" text. Construction workers were seen erecting the underpinnings of the special display early this week.
McEnery is the hub of Apple's convention and will serve as a starting point for many attendees. Beyond the opening keynote, the hall will host a number of educational sessions, guest lectures and other special events.
Apple is expected to reveal next-generation iOS, macOS, watchOS and tvOS operating systems at WWDC, as well as enhancements to first-party apps and services. The so-called Project Marzipan effort will also be a topic of discussion as the company details its plans for cross-platform iOS and macOS apps.
New hardware might also be part of the show, with rumors suggesting an unveiling of Apple's updated Mac Pro.