Amazon adds True Tone-style warm display to new Kindle Oasis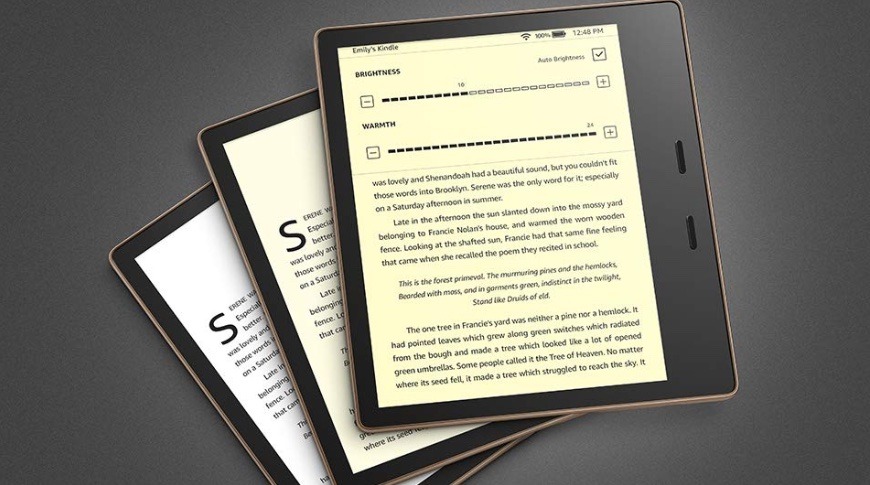 The latest version of Amazon's Kindle Oasis e-reader can now automatically change its screen color from white to amber in the evenings.
Amazon has announced its 2019 version of the Kindle Oasis and in most respects it's the same as the existing model — but it adds an Apple True Tone-like display. When it ships on July 24, the new Kindle Oasis 10th Edition's 7-inch, 300ppi screen will be adjustable to go from white to an amber tinge as you require or automatically during the day.
It's more basic than the technology Apple uses in its iPads, and does not attempt to cut out the blue light that causes sleep issues. Instead, it is a warm orange filter that is aimed at making reading easier on the eyes in darkened conditions.
The new Kindle Oasis starts at $250 and comes in either Champagne Gold or Graphite. This entry model includes the new screen plus the existing waterproof design. It's limited to only 8GB of storage, however, and it also includes advertising on the lock screen.
You can buy the 8GB version without ads for $270, and similarly there is a 32GB version for either $280 or $300.
While it's an e-book reader, the Kindle Oasis can also play audio books from Amazon's Audible service. There are no speakers on the Kindle Oasis, however, so you need Bluetooth headphones.
There's also the option to read magazines and books for free as you get six months' access to Kindle Unlimited when you buy an Oasis. The magazine side of the service is more a taster for subscribing to individual titles, though, and the free books don't include very prominent best-sellers.
For purely reading books, the typography on Kindles could be better, but the device lasts for weeks on a single charge and the screen is still readable in bright light.
The distraction-free nature of Kindle is a real selling point, but for value for money, iOS with the Kindle app is gigantically better.
There are currently deals on iPads that put them within the same price range as Amazon's new new Kindle Oasis. The 9.7-inch iPad is on sale for $249 at Amazon, making it $20 cheaper than the Oasis. For a smaller form factor, though, the 7.9-inch iPad mini (2019) is more expensive than the Oasis, starting at $389 with current discounts. Deals on every iPad model can be found in our iPad Price Guide.