Qualcomm uses evidence from settled Apple case in bid to stay antitrust ruling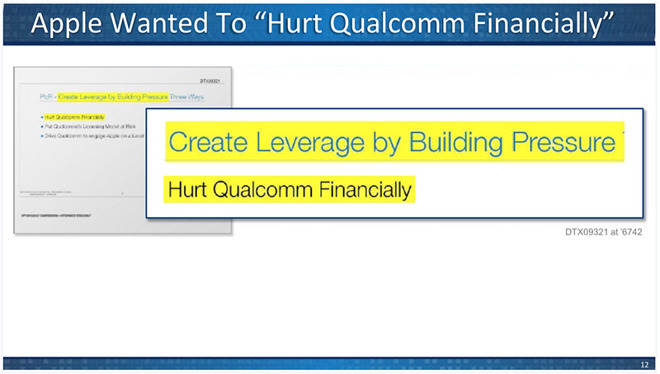 AppleInsider may earn an affiliate commission on purchases made through links on our site.
The U.S. Federal Trade Commission on Thursday formally objected to a Qualcomm court filing containing internal Apple documents aired in a separate lawsuit, evidence the chipmaker is attempting to leverage as it seeks to delay enforcement of a recent antitrust ruling.
Presented in a filing to the U.S. District Court for the Northern District of California on Tuesday, the Apple documents were first divulged as part of Qualcomm's opening statement in the now-settled Apple v. Qualcomm case.
Among the presentation slides are internal memos, email correspondence and licensing agreements outlining Apple's supposed plans to "hurt Qualcomm financially" and commit "tortious interference" to secure advantageous chip royalty terms. Qualcomm's opening argument salvo also includes excerpts from Apple's "Qualcomm Royalty Reduction Plan," which detail methods of "reshaping FRAND" agreements, applying "commercial pressure" by switching to Intel modems and other tactics designed to harm Qualcomm's business.
As noted by Reuters, the slides submitted in Qualcomm's civil trial against Apple were not presented in the FTC antitrust action that kicked off in January. If Judge Lucy Koh accepts them, however, the evidence will become part of the record reviewed by appellate courts.
Koh in May found Qualcomm in violation of federal antitrust laws and ordered remedial actions that call for the chipmaker to restructure current and future licensing strategy. Qualcomm is currently fighting implementation of the attached commitments as it seeks to appeal the ruling, saying capitulation would irreparably harm its lucrative patent licensing business.
The FTC's filing today argues the court should "disregard and strike" the Apple documents as "unfair and prejudicial." Had the document seen introduction during the antitrust trial, it would have been the subject of "high priority objection procedures" and testimony by an Apple witness, the FTC said. This testimony would subsequently be part of the record on appeal.
"Qualcomm's attempt to introduce excerpts from a document that it obtained in pre-trial discovery via a post-trial stay reply circumvents procedures intended to test the relevance and reliability of proffered evidence, and thus is unfair and prejudicial to the FTC," the FTC filing reads.
In addition to the Apple-related evidence, Qualcomm includes findings by the Taiwan Fair Trade Commission and the Chinese National Development and Reform Commission, both of which investigated and in part exonerated the company of wrongful licensing practices.
Qualcomm offered the Apple and government regulatory agency evidence in a bid to prove harm should it be forced to follow Koh's remedial actions. The company has been fighting to stay the ruling for weeks as it prepares an appeal to the Court of Appeals for the Ninth Circuit.