Review: Symfonisk AirPlay 2 speaker review - HomePod meets lamp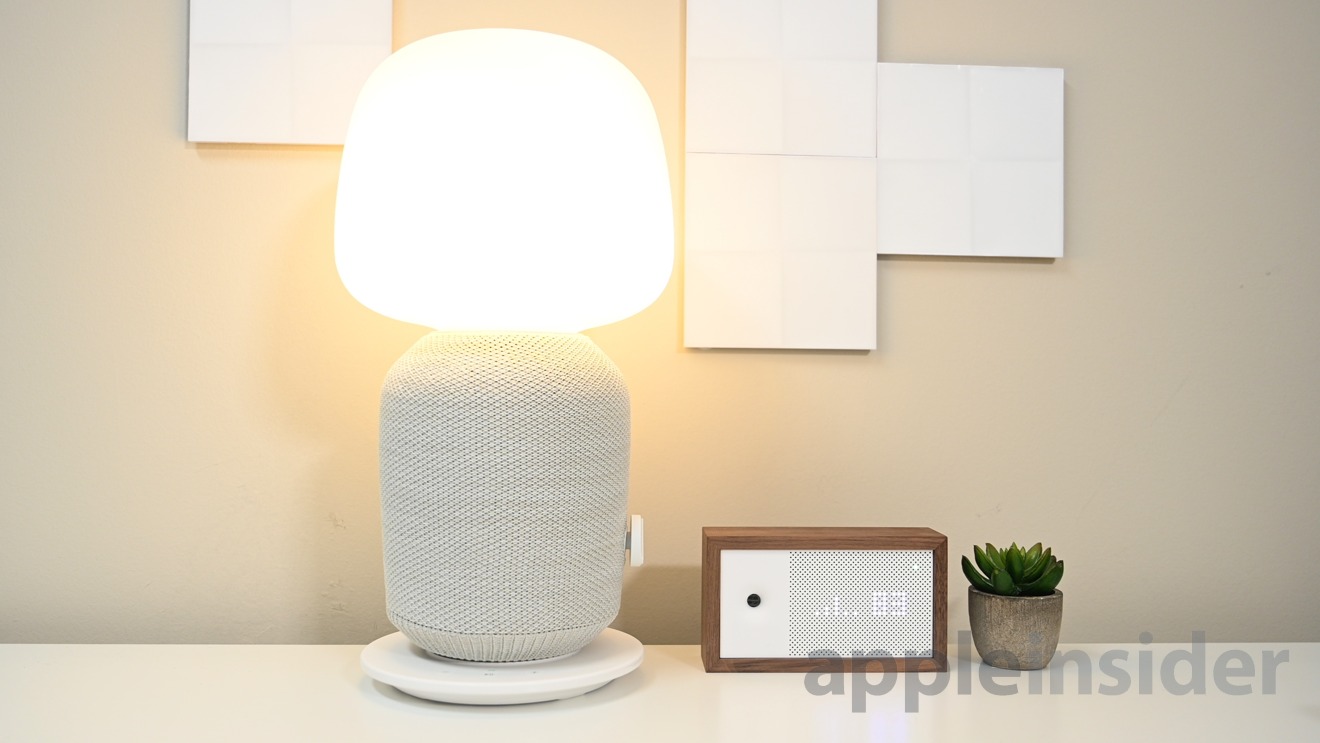 The Symfonisk lamp is what comes out the other end when Ikea mixes its design and function with Sonos's audio capabilities and experience. It's a smart Wi-Fi connected speaker that is hidden within a modern-looking lamp.
Sonos meets Ikea
The Symfonisk lamp is, in a word, polarizing. At first glance, I wasn't quite sure what to make of it. I asked around, collecting other's opinions and it was decidedly split.
There is love or hate for the design of the lamp, there is no real middle ground. And, it is inarguably an Ikea product.
It feels very much like Ikea — modern, clean, and slightly quirky. The design almost looks Apple-inspired. Like someone placed a HomePod on a white plate and stuck an opaque glass bowl on top.
After seeing it in-person and playing around with it in the home, there is clearly a place for it. It isn't quite as difficult to locate in the home as I initially assumed it would be.
A knit, light gray fabric wraps around the speaker housing with a knob situated to one side used to control the light. Two volume buttons and a play/pause button sit on the front of the base.
The power port is hidden under the base while the ethernet goes into a rather large cutout on the rear of the speaker. The shade is made from frosted glass.
Much of this is done exceptionally well. The glass is a nice touch versus a plastic shade. The knob turns with purpose and has a solid click as it alternates its two positions. The buttons on the front are simple and functional.
If you try to compare it directly to HomePod, you do see some of the corners cut for sake of cost, such as the quality of the knit cover compared to the mesh of HomePod.
Feature-packed
What made us so excited about the Symfonisk line in general, was the duality they presented. Not only were they capable speakers from Sonos, but they had functional properties baked in.
The Symfonisk bookshelf speaker we reviewed could be mounted to the wall and used as a literal shelf while the lamp model we are looking at here had the lighting aspect. This reduces the amount of speaker clutter that you'd have and, in our opinion, offers much more value for what you are getting compared to other speakers.
So yes, this works as a lamp and it does so just fine. It's a little dim, but great for ambient lighting or bedside.
That just leaves the speaker. Since it is using largely internals from Sonos, you get every advantage that a Sonos speaker has.
Control and set up the speaker from the Sonos app. Group it with other Sonos speakers for combined playback and multi-room audio. Stream directly from Spotify, Apple Music, Tidal, and more. Our favorite feature may be using two of the speakers as remote surround speakers for a 5.1 setup with a Sonos soundbar such as Beam.
There is AirPlay 2 support, which brings its own multi-room capabilities with any non-Sonos AirPlay 2 speaker like HomePod, Naim Mu-so, Libratone Zipp 2, and many more. AirPlay 2 is also tied into HomeKit, which means these speakers can be tied into smart home scenes and controlled via Siri.
If bedside, the speaker cane come to life with a gentle morning playlist as your bedroom's Hue lights turn on. Or, maybe it is in the living room and you stream your Apple TV audio to it and you can ask Siri to turn the volume up, close the blinds, and the turn lights out. Sure, some of these features are arriving as part of iOS 13, but they are coming soon.
Between AirPlay 2, all the Sonos integrations and connections, and the light atop, this is a truly powerful speaker.
Missed opportunities
While there is a lot of good in the Ikea and Sonos Symfonisk lamp, it is also rife with missed opportunities.
The bulb in the top, to acclimate the smaller top glass, a non-standard candelabra bulb is used with an E12 base. These bulbs are readily available in stores and online, but they aren't as widely used as the standard E26 bulb that most home lights employee.
A bulb is included in the box but we can't help but be slightly irked by this. It also makes the light quite dim compared to a larger bulb.
Another miss by the design team is the lack of any smart home integration here. This lamp already works with AirPlay 2 and HomeKit audio yet the light can't be controlled.
An alternative, and probably what Ikea has in mind, is to use existing smart bulbs in the lamp. You are limited out of the gate because only a few HomeKit E12 candelabra bulbs exist, like Ikea's own Tradfri. Hue has full-color and ambient white bulbs available which is likely the best option here, but that's going to tack on an additional cost to the lamp.
Ikea and Sonos missed the opportunity for 360-degree audio a la HomePod. The speaker driver is only facing forward which makes the audio from the sides not as clear and loud as from the front.
If your lamp is somewhere like a corner with seating on either side, 360-degree audio would have been welcomed.
An audio champ
At the price point, the Symfonisk lamp is fantastic. It doesn't have as much power or punch as HomePod and isn't quite as refined as the Sonos One. As we do with everything else audio-focused, we used our speaker and headphone playlist to test it out.
The Symfonisk lamp sounds clear and natural regardless of the audio genres we threw at it from acoustic, to rock, to rap, to watching a movie. At max volume, we heard little to no distortion, though the max volume isn't nearly what we got from our other Sonos speakers.
In a word, the Symfonisk lamp sounds pleasant, doing an arguably great job at bringing the nuance out of the music.
A multi-purpose speaker
We've tested our fair share of speakers and one of the issues we always run up against is making sure we have room. Good speakers take up space and with the Symfonisk family, the speakers are hidden into everyday objects we already have around.
This expands the Sonos family greatly from the very high-end, to the $100 to $200 market. They don't take up a huge footprint as they replace lamps that are already around. The ability to choose either the bookshelf or lamp to fit the room is a huge benefit. Sonos seems to have missed the mark a bit by not allowing multiple types to be combined such as a bookshelf and a lamp. It must be two of the same type.
For those who like the design, have the space for a lamp, and don't mind the lack of HomeKit — they couldn't go wrong with the Symfonisk. Our score is assuming you like the design.
Rating: 3.5 out of 5
Where to buy