All the changes in the first beta of iOS 13.1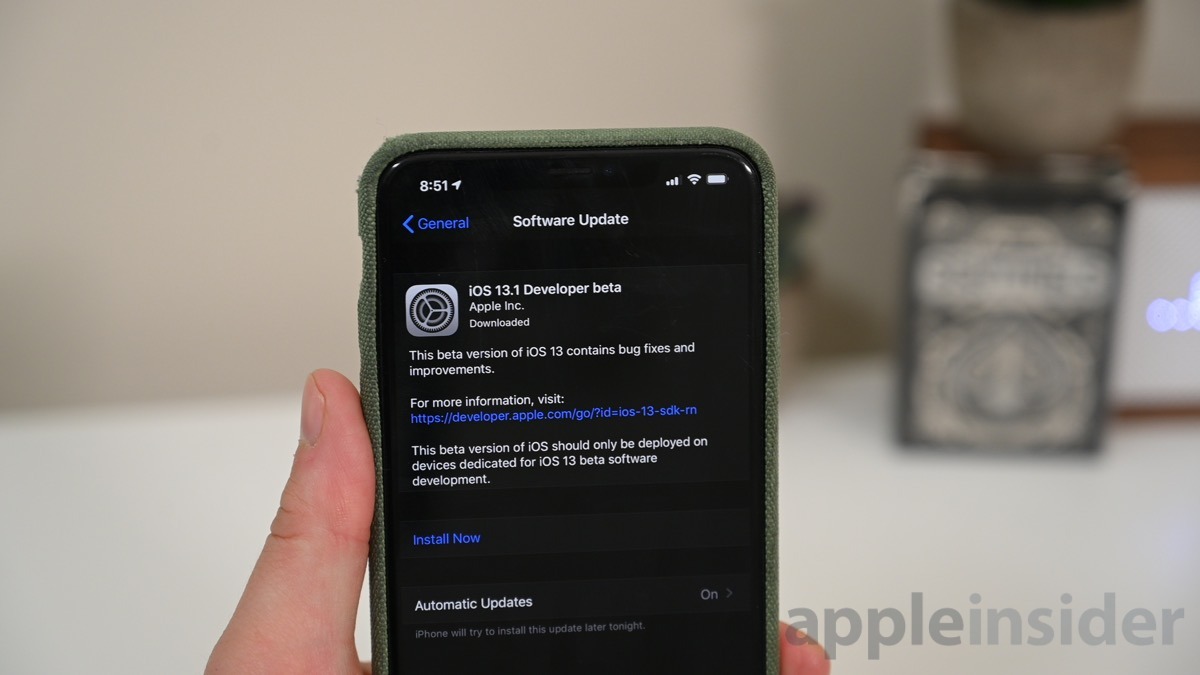 Apple surprised the beta testing community on Tuesday with the first beta of iOS 13.1 rather than another beta of iOS 13. Here are all the changes we've found in this forthcoming update.
In the past, testing of the first point update doesn't happen until the major update is released, but that isn't the case this year. It appears that several features Apple says are coming in iOS 13 aren't going to arrive until until iOS 13.1.
Several features that had been removed from iOS 13 in the beta process have been restored in the iOS 13.1 beta.
Let's dig in to see what we've found so far.
Returning features
Apple removed the Shortcuts Automation tab during the fifth beta of iOS 13 and it is once more back with iOS 13.1. This is an additional center tab within the Shortcuts app that allows users to create rules or actions for their devices. For example, we used this tab to trigger our HomeKit lights/devices by placing NFC tags throughout our home. This tab is back with iOS 13.1.
Conversational Shortcuts returned too. This means Shortcuts that have steps such as Choose from Menu, Choose from List, Ask for Input, and Dictate Text are fully interactive within Siri with no need to launch the Shortcuts app.
Another removed feature was the ability to share an ETA while in Maps. This is back as well with some slight tweaks to the UI.
Some features are still missing, such as announcing messages through AirPods.
New features and changes
Several new HomeKit device icons were added that we previously saw in macOS Catalina. Lights have six new options including light strips and ceiling fixtures. Plugs have new localized icons including US, European, and other global receptacles. Lastly, a tall standing floor fan was added.
Also notworthy for HomeKit users are small, subtle animations when turning on accessories. The lights slowly illuminate and glow and the light fixutre even slightly swings when enabled.
The volume indicator will now show a glyph of AirPods, PowerBeats Pro, HomePod, and other Beats headphones when they are connected and the volume is adjusted. The volume slider in Control Center was also tweaked and has a larger volume icon.
The battery indicator widget has new glyphs for Xbox and PS4 controllers. Relating to battery, when invoking the Quick Actions on the Settings app icon the battery glyph now represents a full charge.
Dynamic wallpapers were updated to include the original versions and the dark versions. They are also now available on more devices.
Beta apps and those installed through Testflight now have a yellow indicator dot more prominently next to them.
In the Watch app for iPhone, "Nike+ Run Club" has been renamed "Nike Run Club." "Brightness & Text Size" was also renamed to "Display & Brightness" in the new beta.
Under Settings > General > Fonts, there is new text that will inform users they have no fonts installed and that they can download new fonts from the App Store.
Also in Settings, there is a new toggle to include reading PDFs as part of an iOS 13 reading goal.
AirDrop devices have new device icons instead of just the owner's profile picture. When deleting a collection in Maps, a modal appears to confirm the deletion. The Weather widget has larger glyphs.
Developer Steve Troughton-Smith also noted on Twitter that there are additional enhancements to mouse support. Now right-click can be mapped to the long-press/3D Touch effect of iOS.
According to the release notes,13.1 adds HEVC video encoding including alpha channels which lends itself better to green-screen style chroma key effects.
Anything else?
These are all the changes we've found so far but the list is obviously non-exhaustive. If you've found any other changes, reach out on Twitter @Andrew_OSU.