iPhone XR update boasts faster 6-core processor and 4GB RAM, alleged benchmark suggests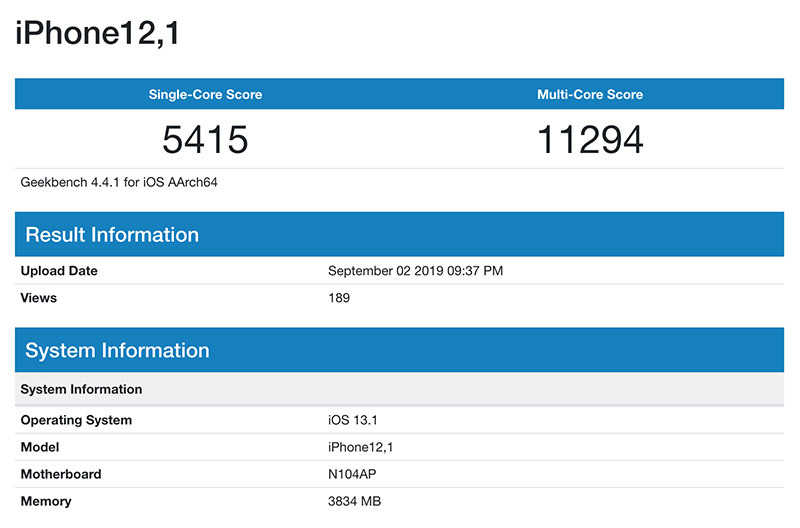 Benchmark scores logged with Primate Labs' online Geekbench 4 tool detail a heretofore unknown iPhone model equipped with an unidentified six-core ARM processor boasting 4GB of RAM, specifications that match rumors of an anticipated 2019 iPhone XR follow-up.
Scores for a so-called "iPhone12,1" running what appears to be the recently released iOS 13.1 beta surfaced on the Geekbench Browser on Monday. While not officially in use by Apple, rumors have attached the hardware identifier to a next-generation iPhone XR model expected for unveiling at a special Apple event on Sept. 10.
Lending further credence to the benchmark's authenticity is a motherboard identified as "N104AP," the same numbering scheme Apple reportedly uses internally in reference to its pending iPhone XR update. It should be noted, however, that data fields can be falsified in benchmark reports. As such, the veracity of the Geekbench score set is at this point tenuous at best.
Results cover a generic 2.66 GHz "ARM" hexa-core system-on-chip with 4GB of memory. Specifications are nearly identical to Apple's existing A12 Bionic silicon used in iPhone XR, XS and XS Max, but with more base RAM and a higher clock speed. By comparison, iPhone XR is outfitted with a 2.49 GHz A12 Bionic with 3GB of RAM, while the XS and XS Max both net an extra gigabyte of memory.
Assuming the chip is legitimate, its faster clock speed and, in the case of iPhone XR, larger RAM allotment amount to a higher single-core score of 5415. Aggregated Geekbench results show the average iPhone XR scores just over 4800. With a multi-core score of 11294, "iPhone12,1" is in the same league as the current top-of-the-line iPhones.
In single-core evaluations, the supposed "A13" chip does post noticeably increased crypto, integer and floating point scores than Apple's A12 Bionic lineup. Multi-core scores from those same tests are comparable to current hardware save for crypto, which is again much improved. The results could indicate the presence of a rumored math co-processor Apple intends to implement in augmented reality and computer vision operations.
Interestingly, the L1 instruction and data caches of the unrecognized iPhone read out at 48 KB, significantly less than the 128 KB allotted to A12 Bionic processors. The L2 cache is likewise smaller at 4MB, down from 8MB in the iPhone XR and XS series.
A MacRumors forum member spotted the benchmark results earlier today.
Apple is expected to unveil successors to its iPhone XR and XS lines at a special event on Sept. 10. This year's updates are rumored to pack in a triple-lens rear camera and add upgraded internals like two-way wireless charging and larger batteries. Aside from a square camera "bump" and a reportedly reworked mute switch, the design of the device is not expected to change, though frosted glass and new colors could be in the offing.