Apple Music, other streaming services account for 80% of music industry revenue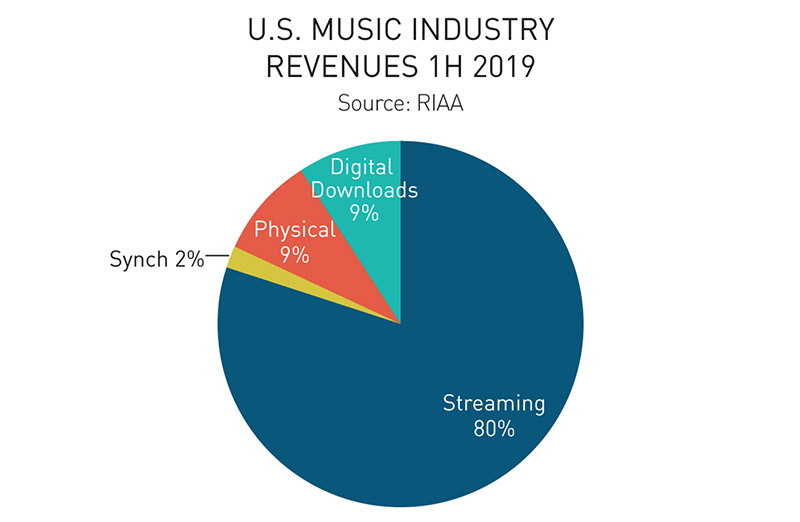 Streaming services like Apple Music and Spotify continued to be the engine driving America's music business, with the category accounting for some 80% of all industry revenue for the first half of 2019.
According to a fresh report from the Recording Industry Association of America (PDF link), revenue from streaming services hit $4.3 billion in the half, up 26% from the same time last year. The segment incorporates revenue from subscription products like Apple Music, digital and customized radio services like Pandora and SiriusXM, and ad-supported on-demand services like YouTube.
Subscription services were once again the biggest driver of income at a collective $3.3 billion, up 31% year-over-year. Also included in the paid streaming category are contributions from "Limited Tier" products such as Amazon Prime and Pandora Plus, which brought in $482 million.
The growth is thanks to a massive influx of new users — an average of 1 million per month over the past year — that saw paid subscriptions hit 61.1 million users, up 30% from 2018.
Altogether, income from subscription services accounted for 62% of overall industry revenues and 77% of U.S. streaming music revenues, the report said.
Streaming services helped push retail revenues to $5.4 billion, up 18% from $4.6 billion in 2018.
The RIAA notes gains in streaming revenue were partially offset by declines in digital sales. In the first half of 2019, download revenues drooped to $462 million split between individual track and album purchases. That compares to $561 million in revenue in 2018 and $765 million in 2017.
Apple's streaming solution continues to gain traction worldwide, seemingly at pace with market leader Spotify. In June, Apple SVP of Internet Software and Services Eddy Cue said Apple Music hit the 60 million subscriber mark, an achievement for a product that launched in 2015.
Spotify remains the clear dominant streaming presence, however, and in July recorded 108 million paid subscribers, up 30% year-over-year. The platform boasts a massive 232 million listeners across its paid and free-to-listen tiers.