Apple unveils new Apple Watch Series 5, with always on screen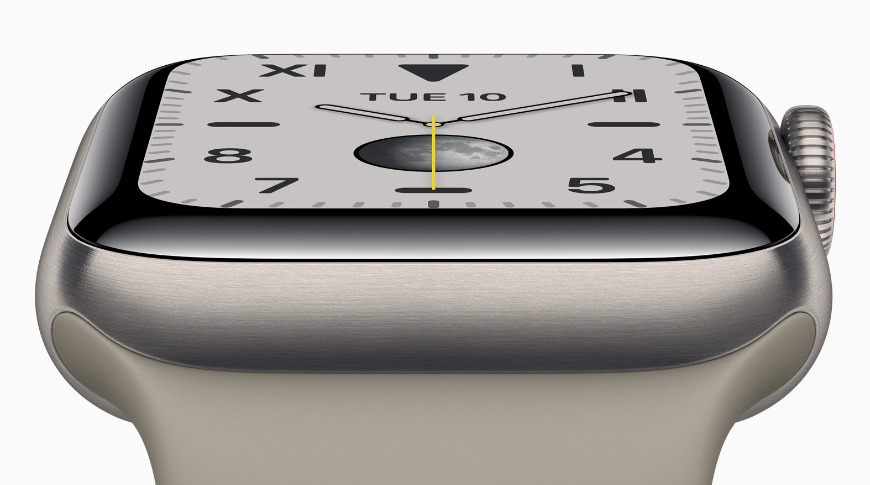 At Tuesday's event, Apple revealed the latest edition of Apple Watch with a screen that stays on all the time. Raising your wrist increases the brightness, but the display is permanently on with Apple Watch Series 5
As part of its September 10 event, Apple launched an updated version of the Apple Watch called the Series 5. It adds the much-awaited always-on display that means the screen is on permanently.
The screen intelligently dims until you raise your wrist or tap on the screen. An ultra-low power display driver, plus newly optimized watch faces contribute to meaning Apple claims the Watch retains an all-day 18-hour battery life.
Apple Watch Series 5 with GPS will start from $399. The cellular model starts at $499. Both are equipped with 32GB of storage and are available to order today, with stock arriving in Apple Stores on Sept. 20.
"We've seen Apple Watch have a meaningful impact on our customers' lives and we're excited to deliver even more capabilities with Apple Watch Series 5 and watchOS 6," said Jeff Williams, Apple's chief operating officer in a statement.
"The seamless integration of new hardware and software delivers an enhanced experience that makes it even easier to stay active and connected to the people and information users care about," he continued.
The Series 5 also contains a new compass app that shows your elevation as well as direction. New watch face Complications include the option for a compass arrow too.
Cellular models gain International Emergency Calling, too, which means that from the Watch you can phone the local emergency services in 150 countries. This works regardless of what country you bought your Watch in, and whether or not you have an iPhone nearby.
As previously expected, the Apple Watch Series 5 now comes in a choice of materials, from the regular aluminum, to ceramic and titanium.
There are two versions of the titanium Apple Watch Series 5. One is a natural titanium with brushed finish and a second is a space black version with a deep color and a diamond-like coating.
Apple has remained the stainless steel versions of Apple Watch in gold, silver and space gray. The aluminum edition is now made entirely from 100% recycled materials.
Apple also announced the new Apple Watch Studio, an online feature for picking your type of Watch and choice of case. Apple Watch Studio went live as soon as the keynote finished.