Apps must use iOS 13 SDK and support iPhone XS Max or later by April 2020, Apple says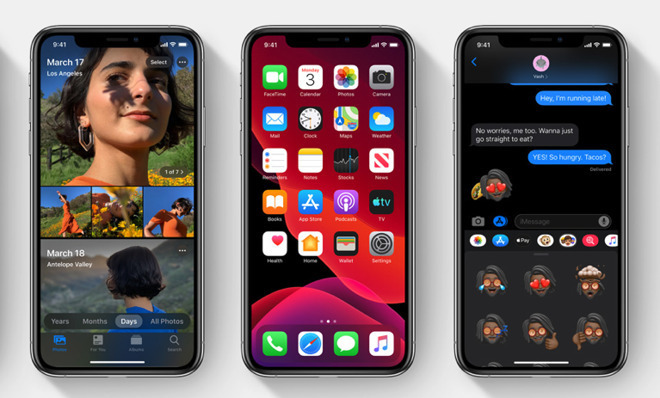 Shortly after releasing the gold master version of iOS 13 to developers on Tuesday, Apple reminded app makers that their wares must be in compliance with App Store rules governing device and operating system compatibility by April of next year.
In a post to its Developer web portal, Apple said all new apps and app updates need to be built with the iOS 13 SDK by April 2020. Further, to make it into the App Store after that date, apps are required to support the "all-screen" design of iPhone XS Max or later.
Why iPhone XS or XR, which are also all-screen designs, were not included in the stipulation is unknown.
Apple goes on to tout iOS 13's new feature set. From the hotly anticipated Dark Mode setting to the Sign in with Apple single sign-in tool, the next-generation operating system promises to deliver a significant set of upgrades over the current iOS 12.
For developers, Apple built in a slew of new coding assets including ARKit 3, Core ML 3 and major improvements to Siri. The fresh features are only available in iOS 13, and Apple is pushing coders to adopt the technologies in a bid to offer customers a consistent, state-of-the-art user experience.
Developers are asked to build apps using the latest Xcode 11 GM seed, released today, test them on devices running the latest iOS GM, also released today, and submit the software for review.
Apple is scheduled to issue iOS 13 for public consumption alongside iPadOS on on Sept. 19, one day before iPhone 11 is due to arrive at doorsteps and on store shelves. An update, iOS 13.1, is already in the works and will see release on Sept. 30.
What changes, additions or bug fixes are contained in iOS 13.1 remains unknown, though Apple could take the opportunity to roll out additional iPhone 11 features that were teased on stage during a special event today. Specifically, Apple SVP of Worldwide Marketing Phil Schiller offered a "sneak peek" at Deep Fusion, a photographic technology that leans heavily on machine learning to analyze a photograph pixel-by-pixel, sussing out detail with a low noise floor. The feature is due to arrive in a future iOS update.
AppleInsider has affiliate partnerships and may earn commission on products purchased through affiliate links. These partnerships do not influence our editorial content.