iPhone 11 review - the iPhone Apple is trying to sell to everybody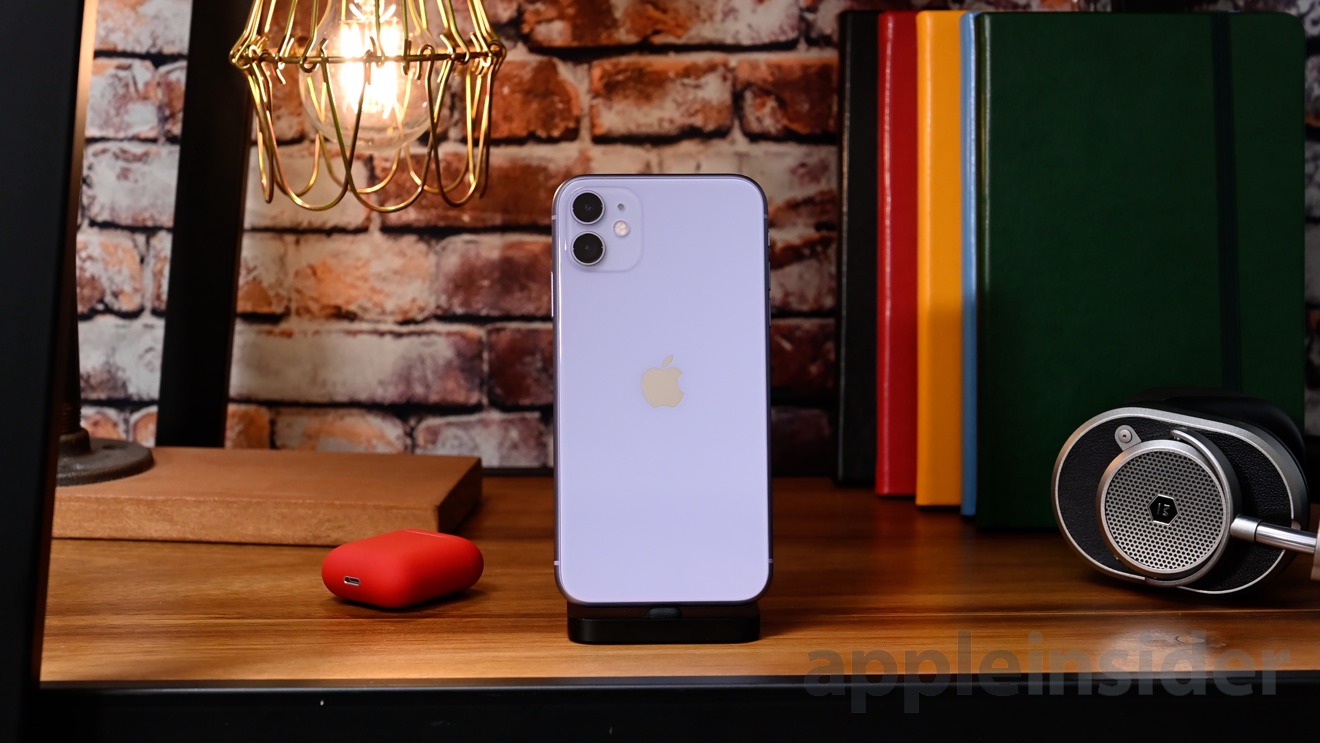 Apple has repeated its approach from 2018 for the September iPhone refresh, and just like last year there are three models. Apple's iPhone 11 has much of what makes the iPhone 11 Pro great for less than what the iPhone XR cost, and is very clearly the device that Apple wants people to buy.
With the iPhone 11 and iPhone 11 Pro, minus the cameras, the external enclosures are the same as they were in 2018. To a casual observer — and buyer — the differences between the models aren't apparent, so let's delve into what's different and what's the same from the 2018 iPhone XR versus the iPhone 11. Along the way, let's talk about what varies between the iPhone 11 and the simultaneously smaller and larger iPhone 11 Pro lineup.
By the numbers
The iPhone 11 has a 6.1-inch screen, at 1792 x 828 resolution with 625 nits max brightness. It has a 1400 to 1 typical contrast ratio, is True Tone, and supports the P3 color gamut.
It utilizes the same A13 Bionic processor as the iPhone 11 Pro, and has the same 4GB of application RAM that the flagships do. Capacities remain unchanged from 2018, with 64GB, 128GB, and 256GB versions available.
The iPhone 11 comes in six colors — black, green, yellow, purple, (Product)Red, and white. For 2019, the green and purple are new, replacing the coral iPhone XR.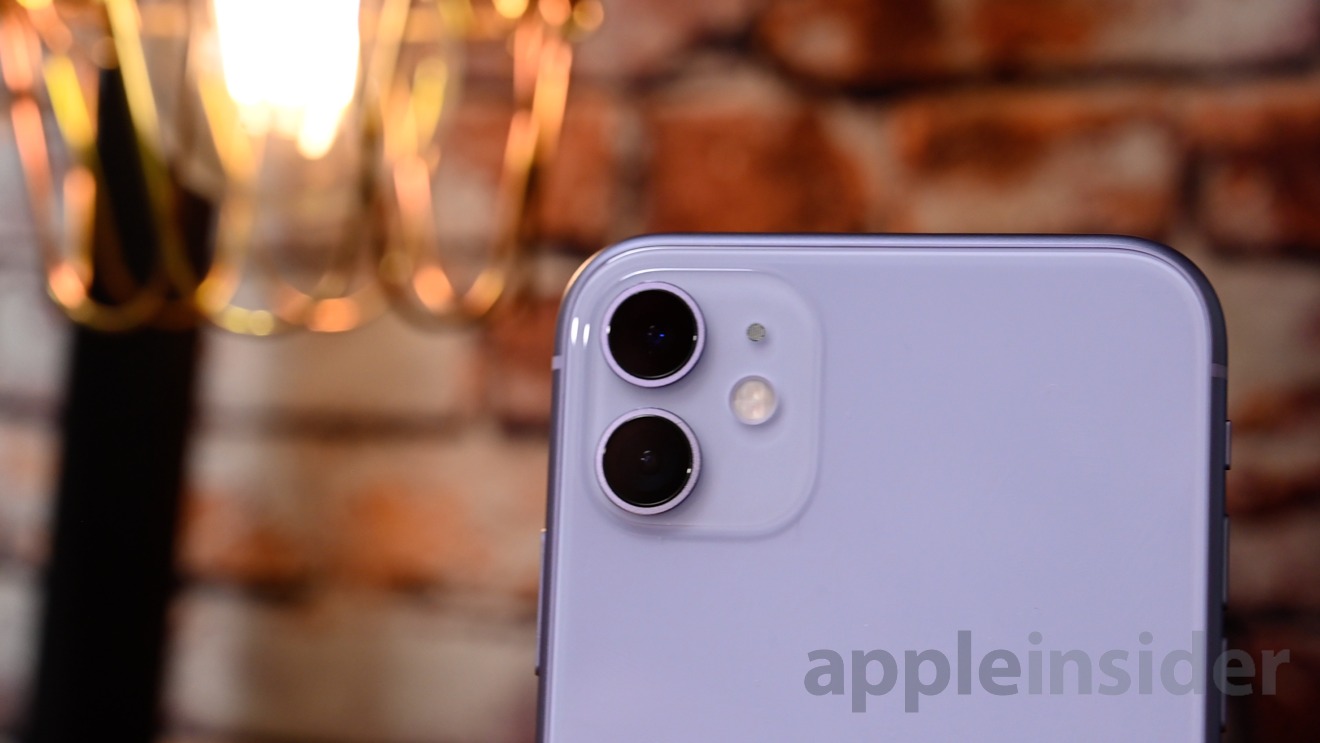 In an improvement from the iPhone XR that it replaced, the iPhone 11 has a dual 12MP ultra-wide and wide camera. The ultra wide lens has five elements and has a f/2.4 aperture with a 120-degree field of view. The wide lens has six elements, a f/1.8 aperture, and has optical image stabilization. There is a 2x optical zoom out.
As with the iPhone 11 Pro, the camera assembly is capable of capturing 4K video at 60 frames per second.
The TrueDepth selfie camera has been upgraded to 12MP, with a f/2.2 aperture. It too is capable of 4K60 video capture, and has the new slo-motion video support, which Apple is trying (without much success so far) to call a "slofie" camera.
Liquid Retina
In the 2019 iPhone 11, Apple is sticking with the Liquid Retina display that it debuted in the iPhone XR. And yes, the Liquid Retina display is still not OLED. The 1,792 by 828 resolution with 6.1-inches on the diagonal equates to 326ppi on the iPhone 11, a bit shy of the 458ppi on the iPhone 11 Pro family. While there's a lot of drama about this on the internet, in actual use, this isn't a problem, as the pixel density is still high enough to make it hard to tell the difference.
The Liquid Retina HD LCD panel in the iPhone 11 also offers the same True Tone and Wide Color Display (P3) features as its OLED counterparts. While not as bright as the iPhone 11 Pro, it is more than bright enough for the vast majority of situations that it will be used in.
The manufacturing process Apple has come up with does enable the edge-to-edge display like it did with the iPhone XR, but the thin black bezel around the outside is ever so slightly thicker than the iPhone 11 Pro. Keen observers may have been able to pick up on the change simply by looking at it, but most people won't necessarily acknowledge it unless the iPhone XR is put next to an iPhone XS. Break out the calipers and see for yourself if you're really concerned about it.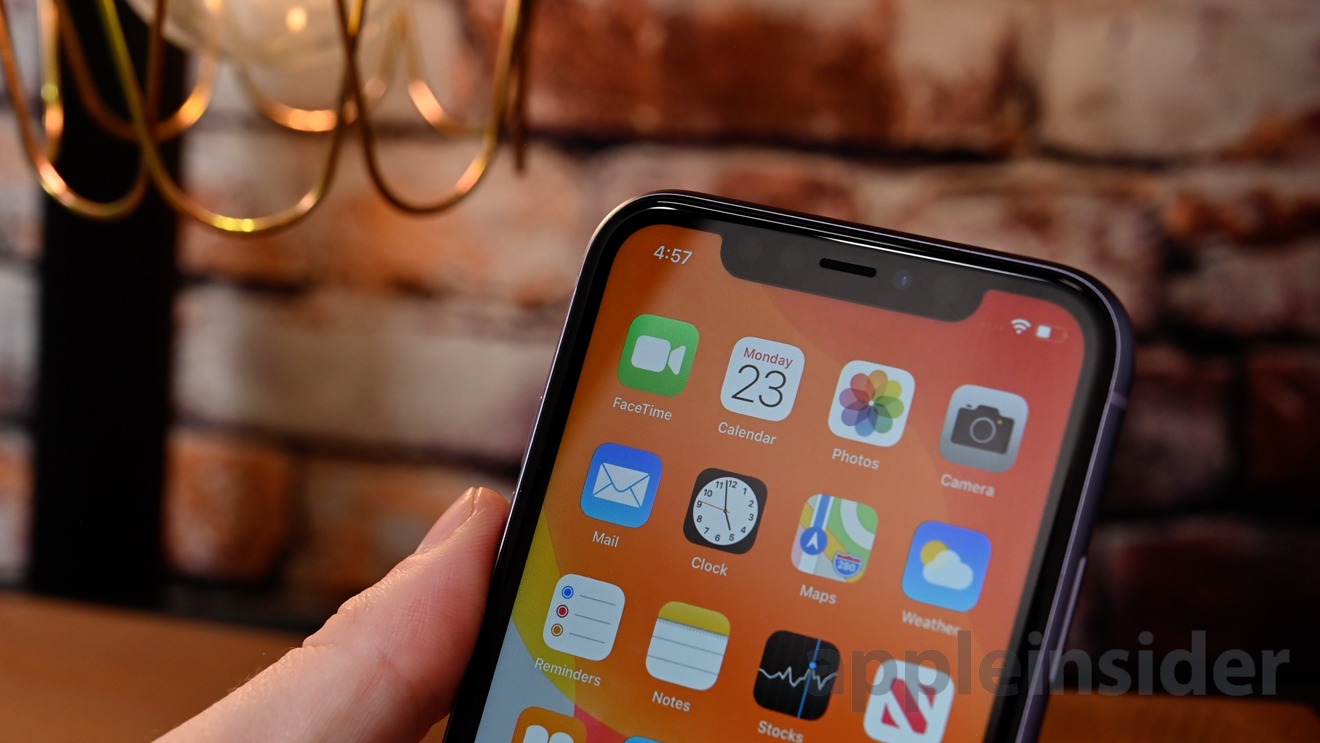 There is an outside factor to consider when you consider Liquid Retina versus OLED displays. The OLED display in the iPhone X, iPhone XS, and iPhone 11 Pro families all use a technology called pulse width modulation to regulate refresh and display flicker. In theory, this is invisible to the naked eye, but it appears that health condition-related sensitivity to the refresh rate is more common on OLED because of that pulse width modulation versus LCD.
This sensitivity is very rare, and not even close to a large percentage of people with epilepsy or migraines will have an issue. But if you do, the iPhone 11 Liquid Retina LCD — not iPhone 11 Pro with OLED — is probably the phone for you, because refresh rates are so much higher.
As with any display technology, or even fluorescent light bulbs for that matter, if you're having headaches, disrupted consciousness, or other medical symptoms while using any device, talk to your doctor.
Camera
We've already touched on the cameras above, and even further in our in-depth iPhone 11 versus iPhone 11 Pro comparison. Here's the short version — they're amazing for a smartphone.
The new iPhone 11 is equipped with two lenses on the rear, versus the one on the rear of the iPhone XR. This new phone's pair consists of a new ultra wide lens — described as a 13mm equivalent. This refers to the focal length of the lens, and the short version is that this camera is suited to taking 120-degree landscape or action photos.
Then there's also the more familiar standard wide lens which is a 26mm focal length equivalent, and is what we had last year.
The combination is paired with enhanced computational photography. Combining hardware and software, the iPhone 11 is able to capture Portrait mode images, unlike the iPhone XR which attempted the same job but had to do it purely using software.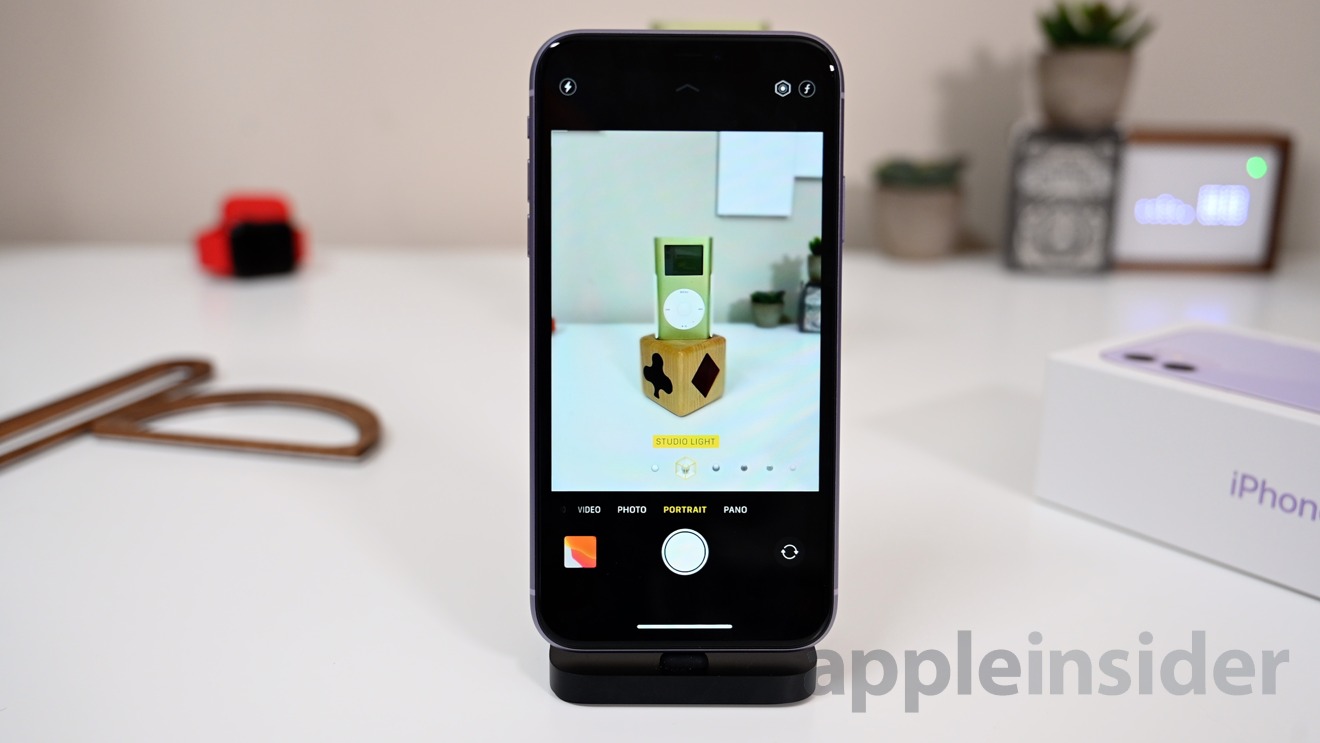 We'll be delving much, much more into this very soon, but in every regard, the iPhone 11 cameras are better than the iPhone XR and anything else single-lens that came before it.
Fast as the flagship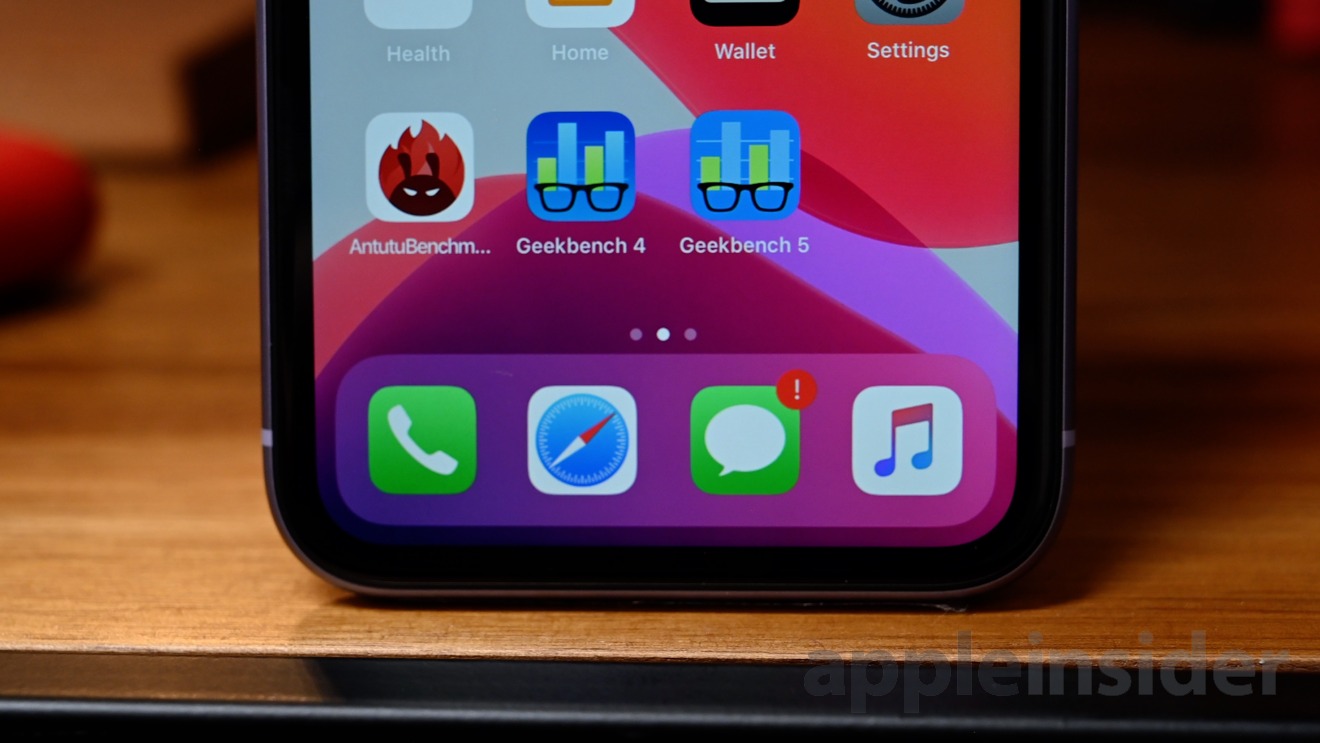 Using the new GeekBench 5 benchmark, our iPhone 11 got a three-run average single-core score of 1372. The multi-core run gave us a 3551 also averaged over three runs. For comparison, our Galaxy Note 10 Plus that we reviewed earlier in September scored a 741 single-core score on the new suite, and a 2701 multi-core benchmark.
Metal on the Mac and iOS, and Vulkan speeds are also measured with Geekbench 5. Similarly to our iPhone 11 Pro, The iPhone 11 scored a 6281, with the Galaxy Note 10 hitting 2201, and the Pixel 3XL from 2018 hitting 628.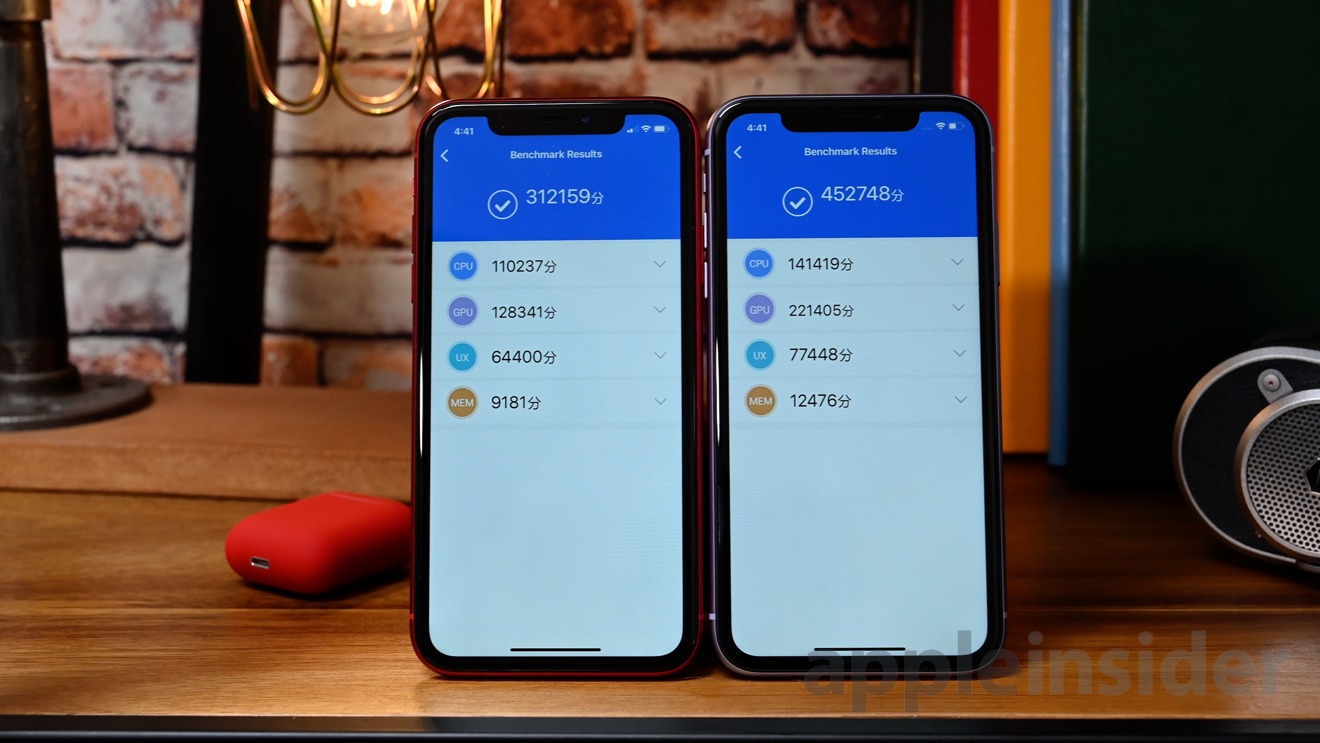 We alto through the AnTuTu benchmark at it, scoring a cumulative 452,728 with the biggest improvements over the iPhone XR in the GPU and memory categories.
In short, the iPhone 11 is every bit as fast as the iPhone 11 Pro. We're comfortable saying that Apple's five years of full OS update support will make the iPhone 11 a better buy versus a comparably priced Android flagship that is slower now, and that may or may not get two years of Android OS updates.
Battery life
The iPhone 11 has a slightly bigger battery versus the iPhone XR, with the new model getting a bump to 3110 mAh. Apple says that the battery will last about an hour longer than the iPhone XR did — and in our testing so far, that seems to be a bit lower than reality.
Apple also says that you'll get 10 hours of streamed video playback, and we got closer to 12.
In regards to charging that battery, Apple stuck with the 5W charger that it has been using for what seems like forever at this point. We'd prefer it have switched to the USB-C Power Delivery unit that it included with the iPhone Pro for quick charging because it is nice to have around in a low battery situation, but there is a solution.
Like we said in the iPhone 11 Pro review, litter your living space with Qi chargers. Keep a trickle-charge on that battery, instead of draining it, and slamming it back up to full. That's easier on the battery, and will help to reduce the cumulative effects of heat on the overall health of the battery.
Regardless of what you're doing, or how you're charging, you're going to be able to go all day if you leave the house with a full battery. And, you'll be able to work, play, or communicate as long as you can on the iPhone 11 Pro Max.
Wide wireless connectivity
In terms of connectivity, the iPhone 11 is on a par with the iPhone 11 Pro, offering Wi-Fi 6 connectivity, Bluetooth 5.0 support, NFC with reader mode, and the U1 chip for Ultra Wideband.
For now, that Wi-Fi 6 isn't going to do you a lot of good. The routers are still expensive, and there are architectural issues with Wi-Fi 6 and mixed-generation networks. For the foreseeable future, you'll get the same Wi-Fi 5 — 802.11ac — speeds that you've been getting with your relatively recent iPhone. We'll be revisiting this, most likely before the end of the year, and will discuss what Wi-Fi 6 practically means to the user well before then.
We've already spoken about 5G and why it's okay that the 2019 iPhones don't have it at some length — and it generated some debate. We agree that 5G is the future, but it isn't the future tomorrow, or even as far away as 2021 for far and away the vast majority of Apple's audience, except for maybe folks in Scandinavia and South Korea. US customers, Apple's largest market, will be waiting much longer for any realistic 5G deployment.
We are expecting Apple to dive into 5G in 2020 when the modems generate less heat, and aren't as hard on battery life as existing modems are. And, we hope, that the carriers will be able to deal with the fact that users can blow through their fastest data cap in minutes at max speed rather than time measured in hours — but we don't think that this will be the case, given the so-far glacial response time by carriers to evolving networks.
Sure, you can wait until 5G on an iPhone. Some folks will. But, both companies and consumers have to pick a spot to buy, and if you buy any 5G phone in 2019, you will always have that hot, battery-draining modem. It's not a good gamble today — but ask again in a year.
Like the iPhone 11 Pro, it's still safe to buy the iPhone 11 and hang onto it for years for excellent LTE connectivity. There is no danger of the wireless network that it can access getting slower in that timeframe.
Anyway, using the iPhone 11 on the Verizon network, we got about 59 megabits per second download speed, and 27 megabits per second upload speed with the iPhone 11 in our main test location — very similar to what we got with the iPhone 11 Pro. For comparison, an iPhone XR held in the same manner, in the exact same location got about 43 megabits per second download speed, and 11 megabits per second upload speed.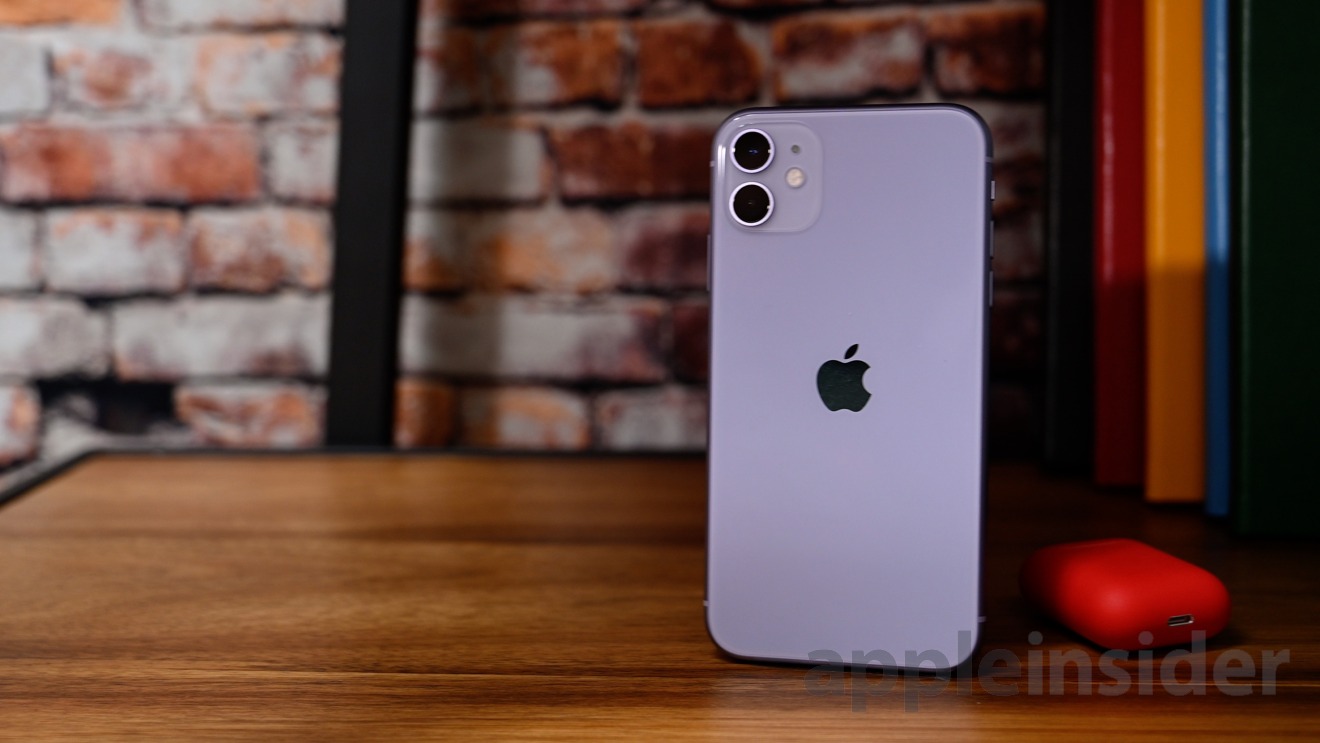 Your own personal mileage may vary, of course. Most of the speed testing we've performed here was in a well-provisioned commercial area in and around Crystal City, Virginia, at night with very, very few residences. As with our previous testing on the iPhone 11 Pro, we got notably less performance from LTE in our brick house.
Beyond the basics, Apple is using the new U1 chip in the iPhone 11 also. Apple's new U1 chipset allows the iPhone to determine its relative location in regards to other iPhones, as well as utilizing other sensors to know precisely where it is in space.
The technology will nearly certainly be used to enhance the "Find My" app in the future, and interior navigation and Maps enhancements are obvious.
More use of the U1 is coming in iOS 13.1. And, we're sure that Apple has more in mind for the future. There have been persistent Apple-made discrete tracker rumors — and that seems like an obvious use as well, given the removal of the word "iPhone" from the "Find My" app title.
Rhyme and reason in the iPhone 11 pricing strategy
There's a strategy involved in Apple's iPhone pricing. Thinking that Apple is only about maximum dollar extraction at the high-end misses the forest for the trees. Other than the iPhone SE, which was a notable excursion from Apple's full retail pricing plan, there has been a series of iPhones available to consumers at the $450 and up pricepoint for many years.
The iPhone 11 has injected itself into that $700-ish point. As a result, Apple has crunched down the iPhone XR and iPhone 8 to successively lower points to cover the widest array of folks that want an iPhone at nearly every budget.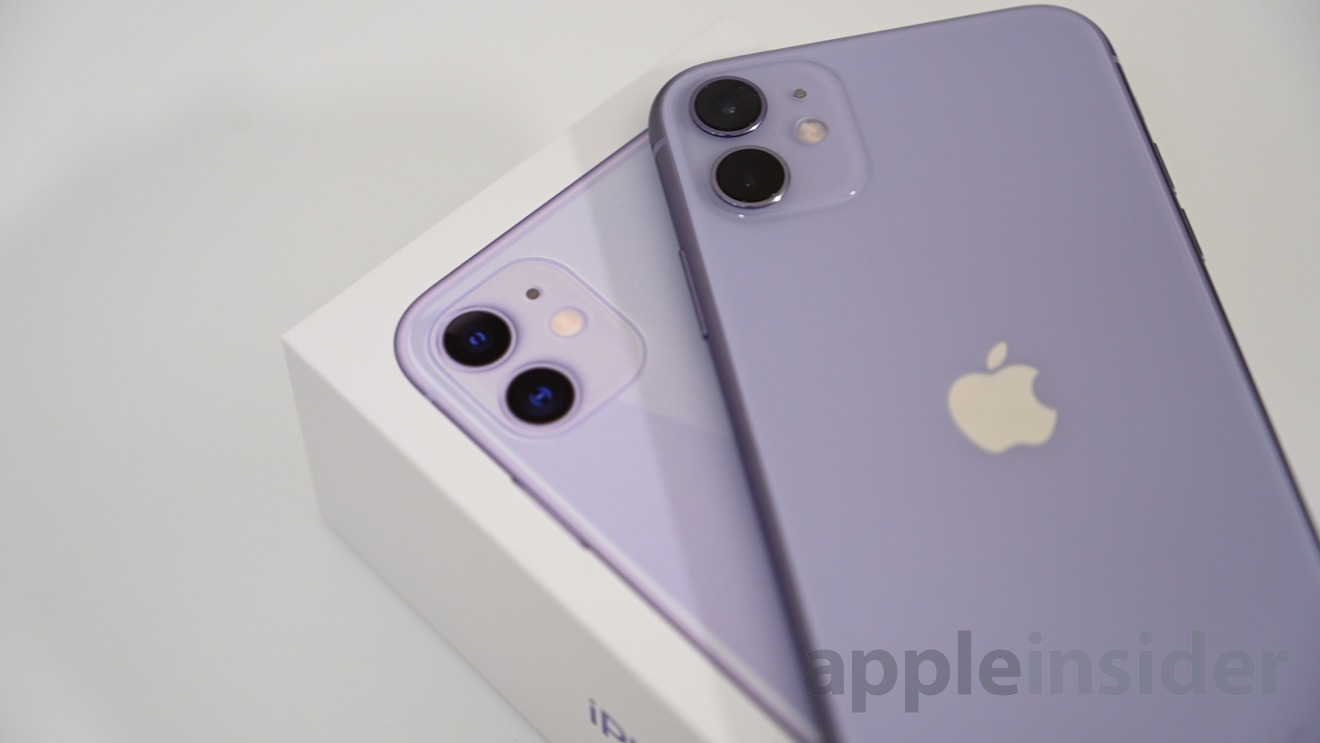 If you're reading this, unless you're scrupulously avoiding Face ID for personal use-case reasons, you probably don't want an iPhone 8. The choice if you're buying now is probably between the iPhone XR and iPhone 11 in one grouping, or the iPhone 11 and iPhone 11 Pro in the other.
We've already spoken at some length about iPhone 11 to iPhone 11 Pro. The iPhone 11 Pro is the one for those who live on their devices, aren't concerned about the price, and for those that will use it as the central piece of a digital lifestyle. The iPhone 11 is notably cheaper, has an only slightly less excellent screen, and has most of the camera improvements that the iPhone 11 Pro does.
The 2018 iPhone XR has price going for it when compared to the 2019 iPhone 11. The iPhone 11 has the latest processor, and a dramatically better camera. Which is most important, is left as an exercise for the reader because you can't really go wrong with either in 2019.
iPhone 11 deals
Apple's new iPhone 11 and iPhone 11 Pro are already discounted at top wireless carriers. Highlighted below are current specials at press time, with additional details available in our iPhone deals roundup. Please note: terms and conditions apply to each offer; please see the corresponding retailer's site for additional details.
Need the device right now? For fast delivery from third-party sellers, be sure to check out eBay for listings with expedited shipping.