Apple encourages suppliers to move to green energy with new investment projects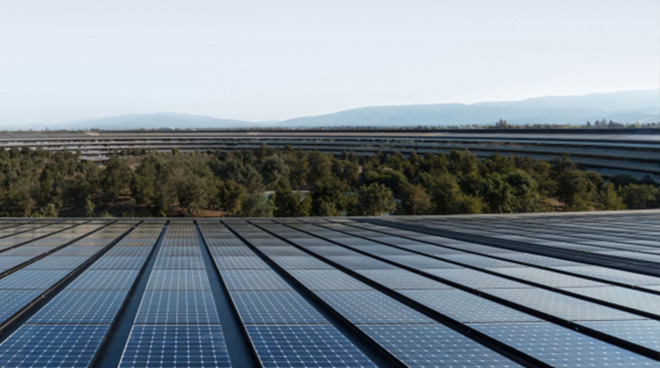 AppleInsider may earn an affiliate commission on purchases made through links on our site.
Apple has made the move to using 100% renewable energy, but now hopes that it can convince its suppliers to do the same.
Lisa Jackson, Apple's vice president of environmental, social, and policy initiatives spoke with Fast Company about how Apple has made the move to 100% renewable energy. Now, Apple has begun to help its suppliers make the transition
It's no secret that most of the carbon emissions related to consumer electronics are related to the manufacturing and shipping processes. In fact, roughly 70% of Apple's corporate carbon footprint is in the supply chain.
"Those facilities aren't that we own or operate," says Jackson. "But we wanted them to have this access to the same high-quality clean energy that we did."
Apple has recently announced that three new wind farms are opening in China. These investments are the first to open in Apple's China Clean Energy Fund. Apple and 10 suppliers in China will invest nearly $300 million to build renewable energy plants. The goal? To supply one gigawatt of renewable energy to Apple's suppliers.
The fund is managed by a third party and is designed to make it possible for smaller companies to have better access to renewable projects.
"If we had a number of suppliers one region, we could use that fund, which we invested in as well, and say, okay, let's put clean energy on the grid for all of you," said Jackson.
The project has been a long time coming. In 2015, Apple began offering tools and resources to their suppliers, providing crucial information about how to structure agreements with energy providers. Apple also offered support to help navigate regulatory requirements.
Apple eschews the concept of buying energy credits from existing solar or wind farms in favor of investing in new projects. These new projects, such as solar farms and rooftop installations, offer substantial emission reduction possibilities over purchasing credits.
The China Clean Energy Fund is the first time that Apple has financially partnered with suppliers in order to help them transition to renewable energy. Apple believes that their extra push may have been just what their suppliers needed to make the transition.
"I think some of the larger suppliers were looking at it, but in China, although the government policies have been supportive of clean energy, I think there haven't been a great a number of firms— and certainly not ones we work with on the manufacturing side— who were willing to take that chance," said Jackson. A big part of the switch is making it clear that this is a financially sound decision. "They see a pretty big payoff and a pretty big benefit."
Apple plans on replicating the model in other markets where it has suppliers. As the company helps its suppliers make the shift, it hopes that other companies do the same. Many of its suppliers have decided to power their Apple operations with renewables — 44 suppliers across 16 companies. Some of the suppliers have decided to switch to renewable energy ofr all of their work, which includes products made for other brands.
"We feel like we hopefully are part of making a whole generation of people in the manufacturing space see clean energy as something that's very much attainable and doable," Jackson explained. I know that we are all inspired by Greta Thunberg— by the clarity and moral force she brings to this issue. We have a profound moral obligation— to Greta's generation and to all the generations that follow— to address this problem head-on. Not in a few years. Not when it's convenient. But right now, before it's too late."