Apple investment in Chinese wind farms providing 134 megawatts to grid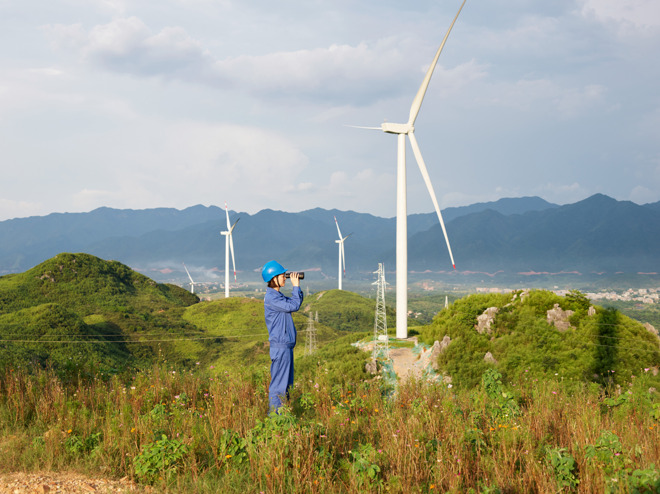 AppleInsider may earn an affiliate commission on purchases made through links on our site.
The first three wind farms funded in part by the Apple-sponsored China Clean Energy Fund are online, and generating power for the Chinese grid.
The first recipients of the China Clean Energy Fund are a trio of wind farms. A pair are developed by the Concord New Energy Group Limited, with each farm generating 48 megawatts (MW). A 38 MW farm in bordering Hubei province developed by Fenghua Energy Investment rounds out the initial investment.
"To see these projects completed and already supplying clean energy to the grid is really exciting," said Apple's Vice President of Environment, Policy and Social Initiatives Lisa Jackson. "We are proud that suppliers participating in the fund share our commitment to supporting innovative energy solutions, cutting emissions and fighting climate change."
Apple says that 44 suppliers in 16 countries have committed to using 100 percent clean energy to power Apple production. Apple and its suppliers will generate more than 4 gigawatts of clean energy worldwide by 2020, which the company says will cover one-third of the electricity needed for Apple's global manufacturers and suppliers.
The China Clean Energy Fund was launched in 2018, and connects suppliers with renewable energy projects. Apple and 10 of its suppliers in China will invest nearly $300 million by 2022 to develop projects totaling 1 gigawatt of renewable energy.
"We're excited to support developers like Concord and Fenghua," said Yuyu Peng, director of DWS Group which manages the China Clean Energy Fund. "The projects in Hunan and Hubei provide so many positive results. They not only support China's renewable energy goals, but also introduce our fund partners to diverse clean energy projects."
Joining Apple in the investment are Catcher Technology, Compal Electronics, Corning Incorporated, Golden Arrow, Jabil, Luxshare-ICT, Pegatron, Solway, Sunway Communication and Wistron. How much each party is contributing is still not known, but at inception, the fund had $300 million in it.
In early 2018, Apple announced its entire global operation, from corporate buildings to retail stores, are powered by 100 percent renewable sources. The company has built out a vast network of clean energy partners, and has invested in its own private assets like solar farms and fuel cell arrays that power its headquarters and data centers.