Updated Pixelmator Photo 1.1 brings iPadOS features plus batch editing
The new version of image editor Pixelmator Photo for the iPad adopts iPadOS 13's new Files management, plus batch editing powered by machine learning.
Pixelmator Photo 1.1 is an updated version of the Pixelmator image editing family's iPad app that is specifically for working on photos. Alongside compatibility with the new iPadOS 13, Pixelmator Photo utilizes Apple's Files system to improve management of images, and adds features including resizing and batch editing.
Previously, Pixelmator Photo users were required to import images from their Photos library before they could work on them. Now they work on their Photos library images directly, either within Pixelmator Photo itself, or by using the apps tools right within Apple's Photos.
Despite the new move to work within the Photos library itself, Pixelmator Photo still allows for nondestructive editing, meaning that you can go back to undo any changes. The company claims that this even extends to after you close a photo and return to it, saying that information about your edits is saved separately.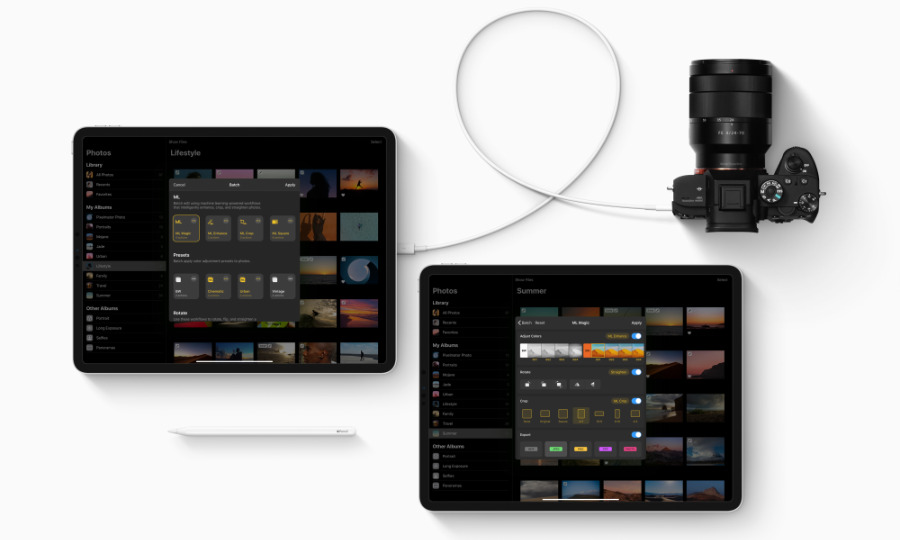 This change away from importing images also means that Pixelmator Photo 1.1 can work directly with photographs that are saved outside of the iPad. So users with iPad Pro models that can add external drives or SD cards can edit images on them in place.
The new update also allows for batch editing across these other locations, or within the Photos app. Users can select any number of images and then apply one or more of a series of intelligent edits.
Rather than, for instance, just cropping every image to a certain size, Pixelmator Photo 1.1 uses machine learning so that each image has its own automatically calculated crop.
Alongside the machine learning batch tools, you can now also build up a series of batch effects and save them as a single workflow to apply at any time.
The app is part of a growing number of Pixelmator image editors. Recently, the company has encouraged users of its original Mac app Pixelmator to move to its improved Pixelmator Pro with a discount program.
And alongside the more specialized Pixelmator Photo, there is a version of the regular Pixelmator image editor for iPad, which is also available on iPhone.