Duet Display update will allow Mac users to extend displays to Android tablets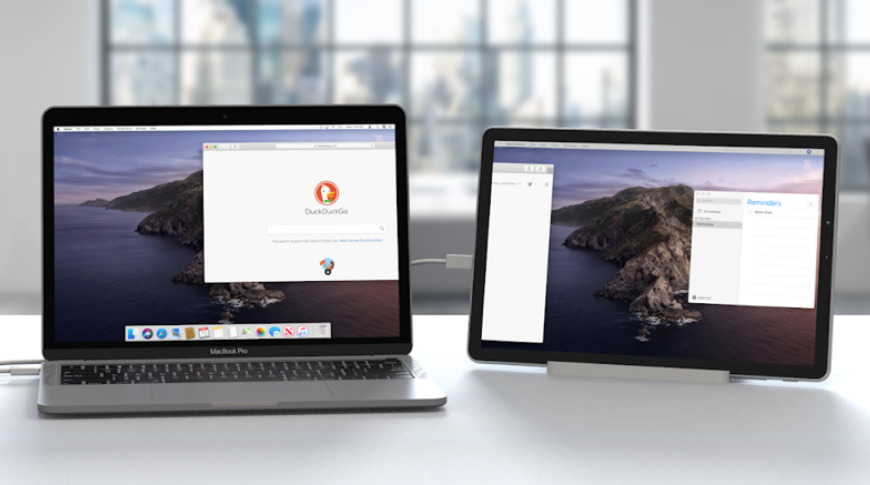 Shortly before Apple releases its Sidecar feature in macOS Catalina to allow Mac screen mirroring and extension onto iPads, the makers Duet Display are soon to release a version that will allow users to use an Android tablet as a Mac display.
Duet Display is a software tool that uses also uses a hardware connection to allow Mac users to utilize their iPads as an extra display, either mirroring or extending their desktop. Now that Apple has built a similar function into macOS Catalina called Sidecar, Duet Display is releasing an Android version of its software.
The app has previously worked with Windows, but did so by extending the PC screen onto iPads. Now its new version will be able to use Android tablets instead. It's not clear yet whether the software will allow Windows PCs to have their screens extended onto iPads, however.
Rahul Dewan, CEO and Founder of Duet Display, previously told AppleInsider that the company has been planning the move for some time.
"We have expected Apple [to get] into this space since day one," he said when asked about Apple's Sidecar announcement. "As we have been a top 10 iPad app for five years in a row, we were able to prove the market. So it isn't surprising that Apple wanted to provide their own solution."
"Since we expected Apple to get in to the space, we knew they only way to compete was to keep innovating," he added.
Duet Display is due to be released on the Google Play Store today, and for a claimed 50% discount. The company has not said what the retail or discounted price for the Android version will be, but the Mac edition is $9.99 plus in-app purchases.
There are already apps on Android that do this, including the free software-only Spacedesk and USB-cable tool Twomon which costs approximately $10.