Micromobility Europe draws attention from rideshare investors, including Apple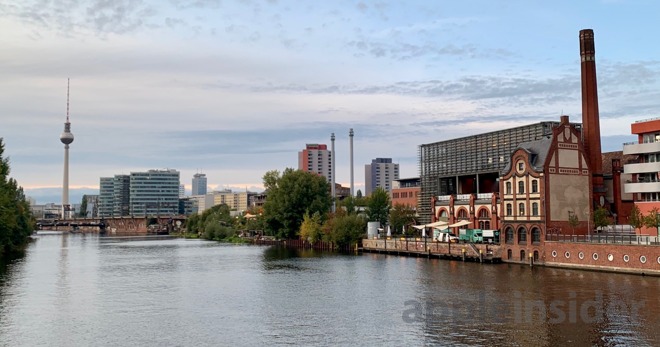 AppleInsider may earn an affiliate commission on purchases made through links on our site.
Those piles of often-defective electric scooters that have littered the sidewalks of major cities over the past couple years are commonly seen as a nuisance that needs to be scrubbed from the streets. But to the roughly 700 registered attendees at the Micromobility Conference in Berlin, Germany, the problems associated with these fleets of personal vehicles are solvable, leading to dramatic improvements in sustainability and quality of life. Notably, some of those attendees were from Apple.
Why Micromobility?
In his keynote kicking off the Micromobility Europe conference on Tuesday, Horace Dediu outlined a much larger problem for modern cities than scooters: the automobile. If today's rapidly growing cities follow the past practice of building out infrastructure primarily just for cars, within just a couple decades the requirements for moving around and parking automobiles will double. This is simply unsustainable in the impacts it will have on air quality, energy demands, and in the vast amount of space required just to park all these vehicles.
Statistically, Dediu has laid out, the majority of urban trips are within a few miles, and can in many cases be better addressed by new forms of transportation that are smarter, smaller, lighter, healthier for their riders, and better for the environment. Effectively, as he concluded in his opening keynote, the rise of Micromobility means urban freedom for riders. That's something people increasingly want to buy. And that is creating a demand that a variety of companies are interested in serving.
It's particularly interesting to existing car sharing services such as Uber, Lyft and China's Didi Chuxing — of which Apple is a major investor. As Dediu has previously noted, Uber has revealed that most of its rides occur over very short distances, suggesting that Micromobility trips could easily eat up any hope of profitability in ride sharing unless those companies can effectively embrace it as part of their offerings.
Uber trip distances are heavily skewed toward the low end. I'm quite surprised. The implications are profound. [Log-normal Approximations US private car vs. Uber] pic.twitter.com/VFEJkIvLRk

— Horace Dediu (@asymco) April 13, 2019
What is Micromobility?
Dediu earlier coined the term "Micromobility" to refer to vehicles that are a "minimal conveyance," weighing less than about 500 kg (1000 lbs, or about half a ton). Vehicles that fall within that definition may take the form of bicycles, scooters, skate boards, carts, wheels or something like the Segway; they may be electric; may be operated as part of a shared fleet; and may have other characteristics related to their range and energy consumption. But the grounding principle of Micromobility is that these vehicles are aimed primarily to efficiently move an individual around short distances, rather than being a general purpose, automotive-sized vehicle that could also move a family or a haul a shipment of cargo.
That's an important distinction from the typical car because while most cars can hold 4 or 5 people and can haul a trunk load of stuff, virtually all of the cars in regular use in and around cities operate as single occupancy vehicles most of the time. That makes them wildly over-serving when the job to be done is simply moving a person between two points within an urban core. The excessive nature of the standard car has become an increasingly obvious problem to people in cities and especially to the emerging generation of young people who have no interest in owning a car simply for their own basic transportation.
Uber-style car sharing has grown in popularity as an alternative to owning a car, but it fails to solve many of the problems of cars in cities. In fact, car sharing has been shown to make traffic congestion worse, as drivers frequently circle around urban centers to find and pick up riders. Dediu has previously noted that about half of all vehicle miles are made in trips shorter than 15 miles, and that scooters and bikes are much cheaper to operate — and often faster — than making the trips via personal or shared cars over typical short distances.
The recent emergence of shared fleets of electric bikes and scooters are disrupting the demand for full sized vehicles by offering a leaner, cheaper alternative for short trips that also happens to generally be more enjoyable for riders. That has attracted billions in investment into companies seeking to meet this need.
An electric bicycle for the iOS mind
Influenced by his decade of work at Asymco, following the mobile world from Nokia to Apple after the emergence of iPhone, Dediu's last two years of writing about Micromobility have highlighted many parallels between the emerging space of personal transportation and the arrival of the personal computer and mobile devices.
Just as the definition of "computer" once moved from mainframes and minis to the "microcomputer" that could sit on a desk and was affordable to individuals, the definition of Micromobility is also highlighting the shift that's occurring from full sized, flexibly-usable vehicles with significant and often excessive needs for storage, energy consumption, and infrastructure to light and minimal new Micromobility vehicles that transport people much more efficiently. That has the potential for opening up new uses for billions of dollars worth of idle land currently devoted to parking spaces. It can also greatly reduce energy consumption and the need for building massive new expansions of the road networks — projects that themselves induce further expense by encouraging more people to get around by car, perhaps the most inefficient way to move within an urban core.
Another parallel that Micromobility has with modern mobile computing is their smart, always-connected nature. The "Post PC" model of iPhones and iPads that Apple created to intentionally work differently — and far more efficiently — than the similarly complex and excessive, over-serving nature of PCs has a lot in common with modern Micromobility vehicles.
Both can locate themselves, can help users navigate their world, can report problems they're experiencing, and can even update themselves with new app features and core firmware functionality. And in the future, as various event panelists noted at the conference, Micromobility vehicles will even be able to robotically reposition themselves, moving themselves out of the way and into an appropriate parking spot.
That brings to mind the work Apple is known to be doing in mapping and the automatic navigation of vehicles. While Apple's work under "Project Titan" has been thought of as pertaining to a new self driving car or perhaps licensed technology other carmakers can use, there are other applications of this that could pertain to Micromobility vehicles. This may also be related to the new work Apple is pursuing in Ultra Wideband with its U1 chip, which provides much more accurate positioning and directional awareness than other existing wireless technologies such as Bluetooth 5.
Apart from automatically piloting around Micromobility vehicles, something that still appears to be several years away from public implementation and acceptance, Apple has also experimented with the concept of location tags. Apple was expected to outline its efforts to identify and locate "Apple Tags" at the event a couple weeks ago that introduced iPhone 11 models with its new U1 chip. Yet it ended its presentation earlier than usual, making only brief mention of the U1 chip in relation to AirDrop sharing. It's pretty obvious that the company didn't develop custom silicon just to make it slightly easier to identify the recipient of wirelessly shared photos.
The company could be pursuing a more substantial application of UWB and its new U1 chip related to finding and authenticating with dockless Micromobility vehicles, enabling urban iOS users to find a ride as easily as they share their photos or find their iPhone. Apple has already completed substantial work related to finding iOS devices and MacBooks via Bluetooth, even when those devices are not active, by using secure, anonymous messages between devices that can report the location of device to its owner using Apple's iCloud services without revealing any personally identifying information, and without even sharing any location data with Apple itself.
The fact that Apple is building out such sophisticated location, discovery, and item tracking services— including its new Find My app in iOS 13 and macOS Catalina; leveraging new custom silicon and emerging new wireless technologies; and the secure Apple protocols designed to protect users' privacy— all hint at ambitions that happen to be highly relevant to the Micromobility world. That also makes it no surprise why Apple reportedly sent a significant number of its employees to the MME conference.
Solving the growing pains of Micromobility
There are already known problems associated with bringing fleets of Micromobility vehicles into cities. A series of speakers at the MME conference described what's being done to address these. Outside observers have already witnessed the piles of vehicles blocking sidewalks and bike lands, their often limited availability to the users in disadvantage neighborhoods who need them most, and the safety issues involved with giving anyone a small vehicle to plow into the street without any awareness of rules of the road.
Joe Kraus of the leading bike and scooter sharing service Lime noted in his presentation "The First to 100 Million Rides" the need for all operators to adopt a shared set of industry wide standards and values. He specifically focused on deploying high-quality Micromobility hardware, educating users on safe riding skills, the need to reach meaningful carbon reduction targets addressing vehicle lifespans and efficiency, and efforts to serve all city residents equitably.
Along those lines, a variety of vehicle vendors directed attention to their newest designs for both shared and owned vehicles that serve the Micromobility space. Erdem Ovacik, CEO of Donkey Republic; Corinne Vogel, the COO of Bond Mobility; and VanMoof cofounder Taco Carlier all focused on their high performance, electric-boosted bike designs aimed at either fleet users or private owners. VanMoof is pursuing a unique business of both selling its high end bikes directly and offering them in a monthly subscription plan— which includes a theft response service that works to track down vehicles that go missing.
Other event sponsors, including Assaf Biderman, CEP of Superpedestrian; Janelle Wang, the CEO of Acton; Zach Supalla, the CEO of Particle; and Avra van Der See of Uber's Jump division, focused on other parts of the Micromobility market, ranging from smart vehicle designs to the deployment platforms used to help other companies launch their own products and services to the Jump model of offering short term rental electric bikes right within the Uber app, enabling ride sharers to opt between the modes that make the most sense for their next trip.
Another conversation at MME related to public policy. While companies can work to solve some problems, cities themselves need to craft regulations that make these Micromobility efforts effective. That includes designing and building infrastructure that can support safe use of Micromobility vehicles, as well as gathering data on what residents want and need in terms of transportation. This can inform the regulations intended to put the right number of Micromobility vehicles in operation within an area, as well as ideas on how to best park vehicles, and how to set limits on vehicle speed in specific areas.
In parallel, the venture capitalists investing in Micromobility were also examined in a panel that discussed the right-sizing of investment. Too much capital can result in a sloppy rollout of vehicles that draws the kind of backlash that the initial waves of sidewalk-blocking scooters stoked. Too little can result in a system that can't adequately address the needs of users. The right funding can keep operations lean and efficient, resulting in better decisions that serve the market most efficiently.
The team at Micromobility Industries (above) hosting the event continues to maintain a conversation on the emerging future of personal transportation, which readers can follow in the company's newsletter.