Hands on: New Tile Sticker, Tile Mate, Tile Pro, and Tile Slim are the best Bluetooth trackers yet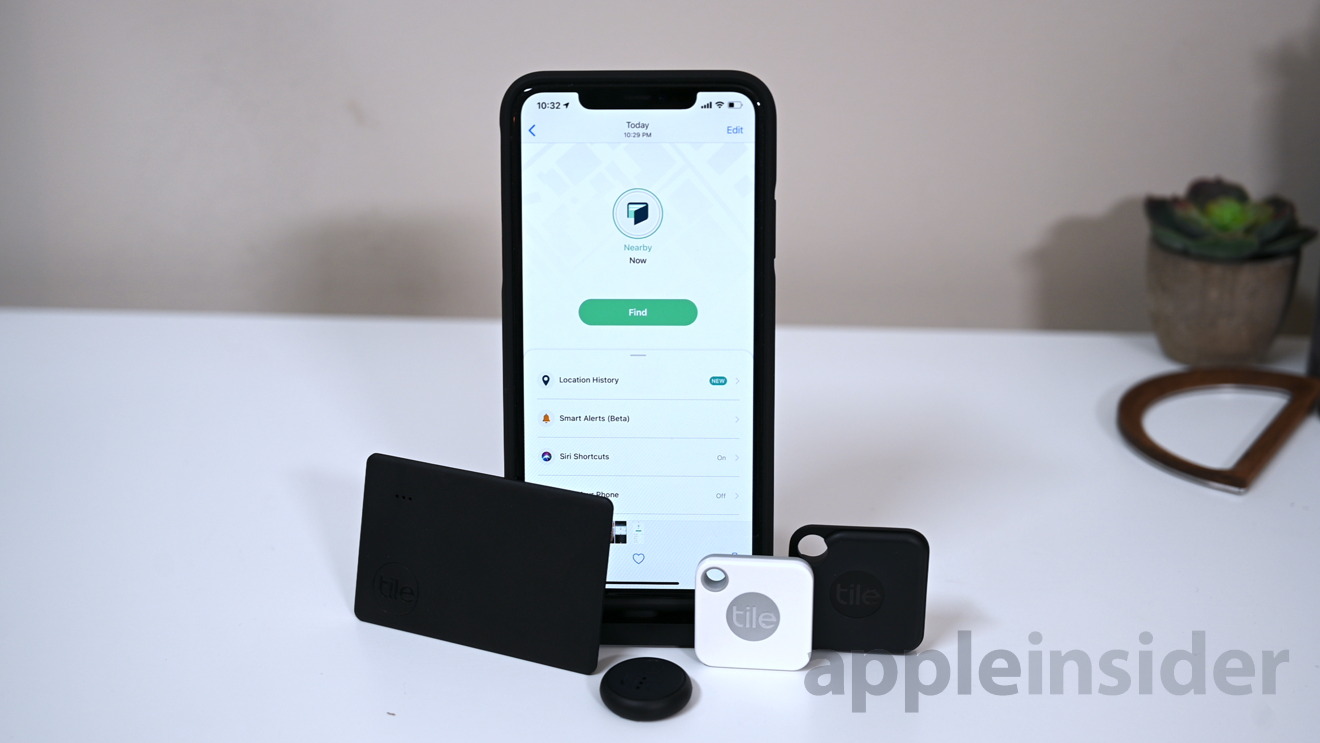 Announced on Tuesday, Tile has an entirely new line of Bluetooth trackers — and AppleInsider goes hands on to check them out.
There are four new Tiles available to purchase — the updated Tile Mate and Tile Pro, a better Tile Slim, and an entirely new Tile Sticker. We've been using all four for the past week or so and are largely pleased with Tile's new offerings, even as Apple's own tracker looms.
Let's explore our experience with each in a bit more detail.
Tile Sticker
Tile Sticker is a brand new entrant into the Tile lineup. It is a small 27mm circle that comes with a 3M adhesive affixed to the back. That makes it dead-simple to stick on any number of different devices, like remotes, bikes, hard drives, cameras, etc.
On the top of the Tile Sticker is a simple button and three pinholes where the sound emits from, cleverly hidding within the "L" of the Tile logo.
Tile Sticker — like all the different Tiles — will work with Siri Shortcuts. Once added, you can easily ask Siri to "Find my Apple TV Remote" and the remote will be found.
There is a 150 foot range to work within and Tile says the non-replacable battery will last for three years.
Tile Slim
This year Tile significantly revamped the Tile Slim. It has switched from a large square to a credit card-shaped rounded rectangle. Technically, the footprint is now larger, but it is a tad thinner.
Not only is it a different design, but it has a larger range, louder ring, and a longer three-year non-replacable battery. Tile says they listed to significant customer feedback who wanted a different shape to better fit into wallets or other low-profile locations.
Tile Pro
Tile Pro retained its design from last year's overhaul but upgraded the internal specs. The new Tile Pro can be reached from 400 feet away.
This is Tile's most durable and versatile product, with a rugged metal frame and a replaceable battery. The outside now has a matte finish and there is a new black-on-black color option.
Tile Mate
Tile Mate got similar upgrades to the Tile Pro. Its range has increased 30-percent to 200 feet for increased usability. Otherwise, Tile Mate stays the same. it has a compact plastic body, keyring hole, and a replaceable battery that will work for about a year.
Tile Mate is slightly smaller and a bit less durable than the Tile Pro.
Find everything
Tile has improved greatly over the years. You can now see the location history for each item, Tiles can be used to find your iPhone, and Siri Shortcuts allow you to use any Siri-enabled device to make your devices ring.
A beta version of the Tile software also allows smart alerts which will alert you if you ever leave your Tile behind. Plus, Tile has a massive community of users that can be utilized to find missing items.
Apple is still expected to announce it's own Bluetooth tracking device so it is important for Tile to bolster its lineup with not only new software features but additional hardware to work in a variety of situations.
Where to buy
The new lineup of Tile devices are available now from Amazon in various bundles and price points as well as from Tile's website.
Tile Stickers run $39.99 for a two-pack and $59.99 for a four-pack. Tile Slim will run $29.99, the Tile Mate comes in at $24.99, while the Tile Pro is $10 more at $34.99. Multi-packs are available as well such as two Tile Stickers, a Tile Slim, and a Tile Mate for $69.99, a four-pack of Pros for $99.99, a four-pack of Mates for $69.99, or two Mates/two Slims for $74.99.