Apple renews four Apple TV+ shows for second seasons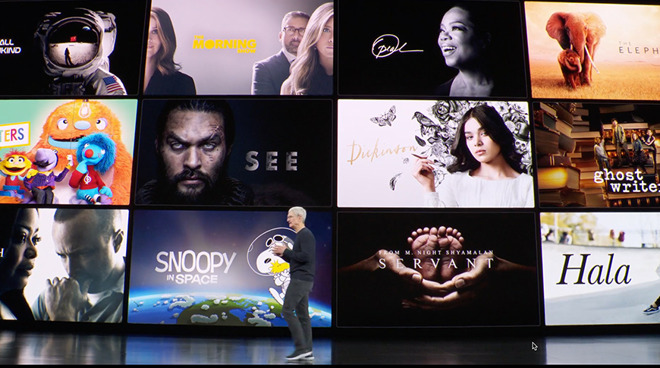 Apple is quickly padding out its longterm Apple TV+ slate with multi-season series, according to a report on Tuesday that says the tech giant has renewed four shows currently scheduled to debut on or shortly after the service's go-live date on Nov. 1.
Without citing sources, Deadline reports Apple has ordered second seasons of alternate reality space race drama "For All Mankind," Emily Dickinson comedy "Dickinson," immigrant anthology series "Little America" and detective drama "Home Before Dark."
Apple has not confirmed sophomore runs for any of its planned Apple TV+ original series, but reports suggest the four shows will join a second season of "The Morning Show" starring Jennifer Aniston and Reese Witherspoon.
Apple CEO Tim Cook presented the first preview of "For All Mankind" at the 2019 Worldwide Developers Conference in June. Starring Joel Kinnaman, Michael Dorman and Sarah Jones, the sci-fi series created by Ronald D. Moore of "Star Trek" and "Battlestar Galactica" fame takes place in an alternate reality where Russia beat the U.S. to the moon.
Hailee Steinfeld vehicle "Dickinson" is described as a coming-of-age tale told from poet Emily Dickinson's point of view. Set in the 19th century, the show veers away from a period piece by incorporating modern storytelling elements, dialogue and music.
"Little America" is an immigrant anthology series inspired by stories published in Epic Magazine. Academy Award-nominated screenwriters Kumail Nanjiani and Emily V. Gordon are listed as executive producers alongside Alan Yang.
Young detective drama "Home Before Dark" fictionalizes the story of Hilde Lysiak, a preteen girl who exposed a murder in the town of Selinsgrove, Pa. In Apple's version, a young girl moves from Brooklyn to a small town, where she exposes a forgotten cold case.
Apple TV+ debuts on Nov. 1 with a slate of about ten shows, series and specials including Jason Momoa vehicle "See," "The Morning Show," "Dickinson" and an Oprah Winfrey project. The service costs $4.99 per month, but customers can snag a year of free access with the purchase of select devices like iPhone and iPad.