Apple seen posting record $90 billion holiday quarter driven by Services & iPhone 11 demand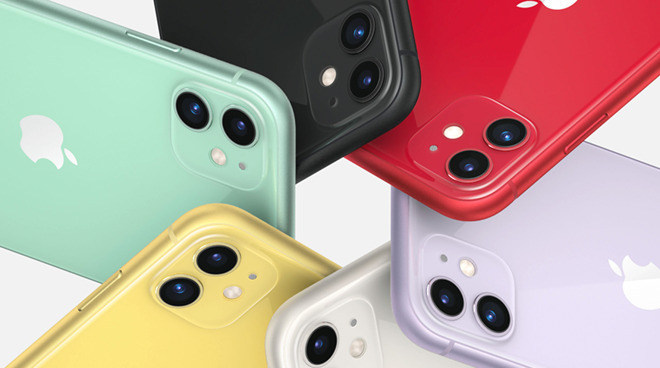 AppleInsider is supported by its audience and may earn commission as an Amazon Associate and affiliate partner on qualifying purchases. These affiliate partnerships do not influence our editorial content.
Financial services firm Cowen has issued its latest guidance to investors about the state of Apple, and says that the company's offerings in total are setting up for a massive holiday quarter.
Ahead of Apple's next financial earnings call, a Cowen investor note seen by AppleInsider says the company will exceed expectations and earn $90 billion in the quarter spanning the holiday buying season.
That's around $3.1 billion more than previous estimates, and the company says this is predominantly due to increased demand for the iPhone plus growing Services.
"[Recent]... third party data suggests the recent price cut to the XR model and newly launched 11 are seeing healthy demand," says the investor note. "Continued expansion in the iPhone trade-in program and 0% financing options are also expected to play a part in improving affordability."
"We think gaming driven revenues in China are likely now normalized after the catchup in game approvals earlier in the year and could be seasonally up," it continues. "We expect AppleCare (correlated with new device units) to be seasonally up in the Sep Q, Apple Music to be up seasonally."
Cowen expects 69 million iPhones to be made in the fourth quarter, up slightly from its previous prediction of 63 million.
"The iPhone 11 product cycle... [is] off to a solid start," it reports, "and the upcoming TV+ service supports longer term Services growth."
Cowen says that the reception to the iPhone 11 has been clear to investors, but Apple TV+ has not.
"Services seems like a black box to many investors," it says, "but it appears that as long as the Services revenue grows and gross margins hold up, investors seem to be fine with it."
In the short to medium term, Cowen sees three "forthcoming catalysts" that could affect Apple's earnings. These are the launch of Apple TV+, and an update on US import tariffs on December 15.
There is also the potential launch of a low-cost "iPhone SE 2," which Cowen believes could see Intel remaining as a chip provider.
"We do also believe Intel could remain in the supply chain as a supplier of 4G modems for the potential low-cost iPhone SE2 model in [the first half of 2020]," it says.
Over the longer term, Cowen expects to see Apple profiting from the launch of 5G models in late 2020. Those models will use Qualcomm modems, and Cowen notes that this is part of a six-year deal between Qualcomm and Apple. However, it also sees Apple replacing Qualcomm with its own modem.
"We also estimate that an Apple developed discrete modem could find its way on the product roadmap by 2022," the investor note continues. "Having both apps processor and modem developed in house could allow Apple to potentially integrate both chips together for future products, and has positive gross margin implications."
Apple's next legally-required financial earnings call is due on October 30. Cowen recommends investors look out for the call to detail "iPhone demand trends in China/India" plus information about tariffs.