Cowen looks to future iPhone days ahead of Apple event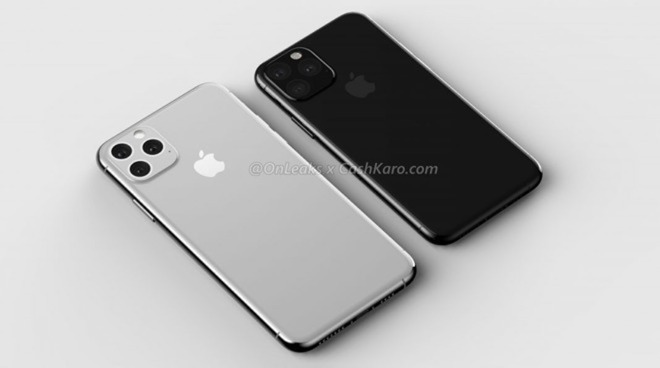 AppleInsider may earn an affiliate commission on purchases made through links on our site.
Less than a week before Apple reveals its next-generation iPhones, Cowen forecasts Apple will start shipping the new models towards the end of September, but predictions of a second-generation iPhone SE and other future potential changes to the iPhone are seen somewhat more favorably.
For the 2019 iPhone, a Cowen investor note seen by AppleInsider reiterates some of the analyst estimates for the 2019 iPhone range, which were previously deemed to be relatively flat compared to 2018's releases. Approximately 79 million units of the 2019 models will be constructed in the second half of the year, making up 72% of all iPhone units constructed during that time.
"We expect the latest iPhones could be ready to ship by late September as our checks suggest the ramp of production and yields are nominal," writes Cowen. On a quarterly basis, Cowen forecasts 44 million builds in the third quarter of 2019 and 65 million in the fourth quarter, slightly up from their previous shipment and sell-in forecasts of 42.5 million and 63 million respectively.
The lion's share of iPhone construction will be for the 6.1-inch LCD-equipped iPhone XR replacement, making up 33 million units of the total for the second half of the year. Of the OLED-based versions, the smaller 5.8-inch version will see 17 million units constructed while the larger 6.5-inch variant will make up 29 million units.
For the future, Cowen leans into rumors of a second-generation iPhone SE being on the way, due in the first half of 2020 according to Cowen's field work. The second-generation version is believed to have an LCD-based 4-inch or 4.7-inch display, and use a 7-nanometer A-series processor.
"We expect the low-cost device to appeal to users who prefer the smaller form factor as well as price sensitive consumers, especially those in emerging markets," Cowen states.
As for the 2020 iPhones, Cowen highlights Qualcomm's supply agreement to provide 5G modems, which will lead to a 5G-equipped iPhone. Apple's pending acquisition of Intel's modem business will transition Intel's 4G modem supply internally "within the coming year."
One major futuristic technology is foldable OLED screens, which Cowen thinks based on supply chain work to be adopted by the mainstream within a year or two "given some of the ongoing materials engineering challenges that need to be solved." Cowen's comments are seemingly for the smartphone industry as a whole, rather than specifically for Apple.