Three episodes of 'The Morning Show' coming to Apple TV+ on Nov. 1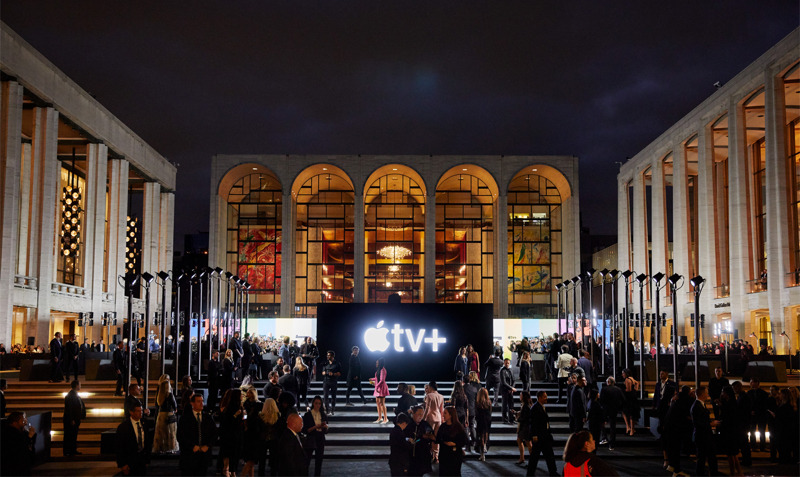 Following the world premiere of Apple TV+ exclusive "The Morning Show" in New York City on Monday, Apple announced the series' first three episodes will be available to stream when the service debuts this week.
Apple hosted a screening of "The Morning Show" at Josie Robertson Plaza and David Geffen Hall, Lincoln Center for the Performing Arts in New York City, the company said in a press release.
Apple is restricting initial availability to the hotly anticipated series starring Jennifer Aniston and Reese Witherspoon, with three episodes set to stream on Friday. The company is applying a similar strategy to sci-fi drama "For All Mankind," which also launches with three episodes, but plans to promote binge watching with a whole season release of Hailee Steinfeld vehicle "Dickinson."
Written by Kerry Ehrin and directed by Mimi Leder, "The Morning Show" dives into the cutthroat world of morning news, as told from the perspective of two women working their way through a sometimes volatile work environment. The show takes a candid look at the power dynamics between men and women, as well as women and women, in the workplace, Apple says.
With Aniston, Witherspoon, Steve Carell, Mark Duplass, Billy Crudup and others attached, the show generated significant media buzz and stands as one of the most anticipated series to call Apple TV+ home. Apple's involvement in the production was reported some two years ago.
AppleInsider took an early look at the episodes set for release on Friday and found the show lacks a clear voice despite excellent acting, directing and production values. That could change as the series develops.
Apple is rumored to have picked up a second season of "The Morning Show," which will reportedly join sophomore runs of "Dickinson," "For All Mankind," immigrant anthology series "Little America" and detective drama "Home Before Dark."
Apple TV+ will feature about 10 shows when it goes live on Nov. 1. The service costs $4.99 per month, but customers who purchase eligible devices like iPhone and iPad get a one-year subscription for free as part of a limited promotional offer.