AirPods Pro come with higher repair costs that make AppleCare+ appealing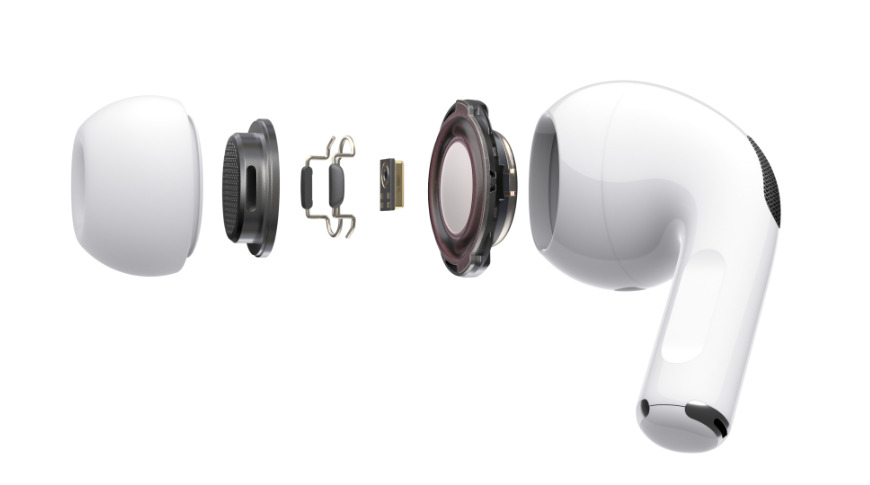 AppleInsider is supported by its audience and may earn commission as an Amazon Associate and affiliate partner on qualifying purchases. These affiliate partnerships do not influence our editorial content.
Alongside the higher purchase price for the new Apple AirPods Pro, the costs of repairing damaged or replacing lost ones is greater.
It's going to cost you more to replace a damaged pair of AirPods Pro than it would the previous models. That's not surprising, but maybe this is — Apple will only charge you $4 to replace one of the tips that come with the new headphones.
Maybe that's because not many people are going to need it. Once you've selected which of the three provided tips is right for your ears, you won't even notice if you lose the other two. And if you manage to lose the tips that are on your AirPods Pro, it's most likely that you'll have lost the AirPods Pro with them.
Other than the $4 tip replacement, though, all other costs of repairing or replacing AirPods Pro are greater than before. It's enough so that AppleCare+ for Headphones is looking like a bargain.
AppleCare+ and what you get
It costs $29 to buy AppleCare for Headphones, which is the one cost that's the same regardless of whether you have AirPods or AirPods Pro.
If you don't buy AppleCare+ for Headphones, you're still covered by a year's warranty in case there's something wrong with your AirPods Pro. However, if you do add AppleCare+ at purchase — or within 60 days of buying — then you get two years with more benefits.
Specifically, you are covered for up to two incidents of accidental damage and, maybe the most attractive element, you get battery service.
AppleCare+ for Headphones is explicitly for repairing your AirPods. In practice, a repair of an AirPod probably means replacement, but it's replacement prompted by accidental damage. You are not covered by AppleCare+ if you lose your AirPods Pro or they are stolen.
Plus, on top of the AppleCare+ for Headphones purchase price, you also have to pay a $29 service charge for each case of damage.
Three items, not one
Something to bear in mind is that AirPods Pro are really three devices, not one. There are two AirPods Pro that go in your ears, and then there's the wireless charging case.
If you have AppleCare+ then Apple does treat the three as one device and will charge you a single $29 fee for a repair.
However, if you don't have AppleCare+, then you're paying separately for each element. Repairing accidental damage would then cost you $89 per AirPod Pro, and $89 for the wireless charging case.
This is up from the $69 that it costs to repair the previous model of AirPods or their wireless charging case. And it's up from the $59 that the non-wireless charging case cost to fix.
That means if you've had some serious accidental damage and need all three fixed, it's going to cost you $29 under AppleCare+ or $267 without it. It will actually be cheaper to buy new AirPods Pro in that case.
Loss adjustment
It's perhaps more likely that you are going to lose these tiny headphones than it is that you'll damage them. In that case, having AppleCare+ for Headphones makes no difference.
Lose any one of your two AirPods Pro or their charging case, and Apple will replace them at a cost of $89 each. Which again potentially means the replacement cost could add up to more than buying a new pair.
That's a shame, but it's also another unsurprising fact. If Apple didn't arrange it so that replacing your entire AirPods Pro set was more expensive than buying new, you know that people would exploit this.
Battery repair
You can be equally certain that Apple has run the numbers on the costs to it of replacing the batteries in AirPods Pro. However, in this case, it could work out greatly to our advantage.
Under AppleCare+ for Headphones, you will get a free replacement if your battery holds less than 80% of its original capacity. That's in either or both AirPods Pro, plus the wireless charging case.
In that case, Apple will service the battery for free — you won't even get billed the usual $29 service cost.
We really only have anecdotal evidence about the state of batteries in AirPods over time. However, it is certainly true that if you bought the original AirPods at launch, their five-hour battery life was reduced to 90 minutes by the time the second version of AirPods came out two years later.
This could mean that AirPods Pro don't become quite the disposable devices that we've feared. And if Apple's math is good, if AirPods Pro batteries decline only 9% in two years, then we're hardly going to complain.
They will decline, though, and at some point the hit to your usage is going to be so noticeable that you'll want to replace the battery anyway. If that happens outside of the AppleCare+ two years, it'll cost you $49. Per device.
The odds are high that you're going to use the two AirPods Pro equally. Some people do use one at a time for phone calls, but most of us listen to music in stereo — then that's $49 times two.
If you go for the set and have the battery in the wireless charging case replaced too, that's a further $49 for a total of $147.
That's considerably better than shelling out $249 for another new pair of AirPods Pro. Although, you know that before two years are up, Apple is going to release new models that you'll want to buy.