Apple Watch continues to dominate the smartwatch market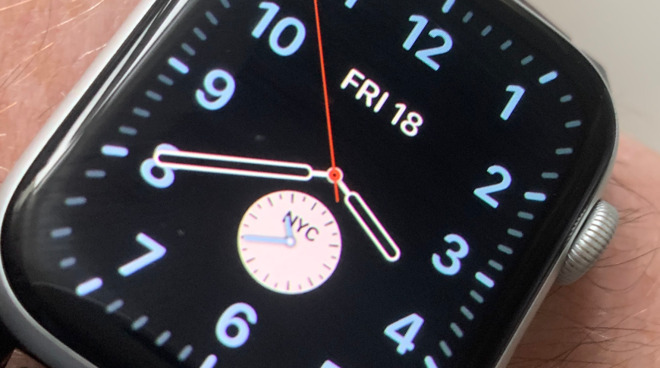 The Apple Watch continues to be the biggest name in smartwatches, analysis from Strategy Analytics claims, with Apple close to owning half of the global smartwatch market following its performance in the last quarter.
The smartwatch market has growth 42% in the last quarter over the same period last year, with shipments in Q3 2019 for all vendors hitting 14.2 million units, up from 10 million in Q3 2018. In Strategy Analytics' latest report on the smartwatch market, Apple is still a major driving force for the sector, and is continuing to lead other vendors globally.
It is claimed Apple Watch shipments reached 6.8 million units in Q3 2019, up 51% from the 4.5 million believed to have shipped in the same quarter in 2018. To Strategy Analytics Executive Director Neil Mawson, Apple "remains a long way ahead of the chasing pack," and "continues to fend off strong competition from hungry rivals like Fitbit and Samsung."
Wearables were a big help for Apple's recent financial results, with it and Services helping plug a shortfall in revenue from iPhone sales to bring Apple up to $64 billion. In the period, wearables revenue rose year-on-year by 54% to $6.52 billion.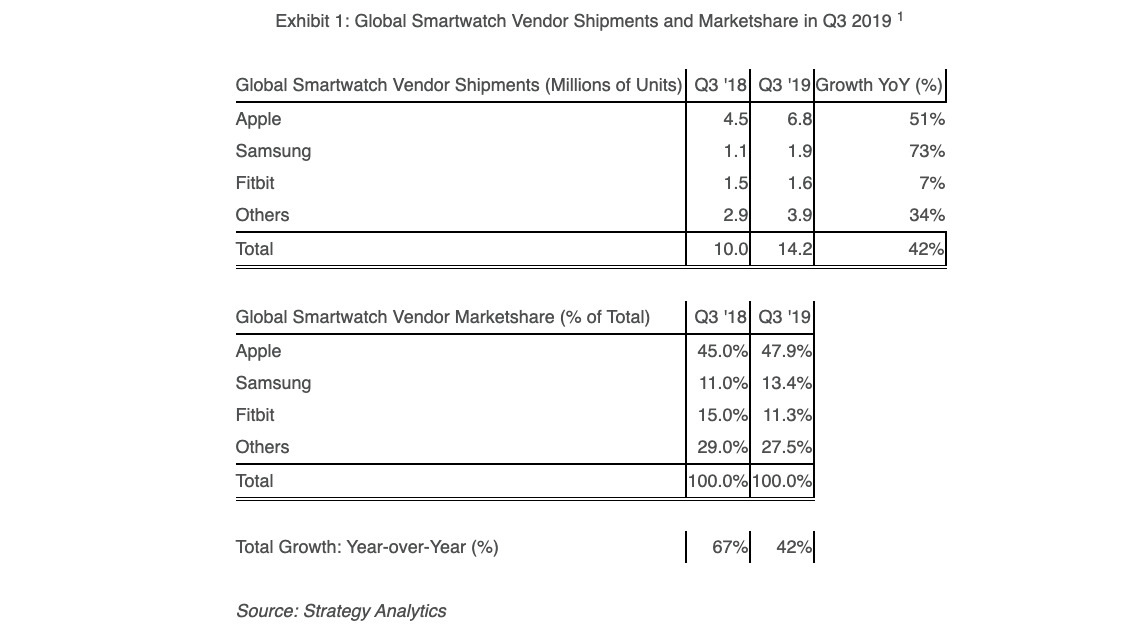 Samsung is in second place at the moment, rising from third in 3 2018 when it has 1.1 million shipments to 1.9 million shipments now. While this does represent growth of 73%, the increase in the number of units shipped is still less than half the increase seen by Apple.
"Recent new models, such as Galaxy Watch Active 2, should enable Samsung to improve its global smartwatch presence during the upcoming Q4 holiday season," suggests Senior Analyst Steven Waltzer.
Fitbit, formerly in second place for Q3 2018 but now in third due to Samsung's rise, did see growth but at a far lower level. Its improvement from 1.5 million to 1.6 million represents year-on-year growth of just 7%.
In terms of market share, Apple makes up 47.9% of smartwatch sales in the quarter, up from 45% in Q3 2018, and edging ever closer to the 50% mark. Samsung occupies 13.4% of the market, up year-on-year from 11%, and Fitbit is down from 15% to 11.3%.
Mawson believes the recent purchase of Fitbit by Google "will be a relief to the company" due to increased competitive pressure from Apple, Samsung, Garmin, Huawei, Xiaomi, and others. "The big question now on everyone's lips is what Google plans to do with Fitbit."
Whatever Google's plans are, it still leaves Fitbit needing a massive boost in sales to compete adequately against Apple, as well as the rising Samsung wearable devices.