Apple survived dark days with optimism & teamwork, says Deirdre O'Brien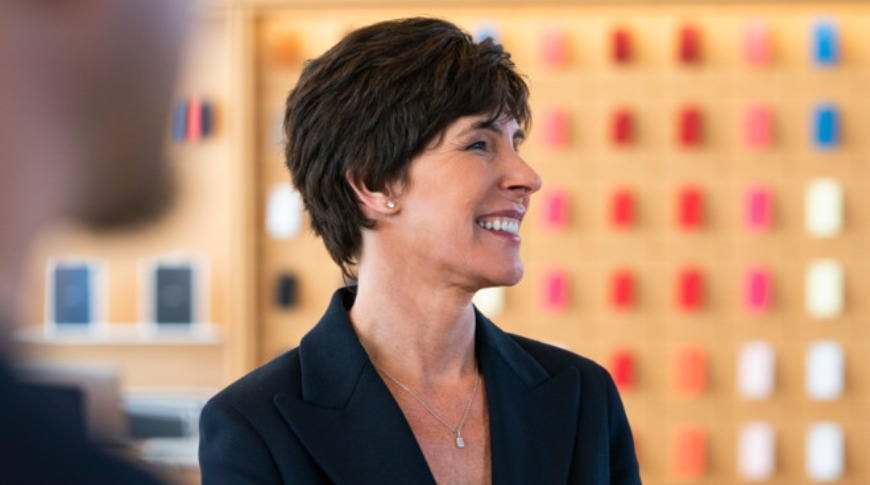 A new profile of Apple retail chief Deirdre O'Brien reveals Apple is an optimistic company even in tough times, such as during the dot-com bubble burst, while O'Brien herself feels coming out early in her Apple career was one of her toughest and proudest moments.
O'Brien was named the successor to senior vice president of retail in February, previously held by Angela Ahrendts, and officially took the position of SVP of People + Retail. In her position, she is in charge of over 500 retail outlets, Apple's online store, and over 120,000 Apple staff, and now has the most responsibility she has ever had in her long tenure at the company since joining in January 1988.
Despite her history with the company and previous role as SVP of people since July 2017, there has been relatively little in the way of reporting on the low-profile executive, but taking control of retail has raised her profile and brought her more into the limelight. In a profile by InStyle, O'Brien offers more insights about her life of working for the iPhone maker, including some elements that were not previously brought up.
The article covers O'Brien's history, including working on the production of the Macintosh SE and Macintosh Plus, then working on early online and physical retail efforts and helping the company expand globally, before becoming one of its highest-ranking executives.
As part of the delve into her history, O'Brien brings up co-founder Steve Jobs' philosophy of "Apple being at the intersection of technology and liberal arts," suggesting "That is how we all feel, that it's so much bigger than the technology itself." The same comment regarding technology and liberal arts was made by Apple CEO Tim Cook in one 2018 interview, demonstrating how the phrase is revered by other members of management.
Asked about her work in pushing retail to court more customers, O'Brien claims "First of all, I do have a lot of personal energy, and I feel like it is where all the experience I've had at Apple comes together."
She "bounces out of bed each morning" with plenty of optimism, a trait shared with the company itself, as O'Brien mentions the internal sentiment in the early 2000s, during the period when the dot-com bubble burst and affected Apple.
"Honestly at Apple, most people had written us off, they really didn't feel like we were going to make it through," O'Brien remembers. "But there's always hope. So, number one, I feel I really learned a deep sense of optimism, but realistic optimism because you need to assess and have a great grounding in the realities of the situation you're in. What I will tell you is those tough times at Apple, the only way we made it through that was that we pulled together, and everybody played their part."
When queried what her "most badass thing" she's ever done, O'Brien claims it was her decision to come out in her mid-20s that was both one of her toughest and proudest moments. "I was scared, but knew I had to bring my full self to Apple," O'Brien said. "I have never, ever regretted that big decision and today, I consider it my responsibility and a privilege to show up every day in support of our underrepresented team members."
The decision and sentiment over coming out is similar to one expressed by Cook in October, with one interview five years after he publicly came out as gay revealing he "has not regretted it for one minute, not at all."