Hundreds of thousands of iPads will be used with smart AR security glasses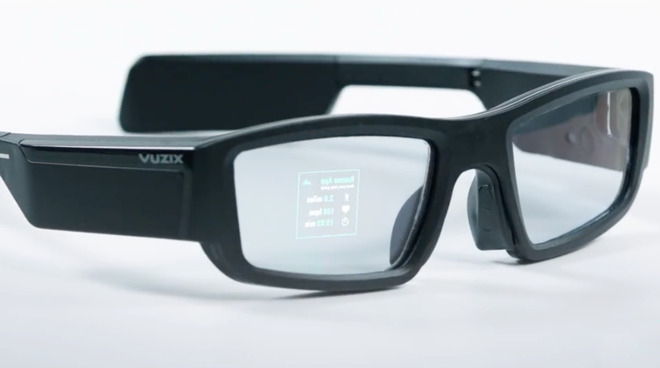 In what is believed to be the biggest single order of smart glasses to date, security firm Sword is buying an initial 10,000 Vuzix Blade AR headgear sets — and pairing each to Apple's iPad.
Security firm Sword is to begin a mass rollout of Vuzix smart glasses to be used in conjunction with iPads for a threat detection system intended for airports, sports arenas and federal buildings. Apple has not announced the deal and no details of the iPads are yet known, but Sword has confirmed it is spending an initial $7.1 million on the smart glasses.
Vuzix Blade Smart Glasses are an AR headset in the style of basic spectacles, and information can be displayed on them from a smartphone or other device. The glasses ordered for Sword are reported the same as the ones that can be bought by consumers and feature Amazon Alexa support.
Sword is a security system intended to be used in places such as airports where the wearer can have a hands-free view of data about items they're required to search. In Sword's case, the Vuzix glasses are to be paired to iPads which are running proprietary apps and also utilizing proprietary hardware.
Currently, Sword supplies customers with 9.7-inch iPad in a case that has extra electronics including a camera system which, through an undisclosed method, is reportedly able to detect concealed weapons.
When a person is in view of the case's camera, a 3D modelled image of that person is displayed with any weapons highlighted on the connected iPad.
Vuzix Blade smart glasses do have a camera and the company has said other firms are using face recognition with it. However, it's not clear whether the glasses contribute to feeding video to the iPad for analysis, or are solely to unobtrusively show alerts to security personnel.
Sword's $7.1 million order will buy 10,000 of the Vuzix Blade, and sources familiar with the two companies have said they expect that to increase to hundreds of thousands of orders, each with an iPad, in the near future.
"Sword is the world's first, mobile, proactive, multiple threat detection and identification device," says the official site. "Our multi-tier technologies, including a 6-hour lithium battery, are embedded in a military-grade case and secured to an Apple iPad 9.7."
Vuzix claims that adding the glasses to Sword's offering means that the see-through display will "allow security personnel to quickly and inconspicuously receive real-time critical threat notifications."
"The combination of technology offerings between Vuzix and Sword has all the makings of a disruptive and game changing product offering for public safety and the security industry," said Paul Travers, Vuzix President and Chief Executive Officerin a statement.
"Vuzix Blade Smart Glasses are the ideal wearable solution to pair with our Sword Enterprise solution," said Sword Enterprise founder and CEO, Barry Oberholzer. "The see-through smart glasses allow our customers to stay engaged with their environment, while also simultaneously receiving critical alerts related to safety threats."
Sword and Vuzix glasses are intended to replace or at least reduce the need for the more familiar archway scanner used by the TSA in airports.