AirPods shipments to double to 60M in 2019 on high demand for AirPods Pro, report says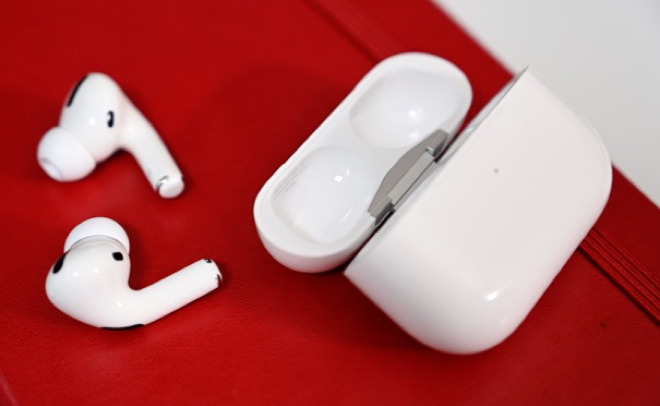 Shipments of Apple's AirPods headphone line are expected to hit 60 million units in 2019, doubling previous year estimates on the back of strong demand for the new AirPods Pro model, according to a report on Thursday.
Citing sources familiar with the matter, Bloomberg reports demand for AirPods Pro has been "much higher" than expected, prompting suppliers to push harder against production capacity and technical limitations.
A number of existing suppliers are vying for a chance to build AirPods Pro, Apple's most feature-rich — and most expensive — AirPods model at $249. Certain manufacturers are only now ratcheting up capacity to meet Apple's demands, while others are playing catch-up in terms of production capabilities.
Currently, Taiwan-based Inventec Corp. and Chinese firms Luxshare Precision Industry Co. and Goertek Inc. manufacture AirPods for the tech giant, the report said.
As noted by Bloomberg, metrics gathered by Counterpoint Research showed AirPods at the head of the "true wireless" headphone pack in August with 57% of customers opting for the small, white earbuds. While that figure is down from 60% during the 2018 holiday season, Apple as of August led second place Bose by a margin of 18%. Apple subsidiary Beats gobbled up another 26% of the segment with its Powerbeats Pro model.
AirPods launched in 2016 as Apple's first foray into the truly wireless headphone market. An instant success, the company earlier this year followed up on the original with a second-generation device that boasts the efficient H1 processor with "Hey Siri" functionality.
AirPods Pro saw a comparatively muted announcement in October, though the product delivered long-requested active noise cancellation capabilities, a completely redesigned chassis, new audio technology and more. Reviews have been nearly unanimous in their praise of Pro, lauding higher-quality audio, a better fit and increased functionality as compared to older variants.