CES 2020: Best of HomeKit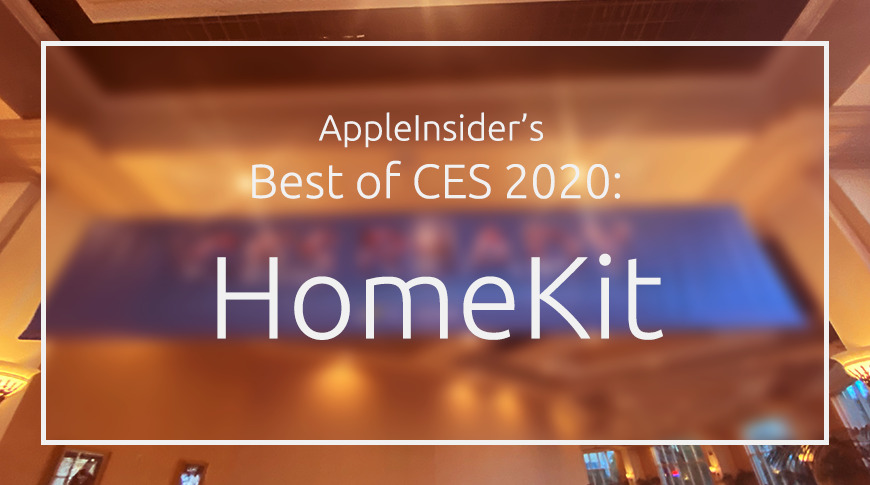 Apple's HomeKit platform is gaining more support from smart home device producers wanting to join the growing ecosystem of inter-connected devices. Here are some of the many HomeKit-enabled devices introduced at CES 2020 with the aim of improving your home life, updated on Wednesday with more releases.
August
During CES 2020, Assa Abloy is announcing several new smart lock entrants, including an new flagship August product that will interface with Apple's Homekit.
Most of note for Apple fans is the new August WiFi Smart Lock. This new lock was once again designed in conjunction with Yves Behar/Fuseproject and occupies a 40% smaller footprint than the previous generation model.
In addition to being smaller, it also is natively embedded Wi-Fi for the first time. Previously, users of August smart locks required the August Connect to enable Wi-Fi and remote connectivity. Now that is no longer necessary.
Aside from August, Yale US is introducing a new Smart Storage product line that can be easily controlled from your phone. Using your phone you can lock, unlock, and see the activity history. There is also the new Yale Smart Package Delivery Box which will be beneficial to those who receive a lot of packages and would like some additional security.
Finally, Yale EMEA is launching an entirely new smart lock dubbed the Linus Smart Lock that was also designed with Yves Behar/August. It is the first retrofit smart lock that will work with all major EMEA countries which have notoriously varied lock protocols.
Arlo
Arlo is expanding its Pro 3 lineup at CES 2020 with the wireless Arlo Pro 3 Floodlight Camera. The new device integrates a wide floodlight onto the recently introduced Arlo Pro 3 camera.
Because it is based on the Arlo Pro 3, it has many of the same video features including 2K HDR video, 160-degree field of view, two-way audio, and a built-in siren. The new LED floodlight is significantly more powerful and illuminating than the small LED found on the standard Pro 3 camera.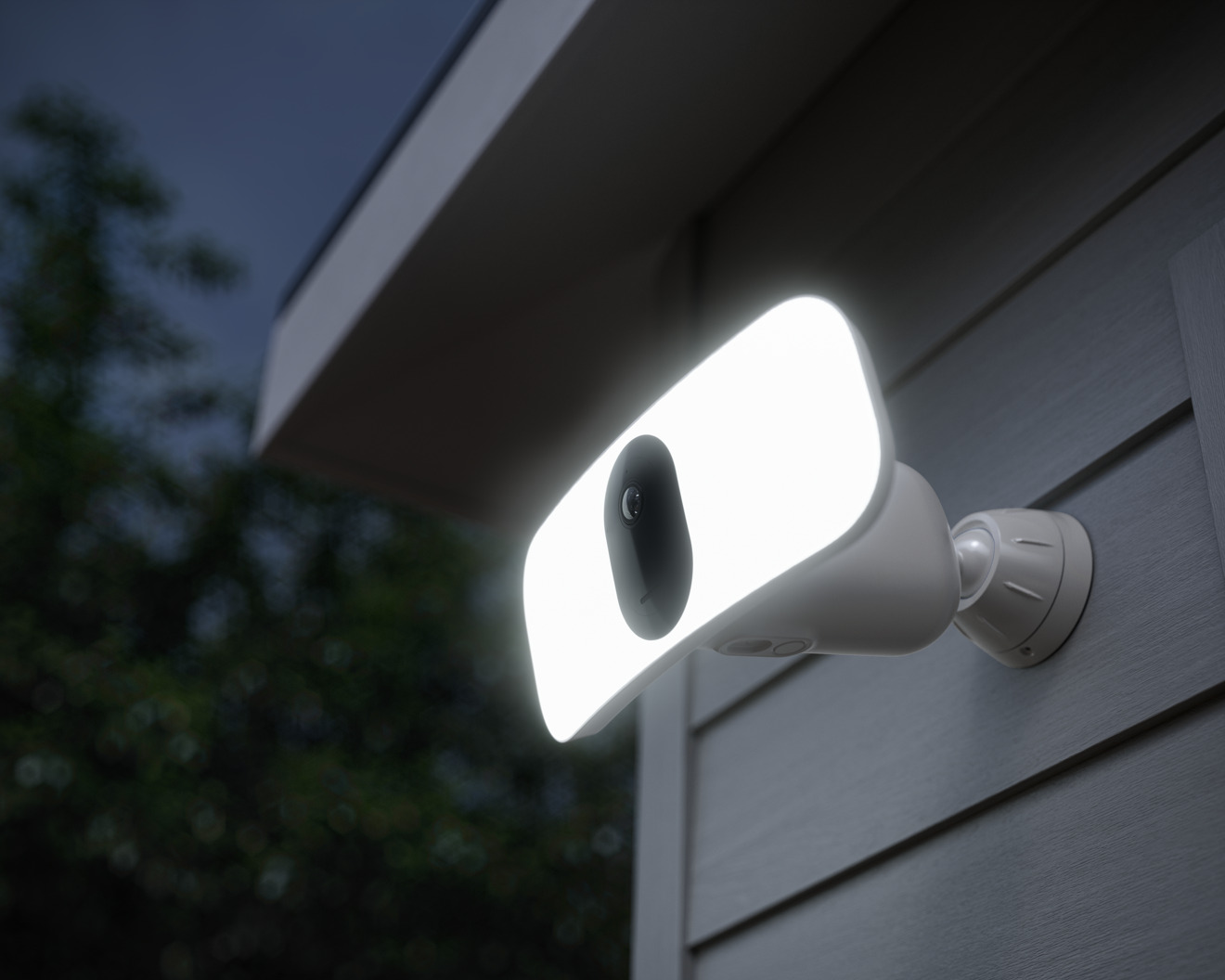 The camera is wire-free so it can be mounted without the need to replace an existing fixture or hiring an electrician. Users can turn the light on and off manually or based on motion. The sensitivity level can be adjusted to not trigger too frequently and also aids in full-color night mode.
Just as with the Pro 3, the Pro 3 Floodlight Camera comes with a three-month trial of Arlo Smart, Arlo's subscription plan that enables a rolling 30-day recording window in full 2K resolution, AI features, and e911 support.
The new Arlo Pro 3 Floodlight Camera will be available in Spring 2020 for $249.
Nanoleaf
Nanoleaf has launched a new HomeKit-compatible lighting solution during CES 2020 that learns behaviors over time to reduce human interaction and react to users in the home.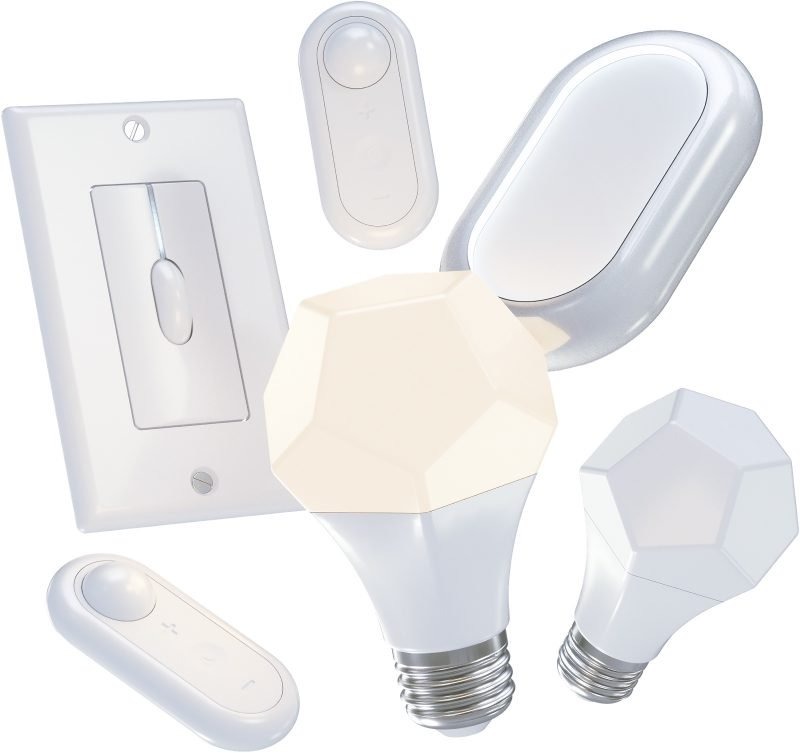 The new "Unified Light System" encompasses various sensors that combined with Nanoleaf's lights to create an intelligent lighting system. As Nanoleaf describes it, "The Learning Series with its U-IQ Technology will learn, sense and react to your needs in a way that feels intuitive and natural within your home."
Nanoleaf says the goal is to allow users to spend more time enjoying their lights and less time trying to think about controlling them.
The Learning Series will launch with a hexagonal design that can interconnect and allow users to create their own designs and patterns.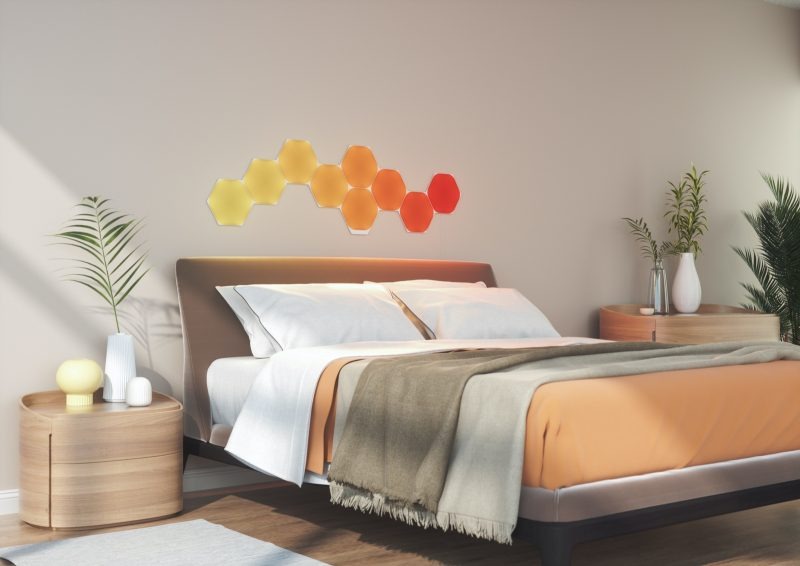 Those interested can sign up to be notified now on Nanoleaf's website. It will launch in the Spring of 2020 and preorders will open ahead of time.
Abode
Abode has announced a new indoor/outdoor smart camera during CES 2020 that will include support for Apple's HomeKit in the future.
The new Abode Outdoor/Indoor Smart Camera is a compact camera "roughly half the size of a deck of playing cards" and features a PIR motion sensor, an IR light for night vision, two-way communication, 1080p video capture, and a 152-degree field of view. It is also water-resistant with an IP65 rating.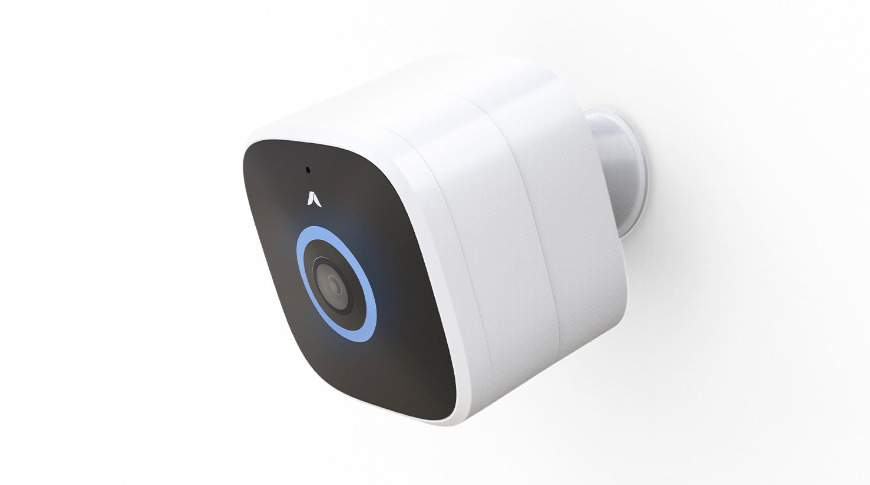 It can be mounted using existing doorbell leads and sit flush against the wall or it can be plugged into a traditional AC outlet. Soon, Abode will be releasing a version with a doorbell button to operate it as a smart video doorbell providing further options.
Abode's new camera supports Alexa and has been submitted for HomeKit certification. Assuming it passes certification, it will only support standard HomeKit support and not HomeKit Secure Video cloud storage, at least for now as they look into Secure Video support.
Legrand + Netatmo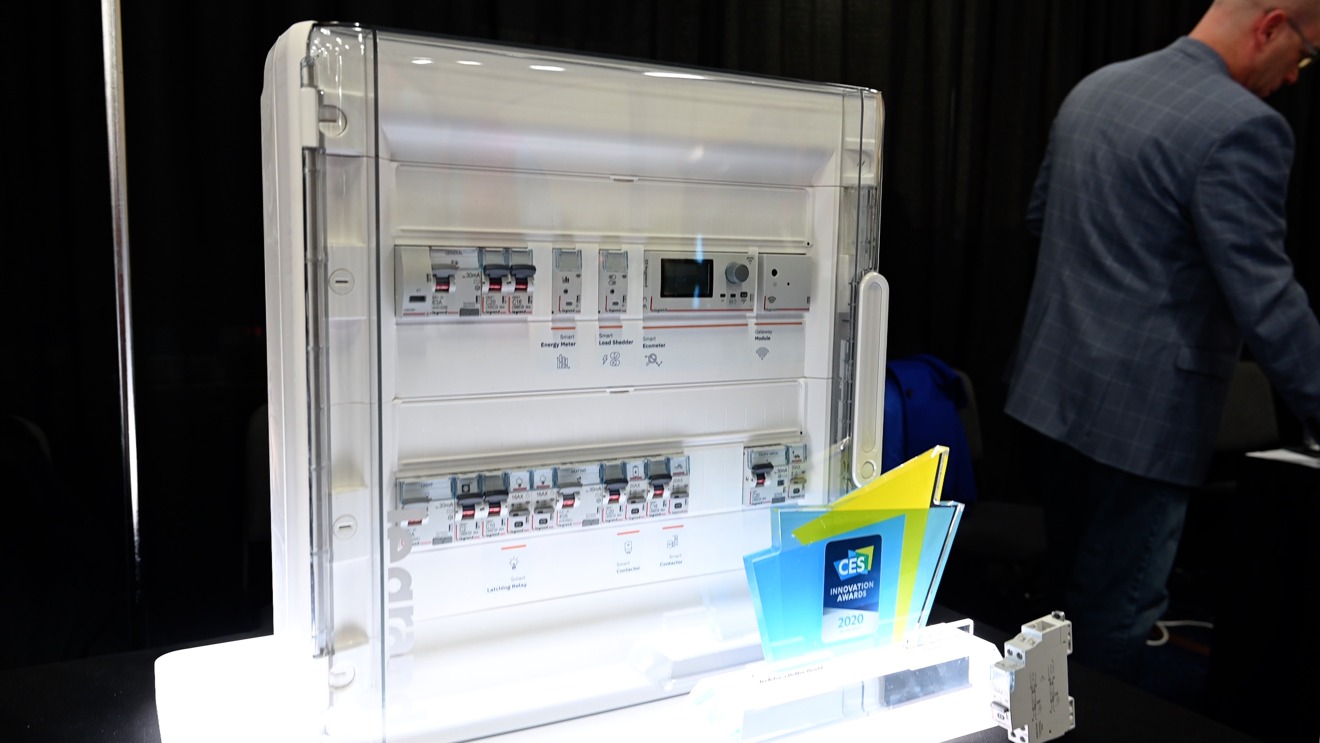 Legrand took the wraps off its new smart electrical panel, Drivia that allows much more control and in-depth monitoring of a user's home. Drivia with Netatmo is made up of six smart modules: a contactor, a latching relay, an energy meter or eco-meter, a load controller and a gateway module.
With it, users can see how much energy they are using throughout their home, as well as control rooms directly. It is useful for larger electronics and appliances that typically draw a lot of power, even when not in use. Legrand highlights the ability to turn off the hot water heater when out of town.
It will be available starting Q1 2020.
OneLife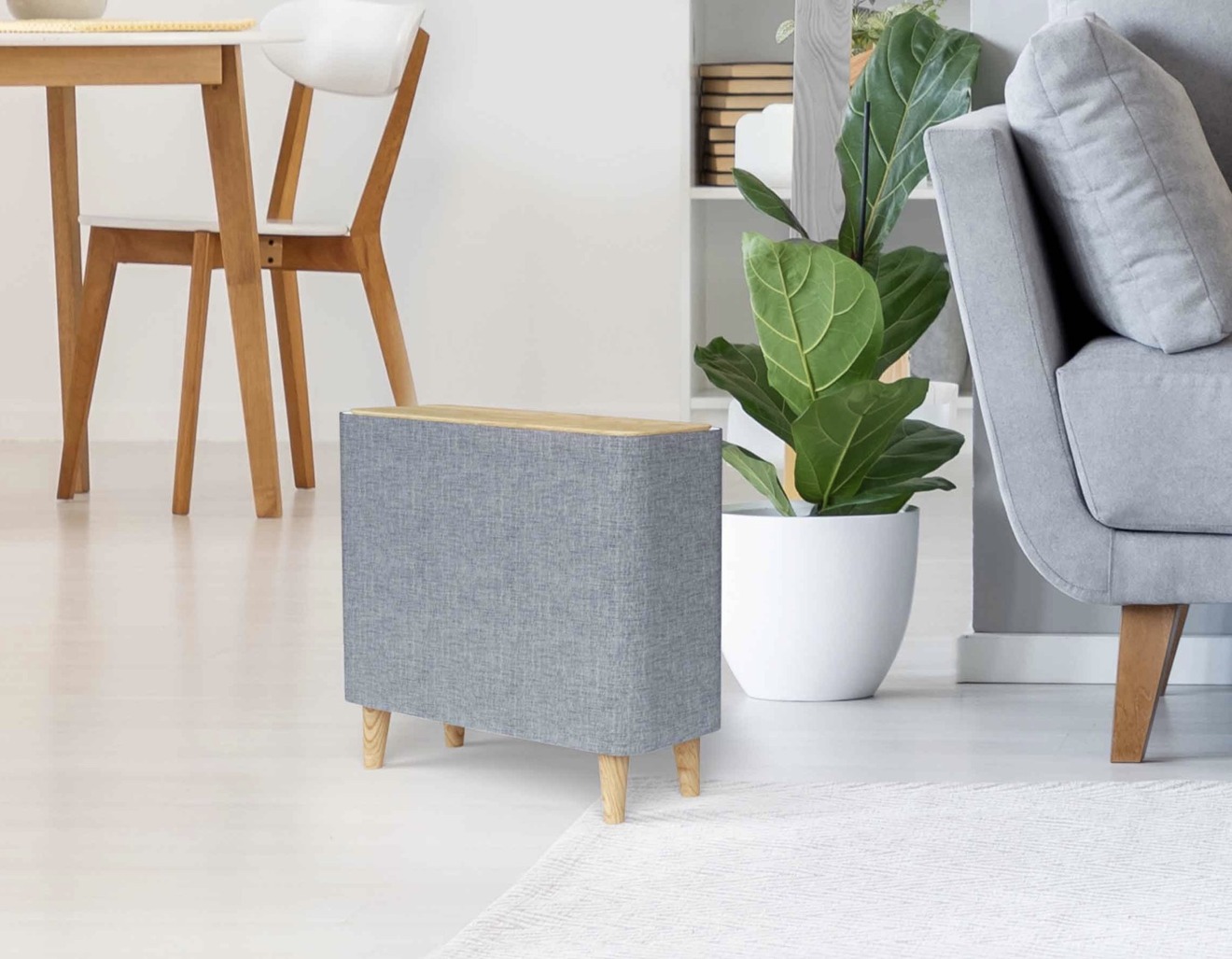 Startup OneLife unveiled their stylish air purifier that shuns many of the design aesthetics and maintenance issues that plague many models.
The new PureOne air purifier is far more sustainable than others as it has a washable filter rather than a purely replaceable one. It doesn't do a worse job though as it can extract particles as small as PM 1.0, much smaller than the usual PM 2.5.
PureOne has a clean design that is largely made of wood and fabric with a hidden display in the top.
The device operates on its own, monitoring air quality and ramping up and down as necessary to clean the air appropriately. It can also be controlled via Apple's HomeKit and by Siri.
Philips Hue
Signify has announced several new devices for its Hue Outdoor collection including a new wall-mounted fixture as well as new low-voltage options to improve coverage, style, and versatility as well as new software features for its app.
The new wall-mounted option is the Appear fixture which casts a unique triangle of light up and down the wall. It supports not only white shades, but millions of colors like others in the Hue lineup.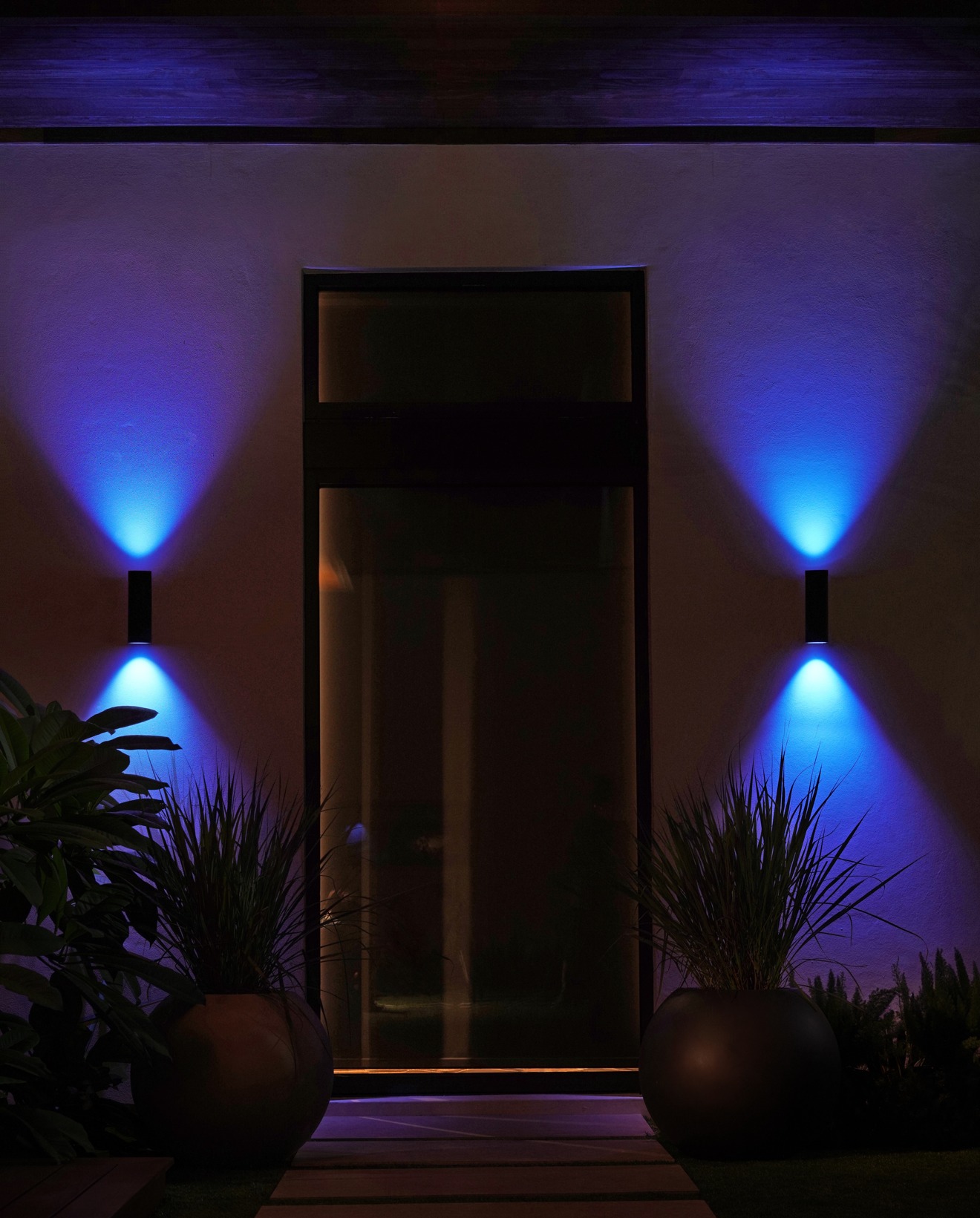 Hue is also debuting a larger version of the Lily, dubbed the Lily XL spotlight which outputs significantly more light than the smaller predecessor that debuted last year during CES 2019.
Last in Hue's CES 2020 hardware releases is the low-voltage Philips Hue Econic pedestal light which is perfect for lining pathways. Both the Lily XL and Econic are simple plug-and-play and require no electrician to install.
All of the new lights are compatible with Apple's HomeKit and Siri.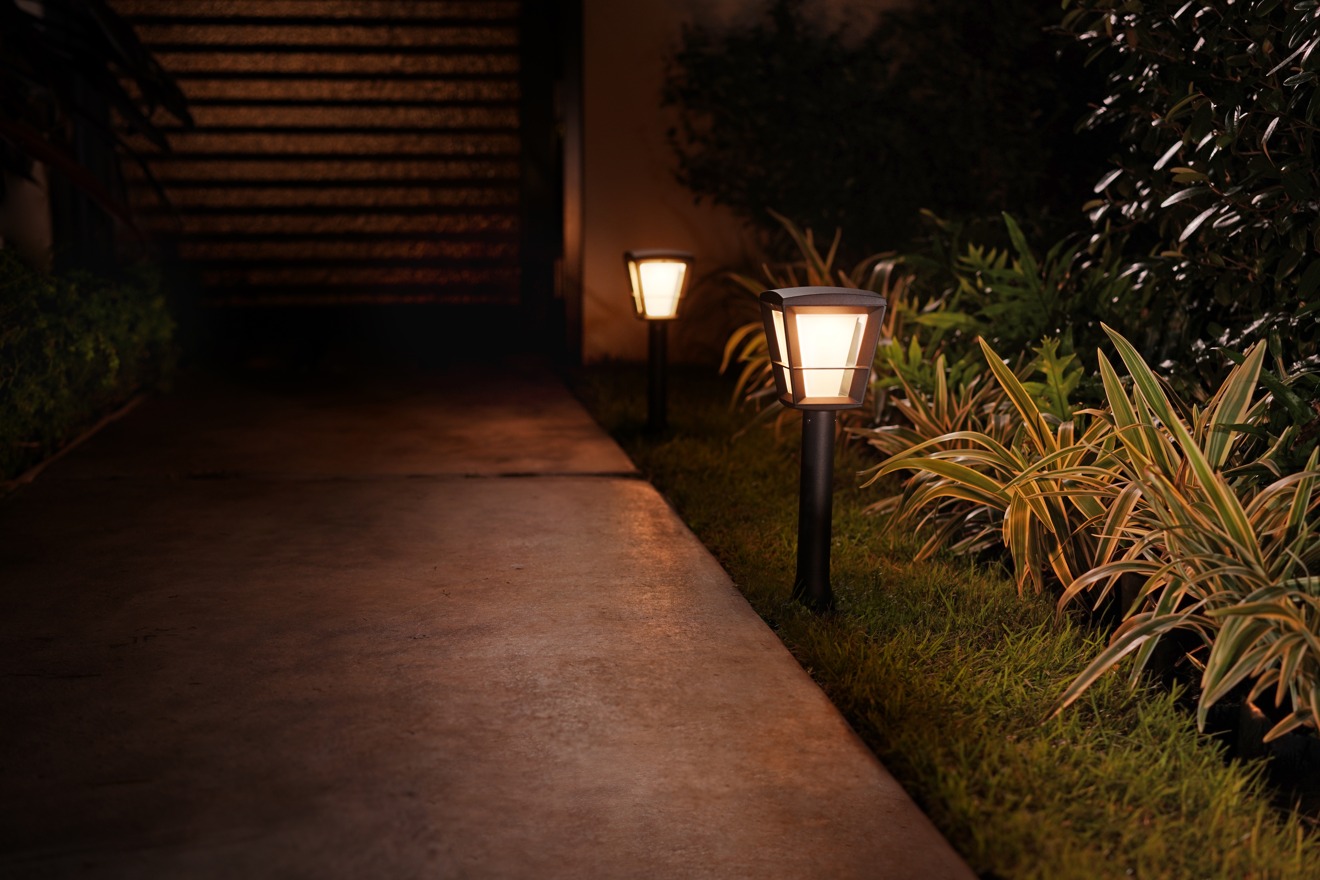 Alongside the new lights, Signify is adding a new 100W outdoor power supply and a 2.5 meter extension cable to it's accessories to allow more lights to be connected together.
To bolster its hardware lineup, Signify also has a pair of substantial updates coming to its app.
The new Philips Hue Play HDMI Sync Box will soon be able to be controlled through Siri, Google Assistant, or Alexa for hands-free lighting. This means you can just as your assistant of choice to enable the Sync Box while you are watching TV to enable the immersive lighting experience hands-free. Voice control also lets you change settings as well as switch between HDMI devices.
New infrared control is also possible following a forthcoming update which will allow any infrared remote the ability to control the Sync Box.
Finally, the Hue app is adding more support for zones. Now any Hue accessories — such as switches, buttons, or motion sensors — can control not only a room, but a zone as well.
Eve
In an effort to continue building out its HomeKit portfolio, Eve Systems is announcing the new Eve Cam at CES 2020. This is the first smart home camera designed from the beginning to work with HomeKit and HomeKit Secure Video.
The new wired home security camera adopts a familiar design and has a rotating and tiling base that can be mounted anywhere. It has a 150-degree field of view and captures footage at 1080p. It also supports infrared night vision, two-way audio, and subject detection.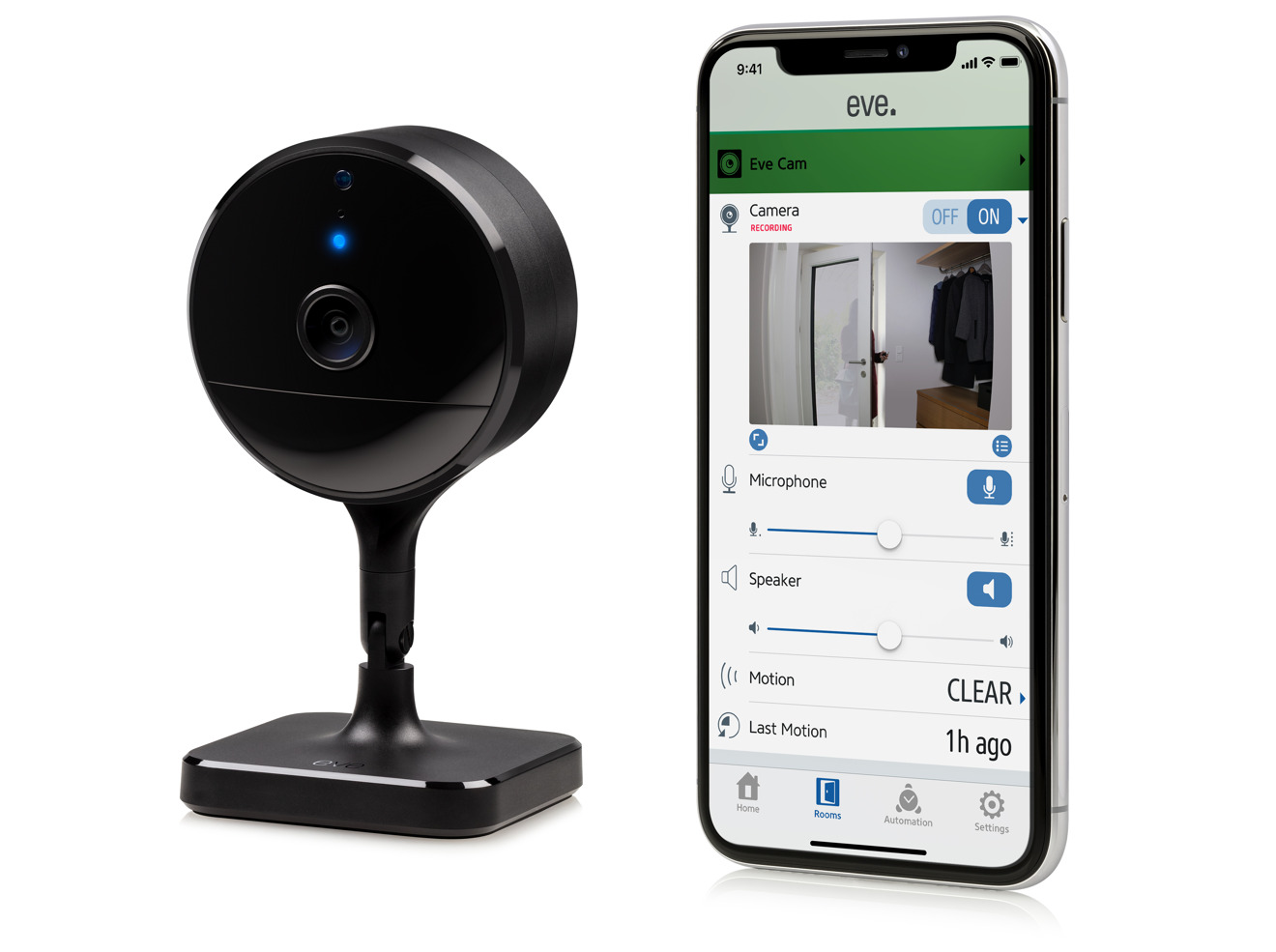 With HomeKit, users can have the camera disable when family members are home and notify them when pets, vehicles, or people are detected while away.
Eve Cam is built entirely around HomeKit which means there is no third-party server or subscription necessary and everything is encrypted through your Home Hub. Users can view their recordings within the Home app using HomeKit Secure Video which stores footage inside of iCloud.
When Eve Cam launches in April it will retail for $149.
In addition, Eve is launching a second-generation version of its popular Eve Energy smart plug. The new Eve Energy has a new lower price point of $39.95 and is significantly smaller. It has now adopted a bar shape as to not block additional adjacent outlets as was an issue with the first generation.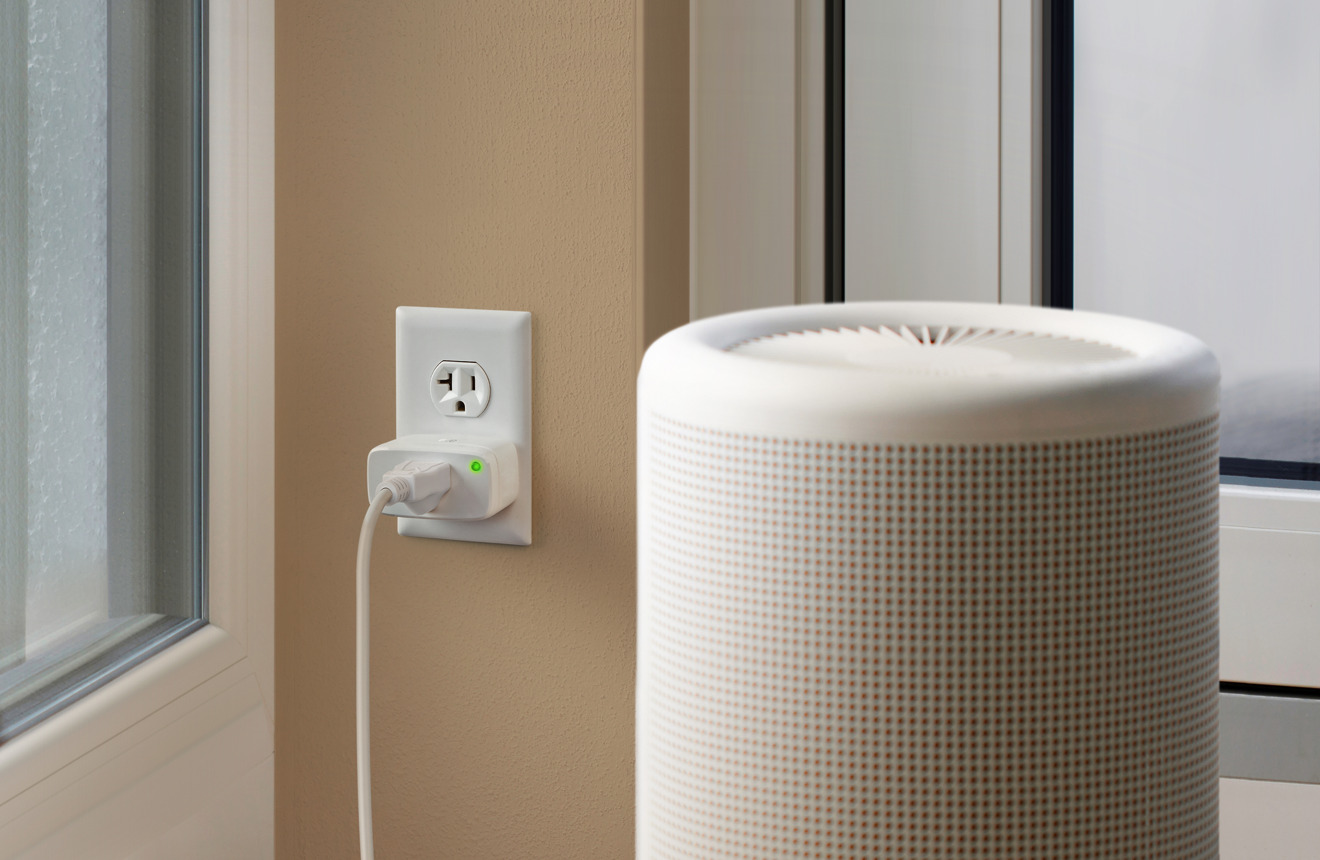 Otherwise, it has the same featuring including HomeKit support, Bluetooth connection, and energy monitoring. It launches on February 4th.
Eve Systems also took the opportunity to provide an update on the previously announced Eve Water Guard. The HomeKit leak detector comes with a 6.5ft sensor cable and will begin shipping on February 7th for $79.95.
ADT
ADT is releasing a suite of home security devices to their Blue line for ambitious DIYers. Three of their new products were unveiled at CES 2020, including their Blue Indoor and Outdoor cameras, as well s a new Blue Doorbell camera. All devices will be released late January 2020, and can be used on their own, or can be incorporated into the larger Blue line.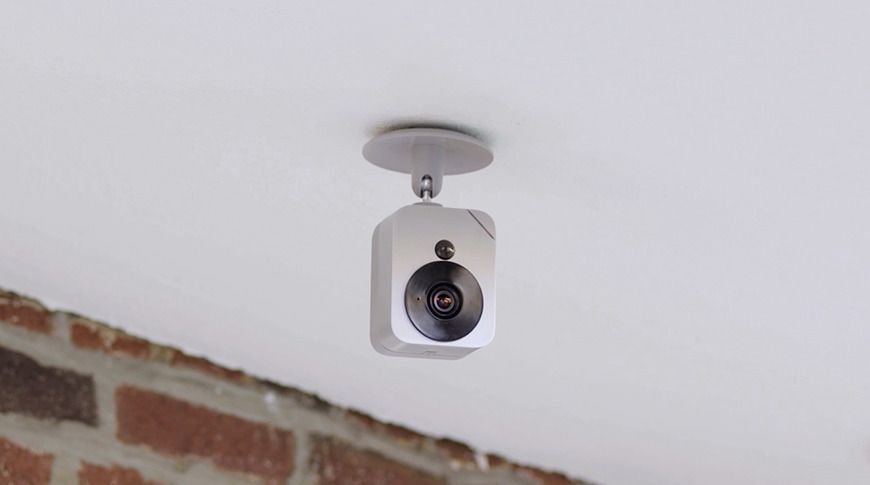 The Blue by ADT Outdoor Camera is a weather-resistant, wireless security camera that can be placed wherever you feel you need a bit of extra security. It features 1080p HD video with a 130-degree wide angle lens. The camera is capable of storing 24 hours of storage to the cloud for free, with additional storage available for purchase through ADT. The camera can also save videos locally onto an SD card. The Blue by ADT Outdoor Camera will retail at $199.99.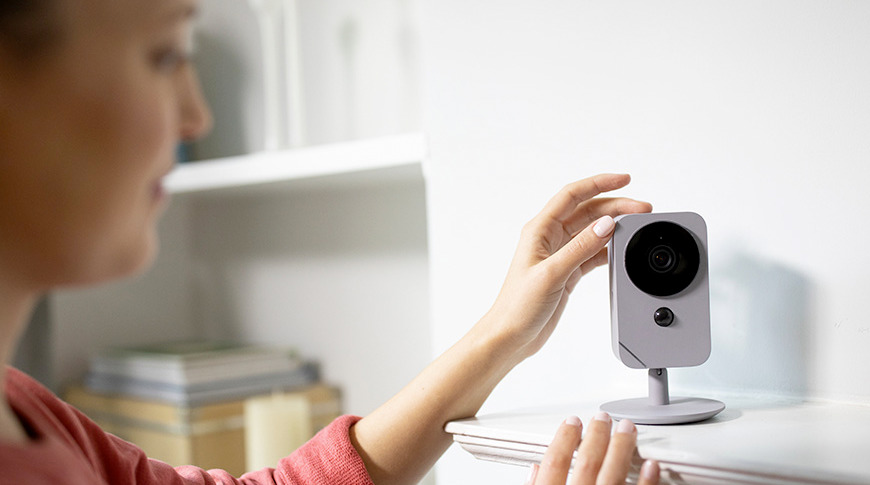 The Blue by ADT Indoor Camera is similar to many other indoor security cameras we've seen in the past. It records 1080p video and features two-way audio. The Indoor Camera has a setting that allows it to listen for additional alarms — such as a smoke detector or security alarm — and send you a notification. The Blue by ADT Indoor Camera is set to launch at $199.99.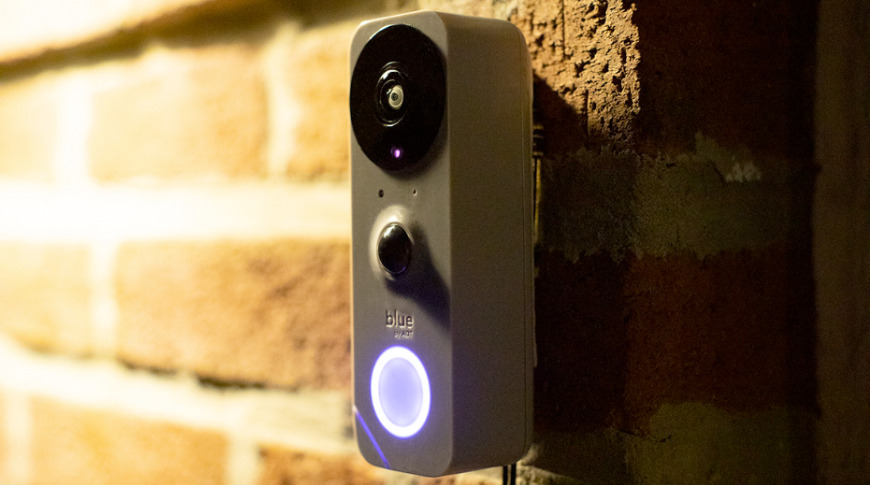 The Blue by ADT Smart Doorbell is a weather- and temperature-resistant video doorbell that features 180-degree, HD video recording with an additional night vision mode. Two way audio allows you to both listen and communicate with those who approach it. The Smart Doorbell works with the ADT app to allow you to remotely view and control your camera, and allows you to receive push notifications with video previews. The Blue by ADT Smart Doorbell will cost $199.99 at launch.
Wemo
The Wemo Stage is a remote control for smart homes, allowing users to switch between a number of different presets for a room or the home in general. Compatible with HomeKit, the Stage consists of three buttons that triggers specific scenes, with the use of long and short presses on the buttons allowing up to six scenes to be switched between at will.
The different presses for varying scenes could allow for some finessing with setting automation in a home. For example, a short press of a button could be reserved for smaller tasks, such as turning a smart plug attached to a device on or off, while long presses may be reserved for full scene changes to alter the mood of the room, including lighting, blind positions, and other elements.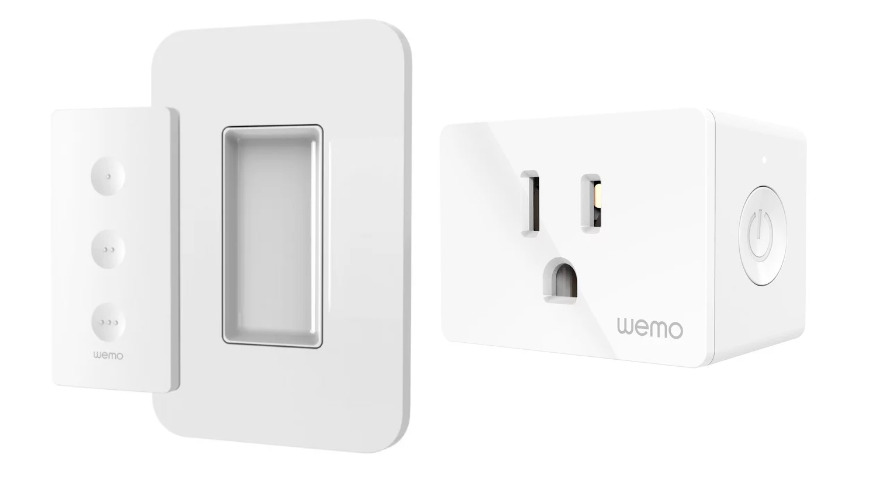 The tiny remote can be docked into a Wemo light switch plate or Decora-style plate, allowing it to be kept safe in an easy-to-reach location.
Arriving this summer, the Wemo Stage will cost $49.99.
The Wemo Wi-Fi Smart Plug is a continuation of earlier versions of the same concept, in that it is a plug that fits into an outlet, and another device connects to it. As the name suggests, it connects over Wi-Fi and is compatible with HomeKit, allowing it to be controlled by Apple's smart home platform, along with support for Amazon's Alexa and the Google Assistant.
In the latest incarnation, the plug has an extremely small footprint, so it won't accidentally block off access to other nearby outlets on the same plate.
Also arriving in the Summer, the Wemo Wi-Fi Smart Plug will be priced at $24.99.
LIFX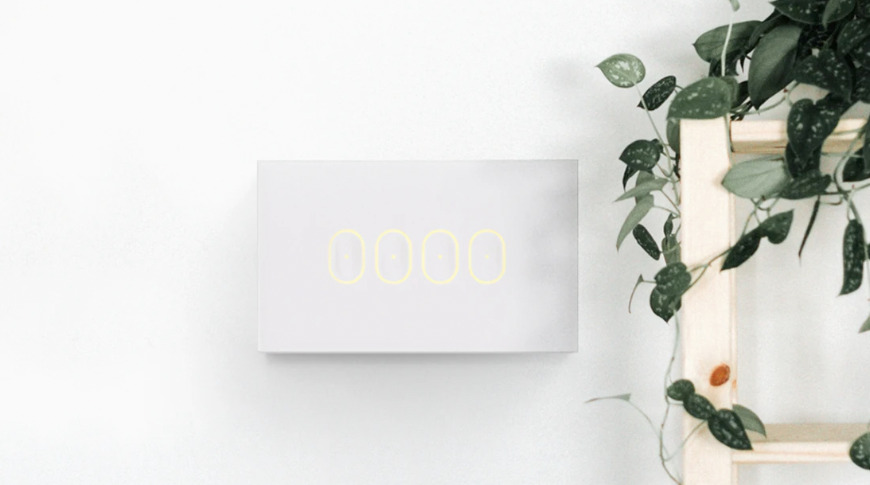 Lifx has brought some of their new HomeKit enabled tech to CES 2020, including adjustable candelabra bulbs, light strips, filament bulbs, and perhaps most notably, a four-button light switch replacement.
The Lifx Switch is a new smart switch that can be used to replace not one, but four separate light switches in your home. It adds in a handy voice control feature, allowing you to control your lights with Siri or other voice assistants.
The minimalistic design — available in either white or black — features backlighting and Haptic Touch. The Lifx Switch works with the Lifx app, allowing you to set schedules for "dumb" LEDs. Each button is programmable, allowing you to set themes, actions, or control groups of lights in addition to switching on or off a single bulb.
The Lifx switch is scheduled to ship in March 2020, and can be preordered via their website for $99.
January 8, 9 A.M Eastern time - ADT additions
January 8, 10 A.M. Eastern time - August and Yale additions
January 8, 4 P.M. Eastern time - Wemo additions
January 9, 9 A.M. Eastern Time - LIFX additions