Apple may be working on its own antenna technology for the 5G 'iPhone 12'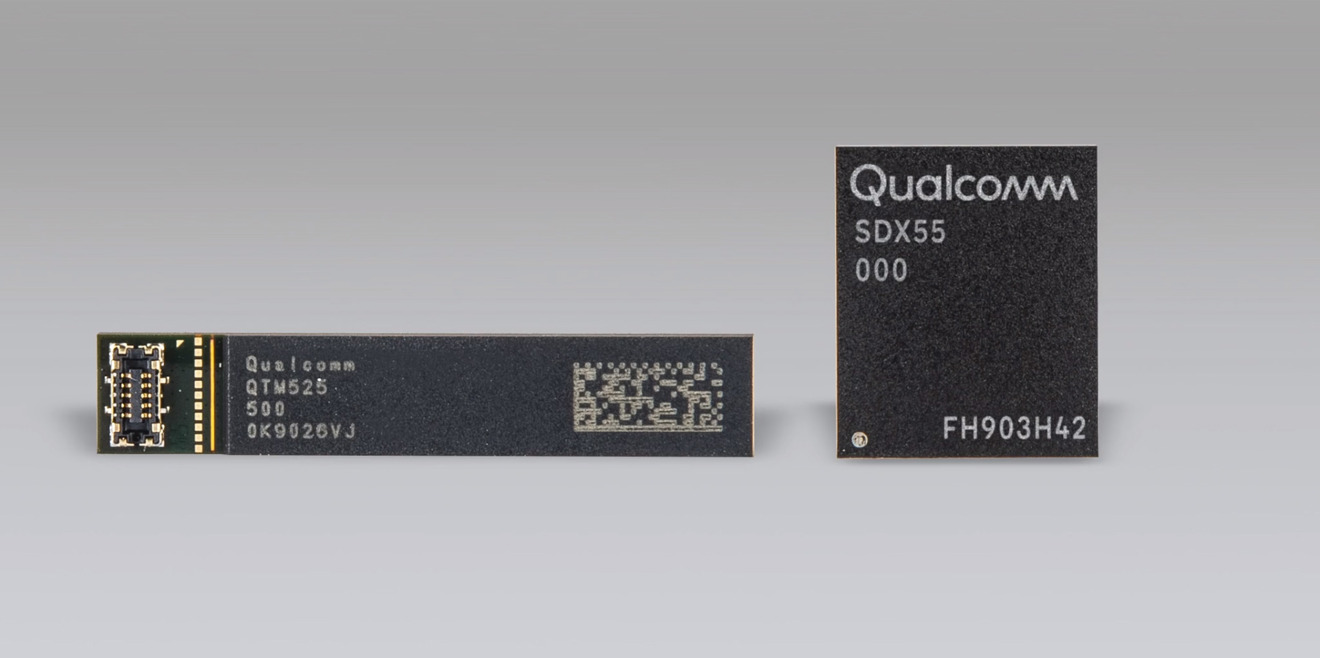 Reports have emerged in the last 24 hours with contradictory sources all claiming to have the inside track on the details surrounding the antenna technology expected in the 5G "iPhone 12" — with one claiming that Apple will do most of the work itself.
Multiple sources are chiming in on the antenna material, design, and supplier for components for the 5G "iPhone 12." One report claims that Apple is working with Qualcomm on a custom design for the antenna, and a second written by Ming-Chi Kuo claims that things are not quite as set, with some disarray behind-the-scenes in who is going to supply crucial power amplifying (PA) components in the antenna array.
Early on Friday, Kuo wrote a note to investors discussing the situation. In the note, seen by AppleInsider, Kuo said that the power amplifier situation incorporated in the antenna is still fluid.
Kuo originally believed that Broadcom and Avago would be responsible for design, with Win Semi providing production of the iPhone 5G PA circuitry associated with an antenna system. However, Kuo revised that, saying on Friday morning that Qorvo and Skyworks will replace Broadcom as the iPhone 5G PA's suppliers, while Broadcom will only focus on the suppling the mid to high band PA integrated with one of the many potential models expected in the fall of 2020.
A report on Friday afternoon suggested that things were a bit further along than determining who would supply the power amplifiers and how it would be delivered. Fast Company citing anonymous sources familiar with the matter believes that Apple "balked" at Qualcomm's QTM 525 set mmWave antenna module design — which includes power amplifiers and Qualcomm's X55 modem — because it would not work with Apple's planned design of the device.
The late Friday report suggests that Apple could be working on its own "phased array" antenna, different from the QTM 525. That seems unlikely, however, given Apple's deal for 5G with Qualcomm that it signed in 2019 that provides Apple the technology and licensing spanning the antenna to the modem, and everything in between.
Fast Company further suggests that there is "bad blood" at some level between Apple and Qualcomm. The source cited in the report say that Apple feels as an institution that is is "getting screwed on royalties" despite the deal, and are trying to minimize Qualcomm parts in the "iPhone 12."
Further complicating and confusing the matter, Kuo claims that the 5G iPhone 12 was planned for a "2x2 uplink" design. It isn't clear exactly what Kuo is talking about here. Antenna architecture varies a bit with both the sub-6Ghz network and mmWave associated with 5G architecture, versus terminology and technology intended for the existing 4G network.
Both reports agree on one point — the internal and external designs are not yet fixed. Kuo says that "the order allocation of iPhone 5G PA is not yet confirmed." Fast Company says something similar, claiming that it could revert back to Qualcomm's entire package at some point later in the design process.
Apple and 5G antenna design
The first reports of Apple working on a team dedicated to producing its own 5G modem started to emerge in February 2019. At the time, job listings for the department, said to be under Johny Srouji, included one role seeking a cellular systems architect in San Diego, which is rumored to be where Apple is planning to build its new chip.
At this point, Apple and Qualcomm had yet to start the legal battle over cellular technology licensing over the so-called "no license, no chips" provisos mandated by Qualcomm. It came to a head in April 2019, when Apple and Qualcomm announced a deal that ended the legal actions against each other. In the fallout of that deal, Intel exited the 5G modem business for smartphones.
Apple purchased Intel's modem business in July 2019. As part of the deal, it got Intel's cellular patent portfolio, said to include 6,000 patent assets associated with 3G, 4G, and 5G cellular standards, and 1,700 assets about wireless implementation technologies. A second portfolio also included covered just 500 patents with a "broad applicability" across both the semiconductor and electronics industries.
In October 2019, it was reported that Apple had set a 2022 deadline to develop an in-house cellular modem for use in iPhone and iPad. This would incorporate not just the antenna, but the modem chip as well — very similar to what Qualcomm is rumored to possibly provide in the QTM 525 assembly.
It isn't yet clear what Apple has succeeded in developing. However, should the 2022 deadline be accurate, it is likely too early for Apple to have developed anything usable for a 5G modem and antenna suite for the "iPhone 12."
Details surrounding the forthcoming "iPhone 12"
Beyond 5G support, the 2020 "iPhone 12" is expected to get 3D depth sensing capabilities using the rear camera. It is also suggested Apple could bring back Touch ID by taking advantage of acoustic fingerprinting to turn the entire display into a fingerprint reader, something that has been featured in a few patent applications by the company.
Furthermore, the "iPhone 12" is predicted to have at least four discrete models, including 5.4-inch OLED with rear dual-cam, 6.1-inch OLED with rear dual-cam, 6.1-inch OLED with rear triple-cam plus time-of-flight sensors, and 6.7- inch OLED with rear triple-cam+ToF. Adding to the assortment of iPhones predicted for 2020, Kuo expects Apple to launch the 4.7-inch LCD "iPhone SE 2" in March 2020, with a form-factor similar to that of the iPhone 8.