Johnson & Johnson and Apple partner on new stroke risk study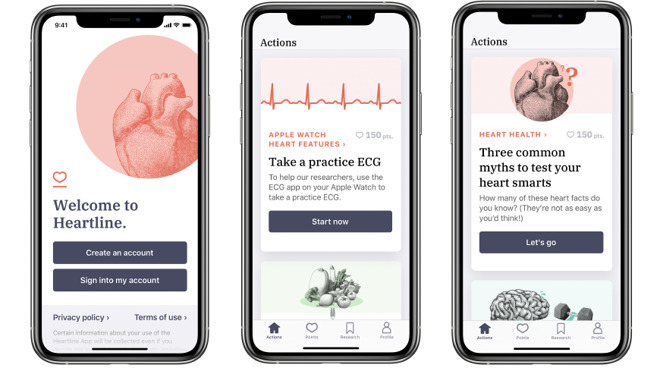 AppleInsider may earn an affiliate commission on purchases made through links on our site.
Willing participants age 65 and over can help Apple and Johnson & Johnson find out if the Apple Watch is a viable method for reducing the risk of stroke.
The Heartline Study is designed to assess whether Apple Watch's ECG and irregular rhythm notification can reduce the likelihood of stroke and improve health outcomes with earlier detection atrial fibrillation. The study will last two years, and the Heartline app will provide ongoing education, tips, surveys, and questionnaires during its course.
"Apple technology is making a meaningful impact on scientific research through the powerful capabilities of iPhone and Apple Watch, all with privacy at the center of the participant experience," said Myoung Cha, Apple's Head of Health Strategic Initiatives. "The Heartline Study will help further understanding of how our technology could both contribute to science and help improve health outcomes, including reducing the risk of stroke."
Atrial fibrillation is a relatively common form of irregular heart rhythm and a leading cause of stroke in the United States. Often, those with atrial fibrillation do not experience any symptoms, making it hard to assess an individual's risk of stroke. About 30 percent of individuals with the condition don't know they have it until a severe cardiovascular event — such as a heart attack or a stroke — happens.
According to the U.S. Centers for Disease Control and Prevention, AFib, the most common sustained cardiac arrhythmia, results in 158,000 deaths and 454,000 hospitalizations each year.
"Heartline is a study that has the potential to fundamentally change our understanding of how digital health tools, like the ECG app and irregular rhythm notification feature on Apple Watch, could lead to earlier detection of AFib, helping patients understand and directly engage in their heart health, prompting potentially life-saving conversations with their doctors, and improving health outcomes," notes Dr. C. Michael Gibson*, Co-Chair of the Heartline Executive Committee and Professor of Medicine, Harvard Medical School and CEO, Baim Institute.
The study is open to any U.S. resident who is 65 or older and enrolled in Original (traditional) Medicare. Participants must own an iPhone 6s or newer running iOS 12.2 or later, and agree to provide access to their Medicare claims data. Enrollment is performed via the study's dedicated app in the App Store.
Once enrolled, some people may be asked to obtain an Apple Watch Series 5, which can either be bought outright or loaned for the duration of the study. Every week, participants will get tips to improve their heart health or encouragement to be more active, along with being asked to fill out surveys and other actions.
Depending on the study group the user is assigned to, they can earn points for their time and effort completing activities, which can be redeemed for $150 or more in monetary rewards.
The Apple Watch recently made news for detecting yet another undiagnosed case of atrial fibrillation. A Kentucky woman who received an Apple Watch for Christmas in 2018 said the device alerted her to an atrial fibrillation condition five months later, allowing doctors to treat the heart condition.
In November, the results of a previous Apple Heart Study were published in the New England Journal of Medicine. The study, performed in partnership with Stanford University, determined the Apple Watch could be a valuable tool in identifying atrial fibrillation.
In that study, 0.5% of the more than 419,000 participants received an irregular heart rhythm notification from their Apple Watch during the eight-month trial.