Apple shutters all Apple Stores in Spain, first US store on virus fears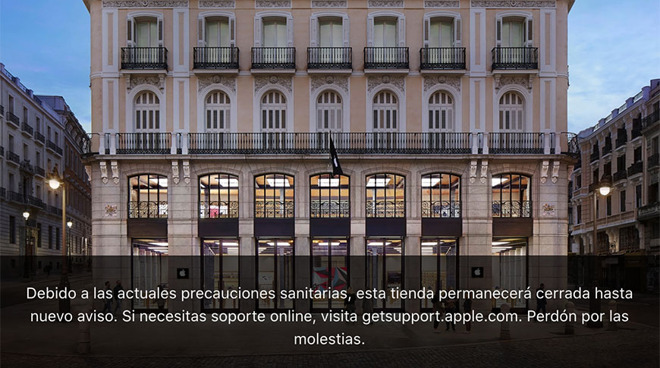 AppleInsider may earn an affiliate commission on purchases made through links on our site.
Apple on Friday announced plans to shutter all retail operations in Spain starting this weekend, the latest in a string of country-wide closures prompted by the ongoing COVID-19 pandemic. A U.S. store in Pennsylvania has also closed on orders from the state's governor.
According to Apple's regional website, each of the company's 11 branded brick-and-mortar stores will be closed effective Saturday, March 14. Apple only provides operating hours for the next seven days, but the stores will remain closed until further notice.
A message reads on each store's landing page reads, "Due to current health precautions, this store will remain closed until further notice. If you need online support, visit getsupport.apple.com. Sorry for the inconvenience."
As of this writing, Spain has confirmed 2,965 cases of COVID-19 with 84 deaths resulting from the disease, according to World Health Organization statistics.
The U.S. saw its first Apple retail closure in Pennsylvania. Apple Willow Grove Park is temporarily closed on orders from Gov. Tom Wolf, who shut down schools community centers, gyms and entertainment venues in Montgomery County for two weeks.
The closures in Spain follow similar action in Italy, where Apple shut down retail operations on Wednesday in compliance with a government quarantine. Behind China, Italy has suffered the worst blow from the virus, recording 15,113 confirmed cases and 1,016 deaths as of today.
"As we support the work to contain and manage the spread of COVID-19, our priority remains the health and safety of everyone in the communities we serve. With that in mind, our stores in Italy will be closed until further notice. We understand customers may need support from Apple during this challenging time and we'll ensure our online and phone support, as well as online store, remain open for customers," Apple said in a statement on Wednesday. "We will closely monitor the situation and look forward to reopening our stores as soon as possible."
Apple Stores in China were first to close, with all retail outlets and corporate offices shuttered in early February. Outlets in the region began to reopen in mid-February, with 29 locations operational as of Feb. 24. The company reopened all 42 stores in China on Friday, though nearly all locations will see reduced hours for the foreseeable future.
In addition to store closures, Apple "paused" all Today at Apple sessions in the U.S. this week to mitigate fallout from the fast-moving pandemic.
Apple is also employing new global retail policies designed to minimize the spread of the virus. As of Tuesday, employees were instructed to stay one meter away from coworkers and customers, remove half of store seating, and cease demonstrations of Apple Watch and AirPods unless a customer specifically requests a try-on.
Update: Adds information about Apple Store closure in Pennsylvania.