What you get for $1500 — MacBook Air versus MacBook Pro versus iPad Pro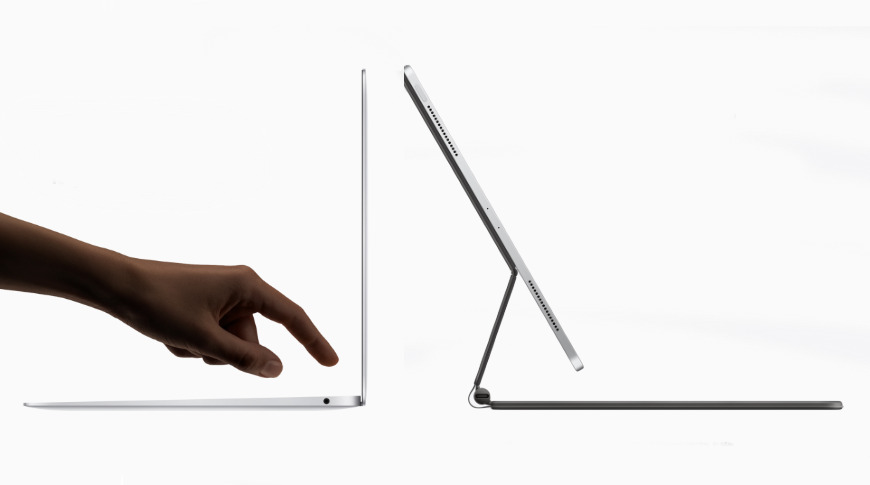 AppleInsider is supported by its audience and may earn commission as an Amazon Associate and affiliate partner on qualifying purchases. These affiliate partnerships do not influence our editorial content.
Apple's hardware lineup never sits still, but the announcements of both new iPad Pro and MacBook Air models has made it harder than ever to choose which to buy. Here's how to work out your decision.
If money is no limit to you, perhaps you could just buy the latest top of the range iPad Pro and have it delivered alongside a top of the range 16-inch MacBook Pro while you're at it. Even if you did that, though, the odds are high that you'd end up with one device you never use — and maybe two.
For as much as price is important because few of us can make casual purchases of this size, it cannot ever be your only concern. A cheap device that doesn't do what you want is at least as much a waste of your money as an expensive one that's more powerful than you need.
There's also no possible way to calculate which device — iPad or Mac — is right for everyone. And that's before you factor in the different variations of all of these devices, from performance to displays. What you can do, though, is work through a series of steps to at least narrow down your options to those that are going to be practical as well as affordable.
Let's make some assumptions
Let's say that you have a ceiling of $1,500 to spend, and that what you need to buy is something you will work on. You could spend less and get something to just watch movies on, or write emails, but if we aim for something more powerful and cap it at this price point, we can really see where Apple's new lineup stands or falls.
For the same reason, let's further assume that you're doing enough with this device that you need to have a keyboard. And also that whatever you buy now is either going to be your primary computing device, or it at least needs to sometimes be capable of being that.
Lastly, let's make it portable. When you buy a desktop, you pay less for more power, but you sacrifice the ability to work anywhere. And with Apple devices so very powerful to keep with you, portability is desirable and possible.
Immediately rule things out
For $1,500, your MacBook Pro options are pretty clear cut from the price point. You needn't even look at the 16-inch MacBook Pro as it is instantly out of your range. For this price point, you're really looking at the 13-inch MacBook Pro, the MacBook Air, or the iPad Pro.
If it weren't for one single problem, you might be able to stop your search before it even began. On paper, the 13-inch MacBook Pro wins hands down. It might be heavier than an iPad Pro, but it's light, powerful, and it comes with an excellent screen.
At times, this specific model of 13-inch MacBook Pro has even been the one you were best off recommending to people. Until, that is, the 16-inch MacBook Pro came out and brought with it the new Magic Keyboard to replace the notorious butterfly one.
From that day on, surely every potential 13-inch MacBook Pro user decided to hold off buying in the hope that the improved keyboard was coming to this machine too. Now that the MacBook Air has been revamped with the Magic Keyboard, it has gone from likely to as close to certain as possible, that the 13-inch MacBook Pro will get it too.
It is always and forever true that if you need a Mac now, you should get it now, and not wait for some rumored future release. In this case, though, we're taking the 13-inch MacBook Pro off the table.
What you're left with
With the 16-inch MacBook Pro out of reach financially, and the 13-inch MacBook Pro in the penalty box for the moment, the only MacBook left is the new MacBook Air. And it is a compromise rather than an ideal.
However, it's a good compromise. While the MacBook Air won't be powerful enough for someone doing a lot of video editing work, it can edit video just fine for the occasional user.
For most people doing most work, the MacBook Air would now be a clear and decent choice — if it weren't for the fact that there is also the iPad Pro to consider.
Sticking within this $1,500 budget, and applying all the same reasoning about performance, keyboards, and the ability to function as a primary computer, you have iPad Pro options.
Realistically, you have to rule out the regular iPad, the iPad Air, and surely also the iPad mini. Any one of them is a fine machine, but none are the kind of workhorses that an iPad Pro can be.
Today your choice will very easily come down to deciding between an iPad Pro and a MacBook Air. So, first, examine each of them to find their optimum configuration in order to then compare them on a level playing field.
Picking the MacBook Air
The base model of the MacBook Air is $999, but there's a second version which is $1,299 (on sale) which offers a faster processor and more storage.
Apple always offers two or three versions of a machine where the primary, headline, differentiation is the processor. They also usually have different amounts of storage space, and sometimes also RAM.
Broadly speaking, the more storage space and the more RAM you can afford, the longer the machine will last you. But Apple kills you on the prices for both, plus you have to make up your mind right now, you can't go back to add more later.
Over time, more RAM can get you a greater visible performance difference than a small bump in the processor specification. In the case of the latest MacBook Air, though, the base is a 1.1GHz Dual-Core Intel i3 processor, and the next version is a 1.1GHz quad-core i5.
Go for that. It brings you price to $1,299, but it gets you 512GB storage rather than 256GB. Since this is meant to be capable of being your primary machine, upgrade it to 1TB storage instead.
That makes this $1,499. If you could burst your budget at all, it would be worth also upgrading to 16GB RAM for a total price of $1,699. But in the short to medium term, you will hit up against SSD storage limits faster than low RAM will give you any problems.
Picking the iPad Pro
If you've ever used a 12.9-inch iPad Pro, you know that it is an amazing device with a brilliant screen size. However, you also know that it's a bit unwieldy.
So if you assume that the regular iPad, and the iPad Air, are not as good value in price/performance, then we suggest that the 11-inch iPad Pro is the sweet spot in the range. It's the best mixture of a large screen but in a conveniently portable chassis.
Part of being truly portable, though, has to be that you can be always connected. For serious pro work, you could tether to your iPhone, but you're better off springing for the Wi-Fi+Cellular models. Do remember that you're going to incur a cell charge every month, too.
Then part of being portable while being productive is that you absolutely need a keyboard. You can spend ten bucks on a portable one, or you will be able to spend 300 bucks for the Magic Keyboard for the 11-inch iPad Pro. In between, there are many vendors selling keyboards at many prices, and in many forms.
Apple is one of them. Alongside the new Magic Keyboard, Apple sells a Smart Keyboard, and a
Smart Folio keyboard. You get most options with $159 Smart Keyboard for the 11-inch iPad Pro as there isn't one for the 12.9-inch version.
There is a Smart Keyboard Folio, which is a keyboard that doubles as a front and back cover case for the iPad. That costs $199 for the 12.9-inch version, or $179 for the 11-inch.
Just as with the MacBook Air, you need to make some decisions about storage, and they're quire easy. You want the most you can possibly afford. In this case, that's going to be 512GB. For a 512GB 11-inch iPad Pro with Smart Folio keyboard would cost you $1,448.
If you compromised on the storage, though, you could instead get all of this with 256GB and spend just $1,380 — while also buying an Apple Pencil.
This is where making broad decisions must start to fall down because we get into the areas of exactly what you need your device for. An Apple Pencil could easily be worth cutting back on the storage for you, and completely worthless to someone else.
Choosing between MacBook Air and iPad Pro
It always comes down to use cases. If your work needs you to be able to use a device at any time and in any place, then it's tempting to choose the iPad Pro.
That's because while we've specified that you need a keyboard with it, you probably don't need a keyboard with it at all times. So the iPad Pro could be taken out and used in more places.
If, though, your work needs you to effectively set up your office when you go somewhere new, a MacBook Air could be the simplest, most complete solution.
There is also, however, a world of difference between iPadOS and macOS. Overall, you can assume that a Mac app will be more powerful than an iPad one, but that iPad one will be more optimized for the portable life.
Yet all these years in, it's still no comparison between the Mac's Finder and the iPad's Files app for speed and power.
The one place you have to be on your own in your buying decision is over where you stand between Mac and iPad. Macs will remain more powerful, but the iPad Pro is already running on ARM so there is a sense that macOS is playing catch up.
Whichever you buy, then, you're making some kinds of compromise — but they may not be compromises that you're bothered about. And whichever you buy, Apple's newly announced models can be bargains — when you know which ones are right for you.
2020 MacBook Air and 2020 iPad Pro preorder deals
2020 12.9" iPad Pro deals