New Intel 10th-gen H-series chips launched, suitable for 2020 MacBook Pro refresh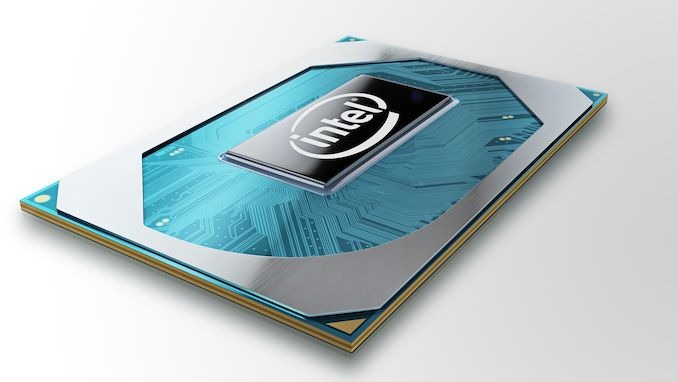 AppleInsider is supported by its audience and may earn commission as an Amazon Associate and affiliate partner on qualifying purchases. These affiliate partnerships do not influence our editorial content.
Intel has revealed specifics on a new line of 10th-generation Core processors for premium laptops — although the improvements over what is presently available are actually relatively small.
Apple already uses 10th-generation Intel chips in its latest MacBook Air, though the ones that Intel announced today at 45W H-series processors that are aimed for higher-end notebooks like the MacBook Pro.
On the whole, the new H-series chips, part of the Comet Lake series, are fairly muted as far as upgrades. They feature minor changes to clock speed and support for Wi-Fi 6, but are still built using Intel's 14nm architecture.
Across the lineup, the base clock speeds are exactly the same as the 9th-generation chips used in the current 16-inch MacBook Pro. Turbo Boost speeds, however, now exceed 5GHz for the first time.
For example, the highest-end Core i9 chip sports a 2.4GHz clock speed but a maximum Turbo Boost of 5.3Ghz, up from 5.0GHz in the previous iteration. Intel calls the Core i9 the "world's fastest mobile processor."
Similar bumps to Turbo Boost clock speeds can be seen across the lineup. The lowest-end Intel Core i5 has a clock speed of 4.5GHz, up from 4.1GHz. A 10th-generation Core i7 clocks in at 5GHz, compared to 4.5GHz in the year-ago processor.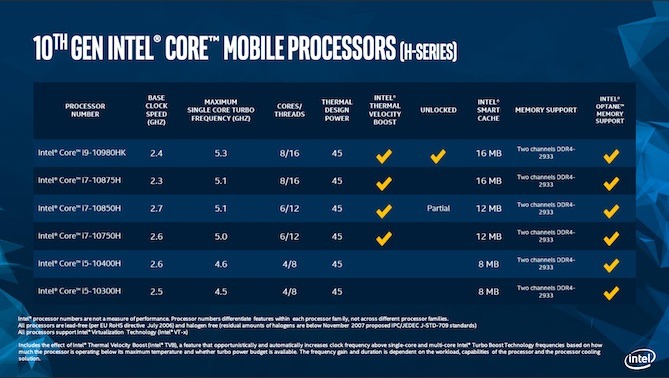 The Core i7-9850H and the Core i7-9750H also pack Intel's "thermal velocity boost," a feature that was restricted to the Core i9 chips last year. The highest-end Core i9 is still the only one that ships unlocked.
Intel's latest chips also feature support for two-channel DDR4-2993 memory. The previous generation supported DDR4-2666.
The chips also feature support for the 802.11ax standard, also known as Wi-Fi 6. It's a new Wi-Fi technology that should delver better speeds, increased power efficiency and lower latency than past standards, though devices must have Wi-Fi 6-compatible chips to use it.
Apple's latest iPhones and iPad Pro models already feature support for Wi-Fi 6, but none of the company's Macs do — even the 16-inch MacBook Pro and the 2020 MacBook Air.
Of course, because Apple only launched the 16-inch MacBook Pro in November, it's likely that we're still months away from a refresh.
Furthermore, oft-accurate analyst Ming-Chi Kuo has also forecast that Apple will release its first ARM-based MacBook model with custom silicon in the fourth quarter of 2020 or the first quarter of 2021, with more ARM devices to come later that year.