Mac shipments down 21% year-on-year in global PC market shrink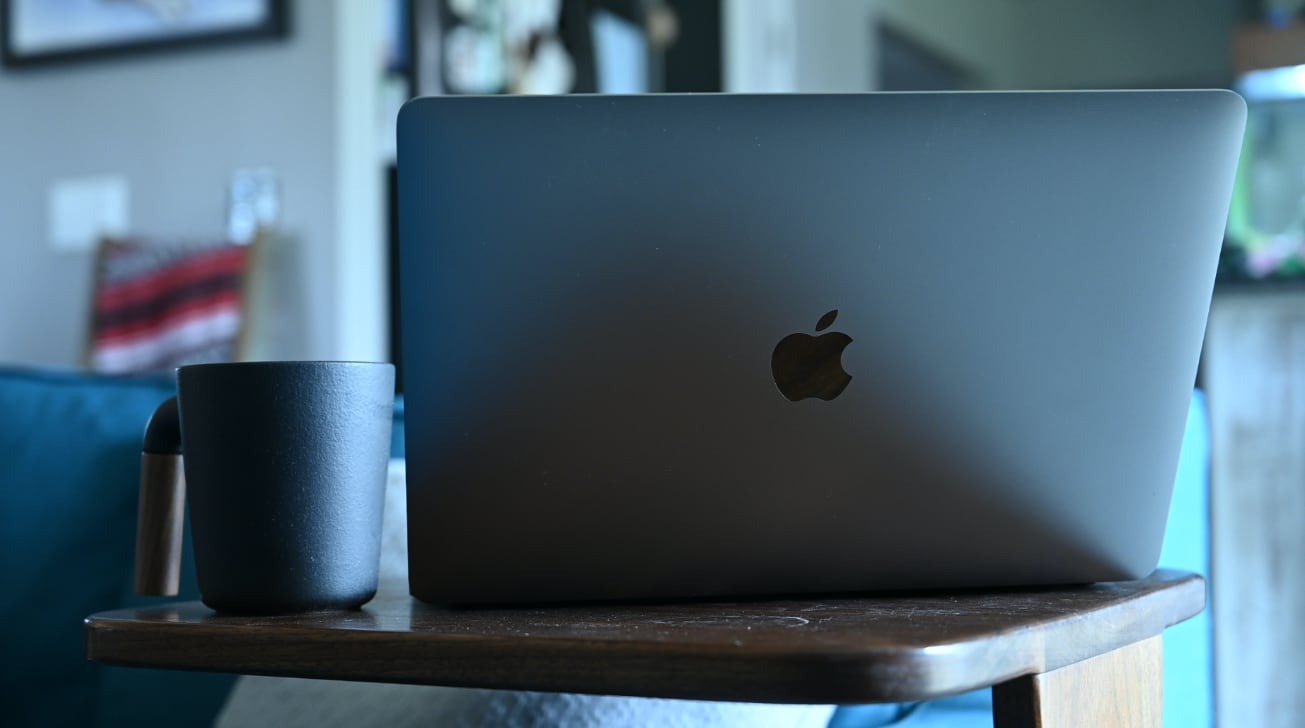 AppleInsider is supported by its audience and may earn commission as an Amazon Associate and affiliate partner on qualifying purchases. These affiliate partnerships do not influence our editorial content.
Mac shipments declined in the first quarter of 2020, analysts claim, but while PC shipments overall went down by 8% year-on-year, Apple's annual decline in the PC market is more than double that of the global average.
During the global coronavirus pandemic, the demand for computers to work from home has soared, as people and companies try to replicate their working conditions within the safety of their house or apartment. Despite this, issues at production facilities related to COVID-19 meant firms couldn't gear up production to match the demand, and even hurt the industry as a whole.
In an analysis from Canalys, global PC shipments fall by 8% year-on-year for the first quarter, a drop from 58.3 million units in Q1 2019 to 53.7 million for the same period in 2020.
Of the top five vendors monitored by Canalys, Apple was the worst hit in the deceleration, with the drop from 4 million units in Q1 2019 to 3.2 million in Q1 2020 representing a decline of 21% year-on-year. It also represents a contraction in market share, from 7% in the 2019 quarter to 6% in 2020, but Apple still manages to maintain its fourth-place position on the chart.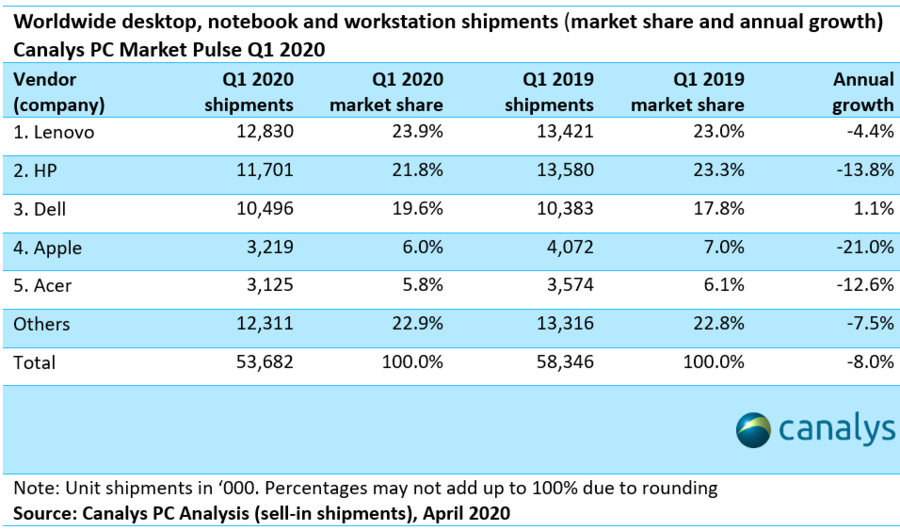 "The PC industry has been boosted by the global COVID-19 lockdown, with products flying off the shelves throughout Q1," said Canalys research director Rushabh Doshi. "But PC makers started 2020 with a constrained supply of Intel processors, caused by a botched transition to 10nm nodes. This was exacerbated when factories in China were unable to reopen after the lunar new year holidays."
Apple's YoY percentage decline is by far the largest among vendors, with second-place HP being the nearest with an annual shrinkage of 13.8%, followed by fifth-place Ace at 12.6% down. First place Lenovo saw annual growth drop 4.4%, but it managed to gain market share, from 23% to 23.9%.
The main beneficiary is Dell, which is in third place on the chart. By seeing annual growth of 1.1% in the quarter, Dell's market share for the period increased from 17.8% for Q1 2019 to 19.6% in Q1 2020.
Canalys analyst Ishan Dutt warns that, while the production constraints will probably ease in Q2, at the same time the demand for computers in Q1 is unlikely to be sustained for very long, and with a dreary outlook for the rest of the year. "Few businesses will be spending on technology for their offices, while many homes will have been freshly equipped," Dutt suggests.
It remains to be seen how other elements of Apple's empire will fare with the ongoing medical crisis, but early reports suggested some areas may do surprisingly well. In February, it's as reported there was an increased demand for tablets in a traditionally "slow season" for the products, which may help raise iPad sales.