Compared: iPhone SE versus iPhone XR versus iPhone 11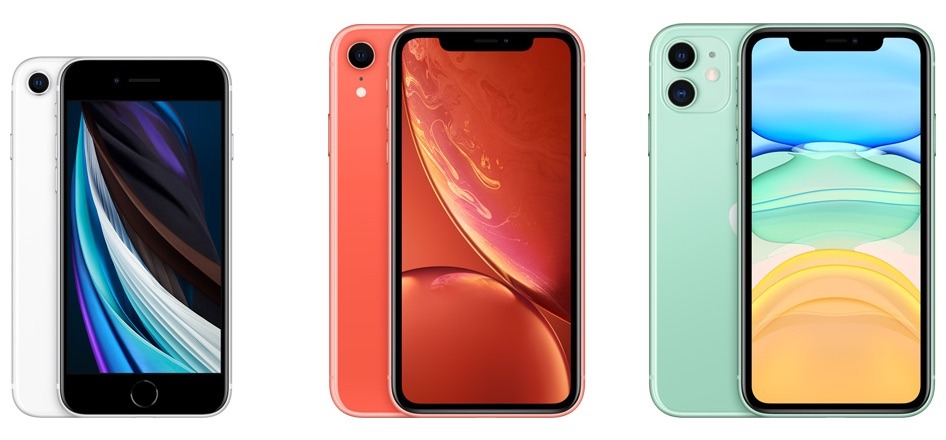 With a new iPhone SE occupying Apple's entry-level price tier, the question of which budget-friendly iPhone to buy has gotten a bit harder. We're here to help.
The second-generation iPhone SE packs a lot of device into a $399 price tag, but it's still missing some of the key flagship features users have come to expect from modern Apple handsets.
Though it still retains some years-old design elements, like a Home button and significant bezels, the new iPhone SE offers some extremely competitive specifications for the price, especially when compared to the other cheaper device in Apple's lineup.
iPhone SE (second-generation)
iPhone XR
iPhone 11
Price
$399
$449
$699
Dimensions (inches)
5.45 x 2.65 x 0.29
5.94 x 2.98 x 0.33
5.94 x 2.98 x 0.33
Weight (ounces)
5.22
5.84
5.84
Processor
A13 Bionic
A12 Bionic
A13 Bionic
RAM
3GB
3GB
4GB
Storage
64GB, 128GB, 256GB
64GB, 256GB, 512GB
64GB, 128GB, 256GB
Display type
4.7-inch Retina HD
6.1-inch Liquid Retina
6.1-inch Liquid Retina
Resolution
1,334 x 750 at 326ppi
1,792 x 828 at 326ppi
1,792 x 828 at 326ppi
True Tone
Yes
Yes
Yes
Biometrics
TouchID
Face ID
Face ID
Connectivity
Gigabit-class LTE
Bluetooth 5.0
Wi-Fi 6
Gigabit-class LTE
Bluetooth 5.0
Wi-Fi 5
Gigabit-class LTE
Bluetooth 5.0
Wi-Fi 6
Rear Cameras
Single-lens 12MP Wide camera
Single-lens 12MP Wide camera
Dual-lens 12MP Ultra Wide and Wide Cameras
Night Mode
Bright True Tone Flash
Front Cameras
7MP FaceTime HD Camera
7MP TrueDepth Camera
12MP TrueDepth Camera
Battery Size
Video playback up to 13 hours
Video playback up to 17 hours
Video playback up to 17 hours
Colors
Black, White, (PRODUCT)RED
Blue, White, Black, Yellow, Coral, (PRODUCT)RED
Purple, Yellow, Green, Black, White and (PRODUCT)RED
Basic overview of the iPhone SE, iPhone XR and iPhone 11
The iPhone SE may seem like the biggest outlier here, but it has similarities to both the iPhone XR and the iPhone SE, depending on the exact specification.
For example, the overall footprint of the iPhone XR and the iPhone 11 are very similar, with virtually no differences in dimensions or weight. The iPhone SE has a vastly different form factor than current iPhones, with a 4.7-inch display, relatively large bezels and a Home button.
Both the iPhone SE and the iPhone 11 pack an A13 Bionic chipset, meaning that their performance is going to outpace the older and slower A12 Bionic in the iPhone XR. It's a similar story for connectivity, with the iPhone SE and iPhone 11 featuring support for Wi-Fi 6. The trio do feature the same Bluetooth specification and 4G LTE support, however.
When it comes to cameras, the iPhone SE and iPhone XR are fairly evenly stacked, with a similar single-lens rear camera. The iPhone 11 has the best camera setup with a dual-lens system that includes an ultra-wide-angle lens and next-generation Smart HDR.
The TrueDepth Camera in the edge-to-edge iPhones offers some competitive advantages and access to features like Face ID.
None of the displays here are OLED-based. While the two edge-to-edge displays use Apple's Liquid Retina LCD technology, they all have the same pixel density. The only difference is the iPhone SE's resolution, which is lower due mainly to its smaller screen.
The biometrics are different, of course, with the new iPhone SE retaining a Home button and Touch ID. All three devices sport dual-SIM capabilities thanks to Apple's embedded eSIM, as well as support for Qi wireless charging.
Which of the trio you should buy
As mentioned earlier, the iPhone SE has quite a few flagship-like features hidden underneath its older iPhone form factor. It's going to be an extremely attractive choice for the price, compared to both mid-range iPhones as well as Android devices.
It could also act as a good stepping stone to a modern iPhone for users who have held onto their old devices for some time. It's a familiar form factor, despite having some of the latest updates inside of it. Fans of the 4.7-inch, or those avoiding the newer designs, may want to give it a hard look.
The iPhone XR occupies a slot somewhere in the middle, though it actually has the slowest processor and several other features that lag about a year behind its 2020 stablemates.
While it's going to offer a similar experience to the iPhone 11, its hardware and internals are slightly older. It's probably best for users who want the cheapest way to get Face ID and an edge-to-edge display.
Apple's iPhone 11 is representative of the company's current flagship. It's essentially the whole package, with the best cameras, and is the best phone out of the bunch — but at a cost premium.
Even though it's missing a few features compared to the iPhone 11 Pro models. It is, of course, the most expensive. And a $700 price isn't exactly friendly to every budget.