HomeTags make it even easier to control your HomeKit devices via NFC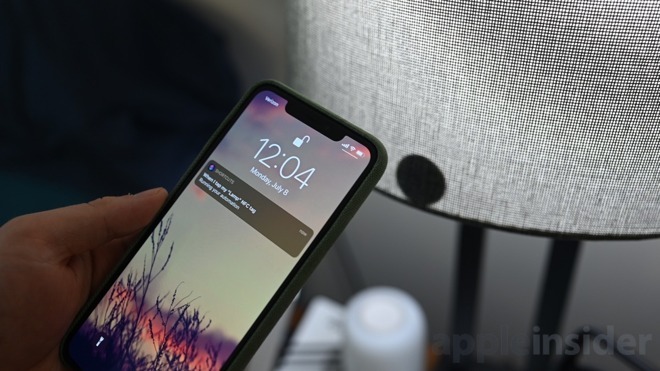 AppleInsider is supported by its audience and may earn commission as an Amazon Associate and affiliate partner on qualifying purchases. These affiliate partnerships do not influence our editorial content.
HomeTags is a new app for iPhone that makes it easy to set up and control your HomeKit home via NFC tags, even on older devices that don't support background NFC scanning.
After the launch of iOS 13, AppleInsider published a popular tutorial on how to trigger HomeKit scenes or actions when your iPhone taps an NFC tag. The tutorial still holds, But developer Christopher Hatch has come out with a new free app that makes the entire process even simpler and supports older devices back to the iPhone 7.
Why NFC?
The idea is that by using NFC tags, you can activate a scene, command, action, et cetera just by tapping it with your phone. Tags can be hidden or even built into objects. Users often can't or don't want to use their voice to control devices and the alternative is opening the Home app on their phone which is even more tedious.
NFC simplifies the matter. For example, tapping your phone outside your door triggers your door to lock and unlock. If you have a fish tank, tapping your phone on top could turn its lights on or off. Tapping your phone against a wall switch could turn a ceiling fan on or off.
The possibilities are endless if you have some imagination coming up with ideas.
How it works
Setup and use is simple. Download the app, go through the welcome process which includes granting HomeKit access, then scanning an NFC tag.
Once scanned, you can assign a command to that tag in the form of existing HomeKit scenes. It would be slightly easier if you could create your own scenes directly from the HomeTags app but working with existing scenes is just fine.
You may have to take the extra step of jumping into the Home app and creating extra scenes if you don't have the specific control or scene already there.
Tags that are already set up are located in the center tab of the application entitled "Your Tags." You can jump to this tab to add additional tags, to edit existing tags, or to remove existing tags.
The first tab of the app is "Scan." That is used to scan an NFC tag to run its command. If you have a newer iPhone like the iPhone XS, iPhone XS Max, iPhone 11, iPhone 11 Pro, iPhone 11 Pro Max, and others, you won't have to use that tab.
However, if you have an older iPhone that doesn't have background NFC scanning, all the way back to the iPhone 7, you can manually open the app and scan the tags to run their commands.
If you tried to use NFC tags to run commands on those older devices, it wouldn't work. At least not through the Shortcuts app.
Where do I find NFC tags?
Aside from the free app, you will need some NFC tags to get the job done. Some NFC tags can be repurposed from other objects but it is simplest just to purchase some on your own.
There are countless available on Amazon and they all seem to work equally well and aren't pricey. Our favorites happen to be Tiny NFC. They are more expensive than others — $49 for a sheet of 63 tags — but they are ridiculously tiny at only 10mm. These are the best to hide and stick as to not be seen.
Regardless of which you go with, you can find something for below $10 to get started.
Should you try it?
Absolutely. The app itself is free and it simplifies a process that may be daunting to new users and adds the feature to older devices that previously were unable to take advantage of it.
Our only issue with the app is the ads, but this is minor. On one hand, we don't like ads and would prefer a paid version of the app where we can support the developer without having the invasive experience ads provide. At the same time, when the NFC tags are set up, there is little need to jump into the app, making it less of an issue.
Still, in the future, we'd pony up $2-$3 to have the ads banished forever without pause.
If you are an experienced smart home user or just exploring a smart home for the first time, NFC tags are a cheap, fun, and creative way to add additional functionality that is non-intrusive and can even be completely hidden if done well.
Thanks to HomeTags, instead of manually creating the commands in Shortcuts, the process is even easier to get started.