The A13 chip in Apple's cheapest iPhone SE beats the most expensive Androids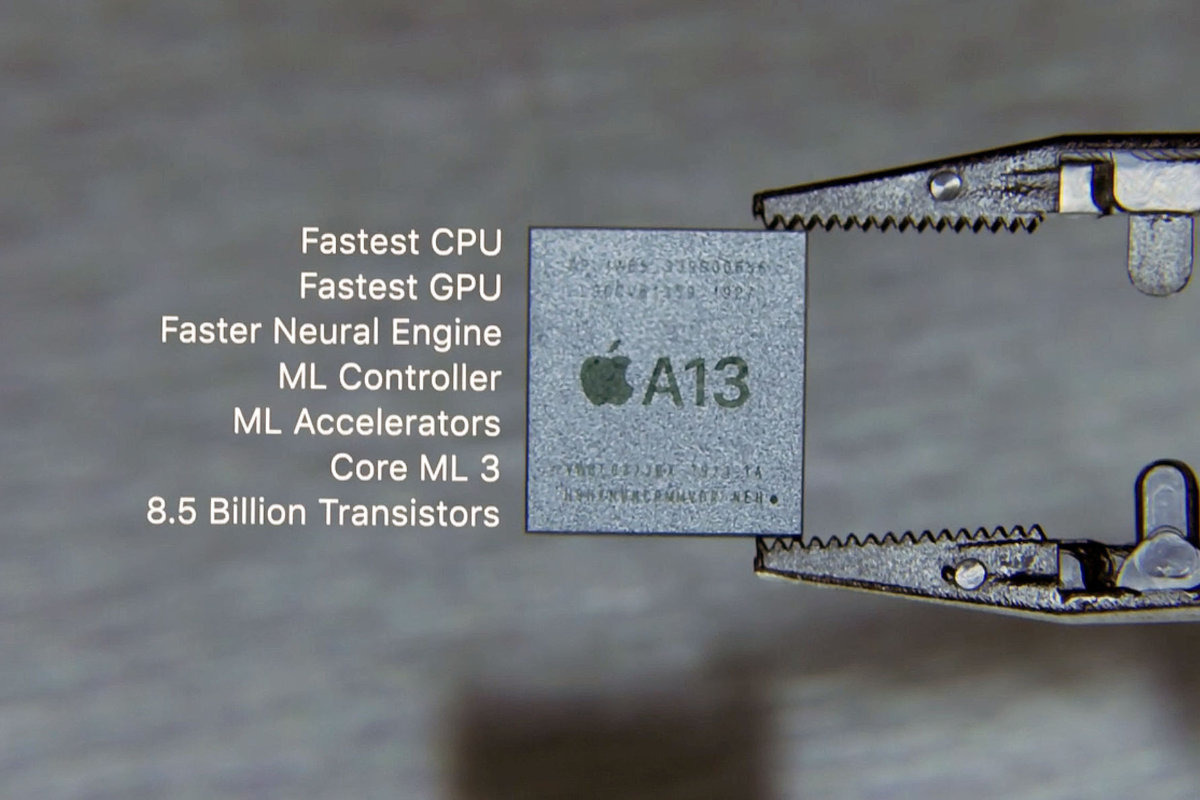 Several years ago, Apple's best chips began decisively beating the performance of the best chips available to high-end Android phones. Now, even Apple's $399 iPhone SE uses a more powerful brain than even the most advanced Android flagships with prices above $1,000. How is this possible?
"Apple is using the A13 Bionic in the 2020 edition of the iPhone SE and it outperforms the Snapdragon 865 in almost every way," noted Android Central blogger Jerry Hildenbrand. "That's a big deal for a number of reasons," he added.
Apple's A13 Bionic vs Qualcomm's Snapdragon 865
"The A13 is a stronger chip than the Snapdragon 865 for daily use in every category," Hildenbrand noted, linking to the details of Qualcomm's introduction of its Snapdragon 865 as its best chip for premium Androids this year.
Like Apple's A13 Bionic, Qualcomm's Snapdragon 865 is a 7nm component that bundles an ARM CPU, mobile GPU, an NSP for machine learning, an ISP for camera logic, and a variety of other audio, video, and security engines together into a single SoC or "System on a Chip."
Yet despite all of Qualcomm's efforts, the Snapdragon 865 continues to fall behind Apple's best chip in basic CPU and GPU processing power. That has focused Qualcomm's marketing on promoting its support for 5G mobile networking instead, allowing it to advertise that at least in one respect, it is faster.
However, 2020 is turning out to be a bad year to be pushing 5G as your only strength. It will be some time before 5G becomes broadly available outside of a few leading markets such as South Korea and specific urban markets. For budget phone buyers, 5G offers little more than faster battery drain and often the requirement to pay extra for mobile service, whether that 5G service is consistently available and capable of delivering noticeably better, real-world mobile data speeds than the best 4G LTE or not.
Speed and longevity
On the other hand, a fast, modern mobile chip with an advanced CPU and GPU delivers two major benefits. The first is its overall performance when you use it. As Hildenbrand noted, "you'll notice how well the new iPhone SE performs when you use it."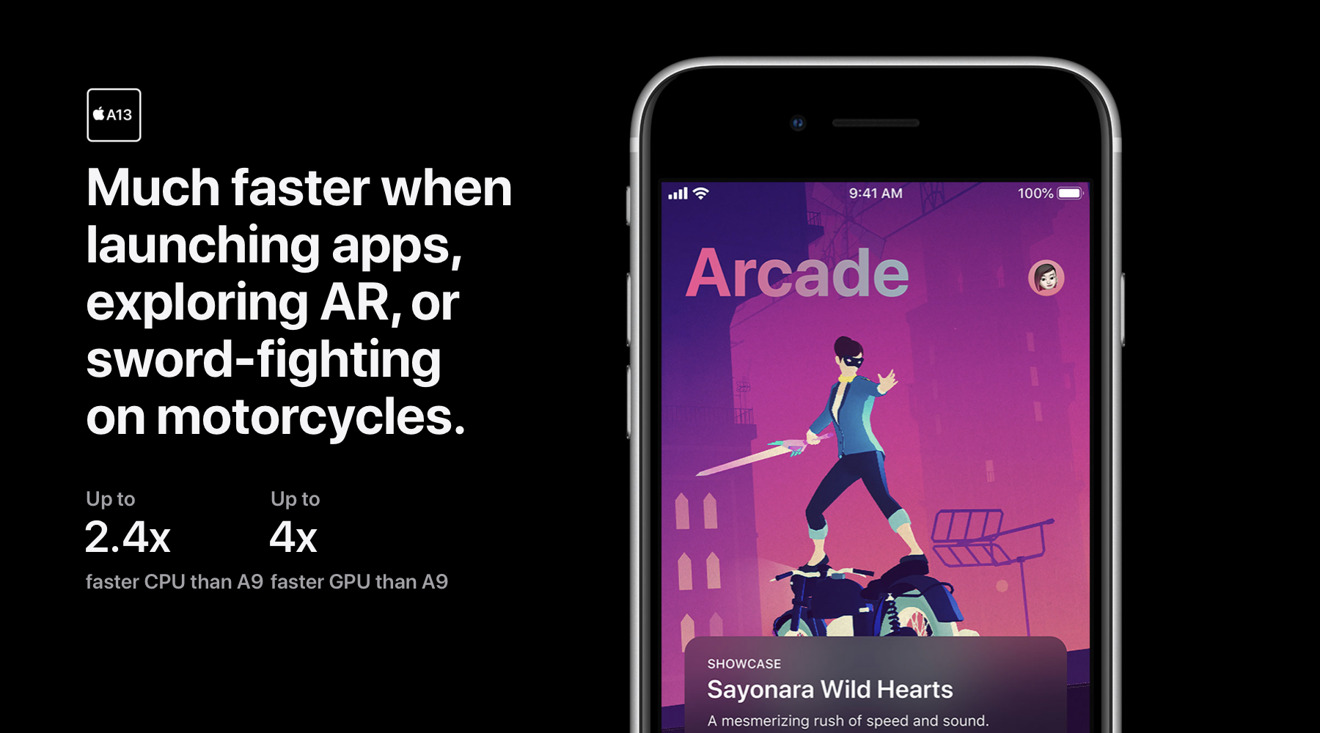 He added, "everything in a modern smartphone from web browsing to camera performance to less-used things like AR depends on the processor. You need to crunch numbers really fast if you want your phone to respond really fast. The $399 iPhone SE will be able to do these things faster than the new [$899] OnePlus 8 Pro or the [$1,000] Samsung Galaxy S20+."
A second benefit to having Apple's newly released chip in its value-priced iPhone is the assurance that Apple will continue to support it for many years— likely as long as the iPhone 11 family using the same processor. When Apple drops support for older devices from a new release of iOS, it's often because they lack the silicon to take advantage of its latest advancements.
"When iOS 16 comes out the iPhone SE will get it on day one. We'll see the same for iOS 17, too," the Android Central piece predicted. Apple's latest iOS 13 continues to support iPhone 6s, a phone from 2015. That's ancient, particularly when considering that it's unusual for an Android to get updates for even two years, with supported devices often not getting the latest update until months after its release.
Because the new iPhone SE is expected to be officially supported by Apple in its latest iOS release for several years, the resale value for the phone will also remain much higher than basic Androids near the same price, or even higher-end Android flagships that lose their value faster and have more to lose.
Android Central concluded that Apple's advantage in silicon speed and longevity is why "it's so important that Google finds a way to build its own chips for its smartphone." But if a blogger in 2020 has figured that out, why didn't Google do the work to deliver advanced chips years ago?
Why is Apple so far ahead?
Google did undertake a relatively ambitious effort in designing part of the brain of a mobile phone. Back in 2017 it created a standalone ISP for advanced photo imaging that it used in Pixel phones. But the problem was that while the camera was probably the best feature to focus on, it wasn't the only reason motivating phone buyers.
The only Pixel phone that's sold above minimal volumes was the 2019 Pixel 3a, which dropped Google's custom camera silicon to reach its price point. Pretty clearly, advanced custom silicon is harder to deliver than a lot of observers imagine it is.
Even Android Central noted that Samsung's own attempt at developing its Exynos custom SoCs ended up in failure, despite building a campus and assembling leading talent without much of a budget holding them back. Samsung was still forced to make design concessions to minimize its cost, which resulted in poor performance that couldn't keep up with Qualcomm's, let alone Apple's.
A decade ago, Android enthusiasts predicted that Apple would have a very difficult time competing against all of the hardware makers collaborating on Android. Parallels were drawn with Windows PC makers who were able to introduce new Intel CPUs faster than Apple could get its PowerPC chip partners to deliver new upgrades. Even after Apple shifted its Macs to Intel chips in 2006, it was still often at a disadvantage in rolling out Macs with a performance edge at a competitive price.
The prediction that this would repeat in mobile devices didn't materialize, however. Instead, Apple's business of building premium mobile devices— including iPhones with an average selling price of nearly $800 — has proven to be far more commercially successful than any specific Android maker— or all of the Android licensees put together.
This has had a greater and far more important impact than merely making Apple profitable. It has also allowed Apple to reinvest its profits in aggressively building the most advanced mobile processors. Designing and building state-of-the-art processors is not only fantastically expensive; it's also a high-risk effort.
Developing advanced, custom silicon for devices that don't end up selling well has been a disastrous issue for a series of companies that have since exited the business of building chips for Android mobile makers, starting with Texas Instruments' OMAP and Nvidia Tegra, and continuing with Intel Atom.
The number of high-end Android phones supporting the production of advanced Qualcomm Snapdragon chips is not growing dramatically. Instead, the overall market for Android phones is retreating from iPhone-class competition and moving downmarket to the middle tier, where phones sell for around $300-$400.
This winter, Apple introduced iPhone 11 alongside a pair of ultra-premium iPhone 11 Pro models priced above $1,000. Yet rather than selling mostly older, cheaper models, Consumer Intelligence Research Partners estimated that just over a third of Apple's U.S. sales opted for the $699 iPhone 11, and nearly another third opted for the $999 and up iPhone 11 Pro.
For over a decade, iPhone has maintained an incredible, unprecedented demand for fancy high-end products with innovative features, longevity, security, and battery life— all of which are driven by Apple's ability to deliver a steady stream of advanced new silicon every year.
Samsung has never come close to selling such a high-end mix of Android phones, and most Android makers sell an even lower-end combination of devices. The average selling price of Androids has hovered around $250 to $300 for many years. That can't fund the competitive development of the most advanced chips, particularly when that cost is outsourced to a third party seeking to maximize profits in selling advanced chips to handset licensees.
Yet Apple also has another advantage in silicon: it's not just making iPhones. Apple's first A4 chip was introduced by Steve Jobs at the introduction of iPad in 2010. It was only released for iPhone 4 later that same year when it also debuted in Apple TV.
Apple's broad use and reuse of its chips— such as putting the A8 in its HomePod — enables the company to wring the most value of the work it has already invested in building custom silicon for iPhone and iPad. Additionally, its confidence that it will be able to sell tens of millions of iPads and hundreds of millions of high-end iPhones each year enables the company to drive an intense pace of annual upgrades that no other chip maker or device assembler can match.
Further, following the parallel leap in reinventing the classic iPhone to deliver iPhone X as a new form factor driven by swipe gestures and Face ID rather than a Home button and Touch ID has enabled Apple to sell its product to two totally different markets: the high-end of discerning tech adopters who are willing to pay a high premium for the best phone available, and a lower tier of customers who want a basic phone at a basic price.
Over the holidays, Apple nearly satiated all the demand for expensive phones with its iPhone 11 family. It can now offer iPhone SE with the same processor and sell it to a class of users who are more concerned about price than some of the very latest features available.
Apple's previous iPhone 8 targeted the same group of basic iPhone buyers, which ranges from parents buying for their younger kids to enterprise deployments serving devices to their employees. iPhone SE effectively upgrades iPhone 8 to use an A13 chip and better lenses and cameras, while remaining differentiated from iPhone 11 and last year's iPhone XR.
When iPhone 12 ships this fall, it will again offer things iPhone SE doesn't, including an expected jump to 5G support and other camera and imaging exclusives, likely including the LiDAR sensor that debuted on the latest iPad Pro. It will also jump to an even more advanced A14 SoC that further advances Apple's lead and justifies the price premium of its fanciest iPhones for buyers who are less concerned about price than features.
However, that's not the only direction Apple has been taking in its silicon advancements as it continues to expand its lead in the consumer electronics industry, as the next segment will examine.