Some iPhone SE parts able to replaced by iPhone 8 versions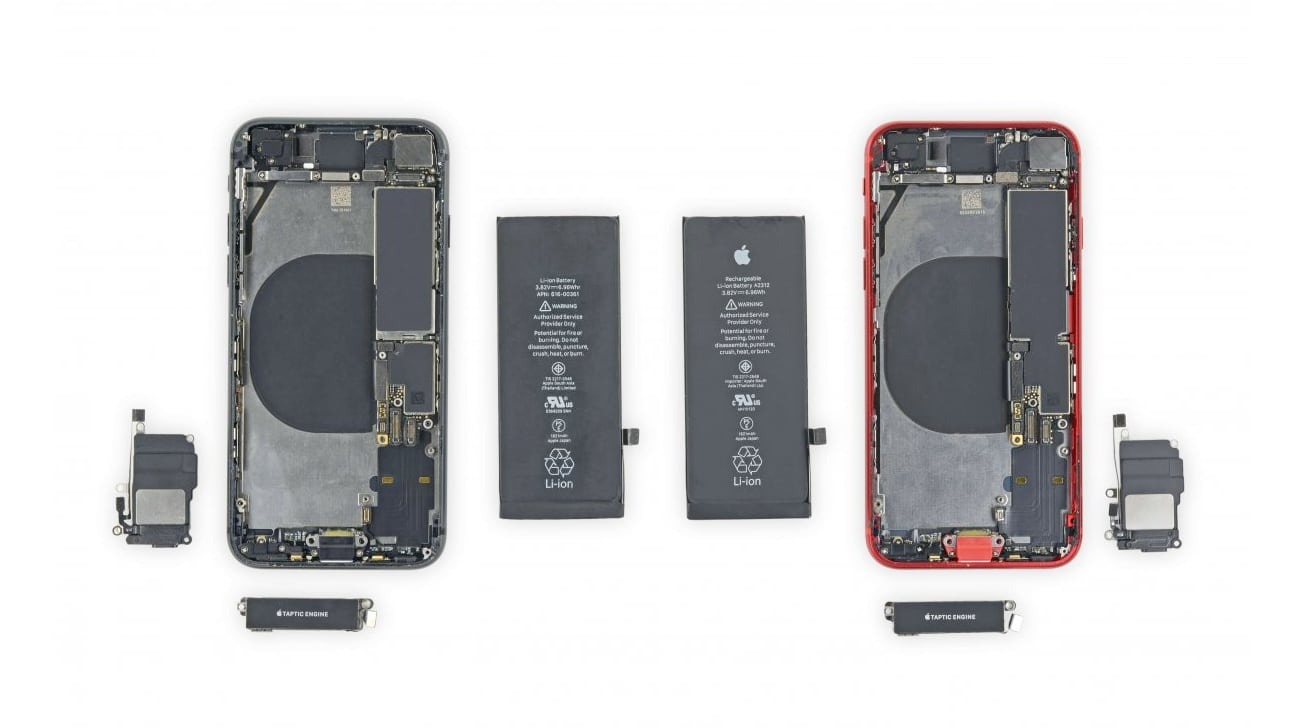 A second teardown of the iPhone SE reveals some of its components can be replaced by versions used in the iPhone 8, showing just how far Apple is prepared to reuse existing designs and parts to bring down the cost of its lowest-priced smartphone.
The recently-launched refresh of the iPhone SE borrowed many of the elements of pre-iPhone X designs, including using Touch ID instead of Face ID. As with the original, Apple did so to reduce the overall cost of the model, as well as to continue using an existing catalog of parts it is intimately familiar with, something keenly demonstrated by a recent teardown.
Ahead of its full disassembly of the iPhone SE, repair outfit iFixit reveals there's a lot of components inside the iPhone SE that could be easily replaced. Though this doesn't extend to items located on the main board, such as the A13 SoC, it does cover other more easily detachable elements.
The cameras can be swapped with the version used in the iPhone 8 without issue, according to the firm, as well as the SIM tray, the Taptic Engine, and the display assembly, complete with the microphone and proximity sensor. The display is also thought to be the cheapest to replace out of all the iPhones released in recent years, though True Tone support will be lost unless the repairer has access to a screen programmer.
Despite using a Home button, it isn't interchangeable with the iPhone 8's version, with iFixit warning it needs to be retained during a non-Apple repair, or substituted for an aftermarket version without Touch ID.
The battery is also not able to be switched as it uses a different logic board connector than the iPhone 8's counterpart, but while an iPhone 11 battery uses the same connector, using the iPhone 11 battery in the iPhone SE won't work. Furthermore, it is claimed that a genuine iPhone SE 2020 battery cannot be switched for another without triggering a "not a genuine Apple battery" service warning.
iFixit is "reasonably pleased" with how repairable the iPhone SE is, as many parts are already in the possession of repair shops.
The new teardown follows an earlier version performed by Chinese mobile phone repair and training specialist Ao Technology on Friday. That teardown offered an earlier look at the internals of the iPhone SE, as well as determining the display could be transferred between it and the iPhone 8.
A full teardown of the 2020 iPhone SE by iFixit is anticipated for release on Monday.