Apple reports $58.3B revenue in Q2, shows growth despite COVID-19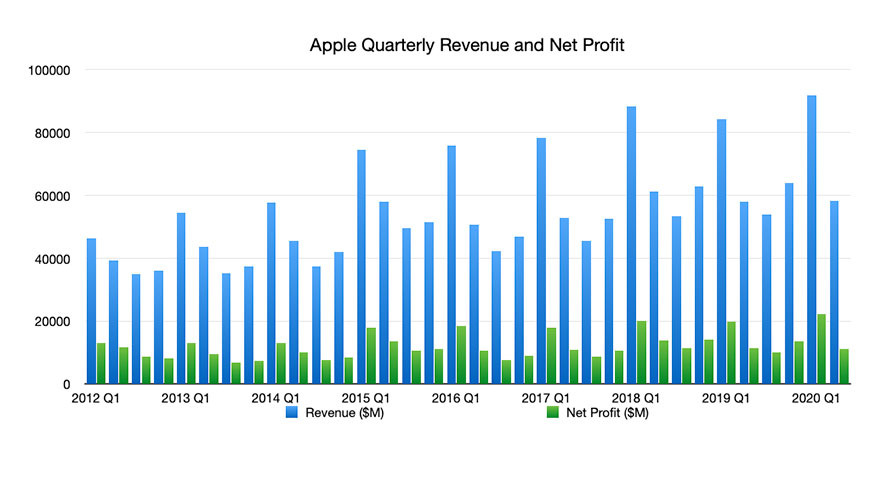 Following a turbulent few months due to the COVID-19 pandemic, Apple has reported revenue earnings of $58.3 billion for the second quarter of 2020, beating Wall Street estimates by a large margin.
Overall earnings for the company are up 1% from Q2 2019, a quarter in which Apple reported $58 billion in revenue. Apple's revenue of $58.3 billion puts it below the original forecast range of $63 billion to $67 billion issued in January, though the company quickly elected to warn investors of a probable revenue miss one month later, driven by the impact of the coronavirus on the business.
International earnings accounting for 62% of the quarter's revenue, Apple said.
"Despite COVID-19's unprecedented global impact, we're proud to report that Apple grew for the quarter, driven by an all-time record in Services and a quarterly record for Wearables," Apple CEO Tim Cook said in a prepared statement. "In this difficult environment, our users are depending on Apple products in renewed ways to stay connected, informed, creative, and productive. We feel motivated and inspired to not only keep meeting these needs in innovative ways, but to continue giving back to support the global response, from the tens of millions of face masks and custom-built face shields we've sent to medical professionals around the world, to the millions we've donated to organizations like Global Citizen and America's Food Fund."
Operating expenses for the quarter were $9.5 billion, below the $9.6 billion to $9.7 billion prediction. The gross margin for the period reached 38.4%, in between the January forecast of 38% to 39%. Profits hit $11.3 billion during the quarter.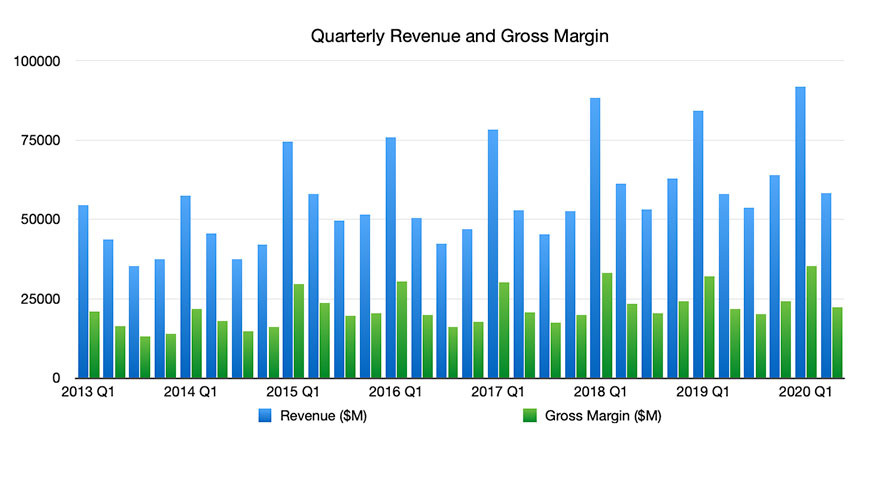 Before the results were released, the Wall Street consensus estimated Apple's revenue at around $54.5 billion, with an earnings per share of $2.26. Apple's earnings per share for the quarter is in reality $2.55.
The iPhone brought in $28.96 billion in the quarter, a year-on-year decrease from $31 billion. Mac revenue is at $5.4 billion, down from $5.5 billion last year, while iPad revenue of $4.4 billion is down from $4.9 billion one year ago. The "Wearables, Home, and Accessories" category reached $6.3 billion, up from the $5.1 billion recorded in Q1 2019.
Services continued to be a major source of highly reliable growth for Apple, hitting $13.4 billion.
The company's board approved a cash dividend of $0.82 per share of common stock, an increase of 6%, that is payable on May 14, 2020 to shareholders of record at the close of business on May 11, 2020. Apple is also increasing its share repurchase program by $50 billion.
Apple did not provide guidance for its third fiscal quarter.