Craig Federighi says iPadOS cursor was inspired by Mac & Apple TV paradigms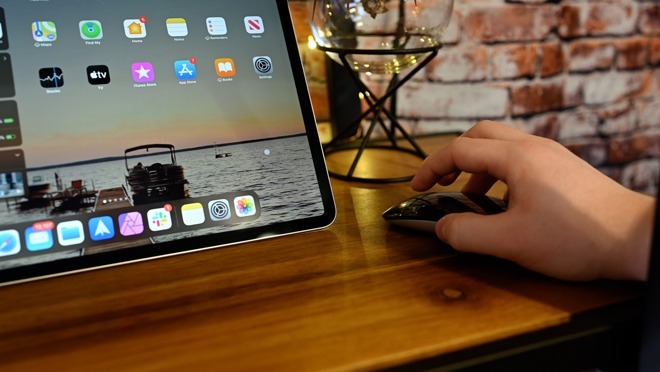 AppleInsider is supported by its audience and may earn commission as an Amazon Associate and affiliate partner on qualifying purchases. These affiliate partnerships do not influence our editorial content.
Apple recently introduced a new cursor experience in iPadOS — one that software engineering chief Craig Federighi says was by necessity a combination of how users interface with the Mac, and the Apple TV.
The iPadOS cursor was launched alongside mouse and trackpad support in iPadOS 13.4 and the new iPad Pro Magic Keyboard. Rather than adding an exact duplicate of the macOS cursor, Apple designed the new user experience from the ground up for iPad.
Apple senior vice president of software engineering Craig Federighi recently sat down with TechCrunch to explain how it did so.
"There was a process to figure out exactly how various elements would work together. We knew we wanted a very touch-centric cursor that was not conveying an unnecessary level of precision," Federighi said.
As part of that development, Apple took advantage of a "focus experience" similar to the Apple TV. The company also worked to provide a "greater sense of feedback" for users when dealing with text.
"Part of what I love so much about what's happened with iPadOS is the way that we've drawn from so many sources," Federighi explained. "The experience draws from our work on tvOS, from years of work on the Mac, and from the origins of iPhone X and early iPad, creating something new that feels really natural for iPad."
It's also worth noting that the same core design team responsible for the iPadOS cursor was also the team that worked on the Apple TV interface.
Going into the development, Federighi said that the team wanted the iPadOS cursor to "reflect the natural and easy experience of using your finger when high precision isn't necessary" but was able to transition into high precision tasks like editing text.
So Federighi and the team came up with the circle that transforms depending on the context — such as the focus around a button, or the I-beam when dealing with text.
"We set out to design the cursor in a way that retains the touch-first experience without fundamentally changing the UI," Federighi said. That means it can adapt to customers who never use a trackpad on iOS, or those who switch back and forth between touch and trackpad.
The Apple SVP of software also detailed some of the work on the iPad trackpad gestures, stating that many of them are "analogous to those on the Mac."
Because of that, users won't "have to think about them or relearn anything," but Federighi noted that the gestures "respond in a different, more immediate way on iPad, making everything feel connected and effortless."
Although the cursor and trackpad support in iPadOS were released alongside Apple's proprietary magic keyboard, third-party accessories from manufacturers like Brydge and Logitech are also compatible.