Compared: Microsoft's Surface Book 3 versus Apple's iPad Pro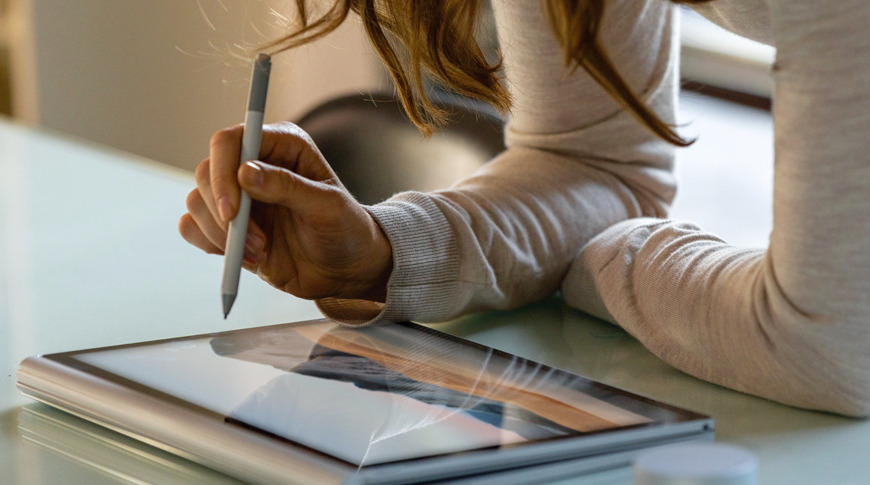 AppleInsider is supported by its audience and may earn commission as an Amazon Associate and affiliate partner on qualifying purchases. These affiliate partnerships do not influence our editorial content.
The arrival of Microsoft's Surface Book 3 has given mobile workers another option for a high-performance notebook-tablet hybrid, but could potential buyers be better served by an iPad Pro?
Microsoft introduced updates to its Surface tablet range on May 6, including the iPad-like Surface Go 2 and the tablet-notebook hybrid Surface Book 3. As with the preceding Surface Book 2, the third-generation offers a tablet with an attachable keyboard element, one which effectively turns it into a notebook.
With Apple's continued push to make the iPad Pro line a highly portable workstation and a notebook alternative, especially considering the launch of the new Magic Keyboard, it seems more appropriate to pit it against Microsoft's latest release.
While it may be more fitting to put the Intel-based Surface Book 3 against something like a MacBook Pro for a comparison, this wouldn't take into account the simple fact that the Surface is also a tablet, something a MacBook cannot become without some considerable after-market alterations. The touchscreen interface and extra camera on the rear also makes a tablet-vs-tablet comparison more apt than tablet-vs-notebook.
Specifications
iPad Pro (2020)
Surface Book 3
Price (Starting Configurations)
$799 to $999
$1,599 to $2,299
Dimensions

247.6mm x 178.5mm x 5.9mm,




280.6mm x 214.9mm x 5.9mm



312mm x 232mm x 23mm,


343mm x 251mm x 23mm



Weight
471g, 641g
1.5kg, 1.6kg, 1.9kg
Processors
A12Z Bionic chip with Neural Engine and M12 coprocessor
Quad-core Core i5 1.2GHz,
Quad-core Core i7 1.3GHz,


Storage
128GB, 256GB, 512GB, 1TB
256GB, 512GB, 1TB, 2TB SSD
Memory
6GB
8GB, 16GB, 32GB 3733MHz LPDDR4X,
Display
11-inch 2,388x1,668 Wide Color (P3) display with True Tone,
12.9-inch 2,732x2,048 Wide Color (P3) display with True Tone
13.5-inch 3,000x2,000 PixelSense display,
15-inch 3,240x2,160 PixelSense display
Graphics
-
Intel Iris Plus Graphics
Nvidia GeForce GTX 1650 4GB
Nvidia GeForce GTX 1660 Ti 6GB
Keyboard
Magic Keyboard, Smart Keyboard Folio (available separately)
Detachable keyboard (included)
Connectivity
1 USB-C, Smart Connector
2 USB-A 3.1, 1 USB-C, 2 Surface Connect ports, SDXC card reader, headphone jack
Networking
Wi-Fi 6 802.11ax, Bluetooth 5.0
Wi-Fi 802.11ac, Bluetooth 5.0
Cameras
Front: 7MP TrueDepth with Face ID
Back: Wide 12MP, Ultra Wide 10MP, LiDAR.
Front: 5MP with Windows Hello
Back: 8MP
Audio
Four speaker audio, five microphones
Front-facing stereo speakers with Dolby Atmos, dual far-field Studio Mics
Battery

28.65-watt-hour battery, 10 hours of usage,
36.71-watt-hour battery, 10 hours of usage
15.5 hours of typical device usage,
17.5 hours of typical device usage
Size and Weight
The Surface Book 3 is offered in two varieties, equipped with 13.5-inch and 15-inch displays. Since they are both larger than the two iPad Pro screens at 11-inches and 12.9-inches, it's understandable that Microsoft's offering will be considerably larger than Apple's version.
Though the Surface Books have luxuriously large footprints to accommodate the bigger screens, they are considerably thicker than the iPad Pro models, at 23mm to 5.9mm. The iPads are almost a quarter of the thickness of the Surface Book 3.
The size difference also informs the weight, which again puts Microsoft at the heavier end. While the iPads are 471 grams and 641 grams depending on size, the Surface Book 3 weighs differently depending on configuration, ranging from 1.5kg to a hefty 1.9kg at the high end.
It is easy to forget that Microsoft does include a keyboard with the Surface Book 3, which adds extra weight and thickness to the overall package.
The equivalent on the iPad Pro side would be to attach a Magic Keyboard. In terms of weight, the combination of the larger iPad Pro model and its respective Magic Keyboard is a total of over 1.3 kilos, which still makes it lighter than the Surface.
Even so, while this does add heft to the overall iPad package, the final result is one that is roughly triple the thickness of the iPad Pro alone at 15 millimeters, but still far thinner than its rival.
Displays
Touched upon earlier, the screens Microsoft uses are larger than Apple's versions. The 13.5-inch and 15-inch PixelSense displays have aspect ratios of 3:2 and a 1,600:1 contrast ratio. Their resolutions of 3,000 by 2,000 and 3,240 by 2,160 respectively gives them a more than adequate pixel density of 267 PPI for the 13.5-inch model, 260 PPI for the 15-inch.
On the iPad Pro side, the Liquid Retina IPS wide color (P3) displays with ProMotion and True Tone have resolutions of 2,388 by 1,668 and 2,732 by 2,048, depending on the size. The resulting pixel density of 264 PPI for both models puts them in the same ballpark as the Surface Books.
The two are relatively comparable on paper in this regard.
Performance
Apple's mobile processor performance has been improving steadily and has reached a level where it is at a par with desktop-bound equivalents, though it is only part of the equation.
The iPad Pro uses the A12Z Bionic SoC with the Neural Engine and M12 co-processor, paired with 6 gigabytes of memory. Under Geekbench's testing, it scores 1,112 or 1,113 in single-core testing, varying by model, rising to 4,578 and 4,608 for multi-core tests.
Microsoft's new Surface Book 3 models use either a tenth-generation quad-core Intel Core i5-1035G7 processor or a Core i7-1065G7 quad-core chip, with the 13-inch configurable with both and the 15-inch having only the Core i7. This is paired either with 8GB, 16GB, or 32GB of 3,733MHz LPDDR4X memory in the 13.5-inch model, while 16GB and 32GB are offered for the 15-inch version.
Searches on Geekbench for the chips offers up results from May 11 of a "Microsoft Corporation Surface Laptop" and a "Microsoft Corporation Surface Pro 7" for the Core i5 with 8GB of memory and Core i7 with 16GB respectively. It is highly probable these are the same model, but mislabeled.
According to the results, the Core i5 managed between 1,113 and 1,057 on the single-core score, and 3,906 to 4,299 for multi-core testing. The Core i7 listing fared better with 1,255 and 4,861 scores.
While it is easy to said the Core i7 Surface Book 3 is the most powerful of the group, the fact that the iPad Pro is at roughly the same level says a lot about Apple's designs, even with the memory disadvantage.
Outside of benchmarks, the Surface Book 3 is also assisted by Intel Iris Plus Graphics on the Core i5 model, an Nvidia GeForce GTX 1650 4GB GPU on the 13.5-inch Core i7, and a GeForce GTX 1660 Ti 6GB on the 15-inch model. The inclusion of the Nvidia GPUs will certainly help with graphic-intensive tasks and with applications that can take advantage of GPU acceleration.
Connectivity, Audio, Battery
As usual for Apple, the iPad Pro offers relatively few physical connection options, with the use of either a Smart Connector on the back or the USB-C port at the base. On the wireless side, it offers Wi-Fi 6 support and Bluetooth 5.0 connectivity, which covers a wide array of wire-free connection needs.
The Surface line typically goes further than Apple in offering connection points, and it is the same story again for the Surface Book 3. Onboard are a pair of USB-A 3.1 ports, a USB-C port, two Surface Connect ports, an SDXC card reader, and a headphone jack, as well as the same wireless connectivity as the iPad Pros.
In terms of audio, the Surface Book 3 has Dolby Atmos-enabled stereo speakers at the front, along with dual far-field Studio Mics. The iPad Pro elects for four speakers, enabling sound to come out of the left and right channels correctly regardless of its orientation, and a collection of five microphones.
Battery life for the iPad Pro pair is said to be 10 hours of usage. Microsoft certainly wins here, as the 13.5-inch model provides up to 15.5 hours of "typical device usage" from a single charge, rising to 17.5 hours for the 15-inch model.
Cameras
As the Surface Book and iPad Pro are usable as tablets, the camera situation is more important than within a notebook comparison. As one would expect, both offer better camera setups than the typical notebook.
The iPad Pro have the front-facing 7-megapixel TrueDepth camera that works with Face ID for authentication. Microsoft does drop behind here, as it only has a 5-megapixel camera on the front, though it is enabled for Windows Hello, its own facial recognition system.
Around the back, Apple wins again, as the iPad Pro have the 12-megapixel wide and 10-megapixel ultra-wide cameras, and the new LiDAR sensor. The Surface Book 3 has a rear 8-megapixel camera with autofocus.
The lacking cameras on the Surface Book 3 also means it cannot record video at the same level as the iPad Pro. The Surface can capture 1080P video, while the iPad boasts 4K video at up to 60 frames per second, or 1080p at 240fps slo-mo. It can even capture 8-megapixel still images while recording 4K video.
Pricing
The base models for the iPad Pro are $799 and $999 for the 11-inch and 12.9-inch versions respectively. For the Surface Book 3, the cheapest 13.5-inch Core i5 model is $1,599.99, while the 15-inch range starts from $2,299.99.
Again, this is far from the whole story.
The Surface Book 3's 13.5-inch base model ships with 256GB of storage and 8 gigabytes of memory. Microsoft's store page advises going to a Core i7 equivalent with 16 gigabytes of memory raises the price to $1,999.99, doubling the RAM and capacity to 32GB and 512GB makes it $2,499.99, and bringing it up to 1 terabyte of storage at its highest specification is $2,699.99.
Over on the 15-inch side, the base model ships with 16GB of RAM and 256GB of storage. Going to 32GB of RAM and 512GB of storage brings the price up to $2,799.99, 1TB of storage raises it to $2,999.99, and 2 terabytes for an eye-watering $3,399.99.
On the Apple side, pricing is somewhat cheaper.
The 11-inch iPad Pro's 128GB of storage can be increased to 256GB at a price of $899, 512GB for $1,099, and 1TB at $1,299. For the 12-inch, the 256GB version is $1,099, 512GB is $1,299, and 1TB is $1,499. Across all models, upgrading from the Wi-FI version to Wi-Fi + Cellular is a $150 upgrade.
Again, this also doesn't take into account the keyboard, which is included on the Surface Book 3 but not on the iPad Pro. Though the Magic Keyboard may seem expensive at $299 for the 11-inch version and $349 for the 12.9-inch, this still doesn't bring the price of the iPad Pro anywhere near the Microsoft equivalents.
If you went for the largest iPad at the highest capacity and added on the Magic Keyboard, you are still looking at a maximum outlay of $1,998.
In Summary
The Surface Book 3 attempts to solve the problem of making a notebook work similar to a tablet. Apple has looked at things from the opposite direction, making a tablet work similar to a notebook. In either case, the companies involved have arrived at solutions that most people would probably be happy to use.
They're portable, can be used for typing like a notebook, and offer the ease of a mobile device, all in one package. There is little to be concerned with here, as they both work in their own ways.
The iPad Pro does offer benefits over the Surface Book 3 in a few key areas, such as mass and weight, the mobile-centric specifications like the cameras, and the massive difference in cost.
Meanwhile, Microsoft's hybrid does have its own benefits, including that extremely long battery life. There's also features of Windows that iOS doesn't offer, such as being able to install work-related applications outside of a digital marketplace like the App Store, and the ability to develop apps, something not really offered on Apple's mobile platform.
It could easily be argued that acquiring a MacBook Pro instead of an iPad Pro would answer these shortcomings, though somewhat defeating the point of the comparison.
For those who need the graphical performance and are willing to pay for the higher amounts of memory, need to use Windows, and are willing to deal with a thicker and heavier device overall, the Surface has its audience. However, given that the vast majority of tasks you would want to do on a notebook could be performed on an iPad Pro instead, this does somewhat shrink the potential audience quite a bit.
Ultimately, if it's a Windows tablet that's required, the Surface Book 3 is an outstanding example of that kind of device. For everyone else, an iPad Pro will probably suffice.