Compared: Microsoft's Surface Go 2 versus Apple's 10.2-inch iPad and iPad Air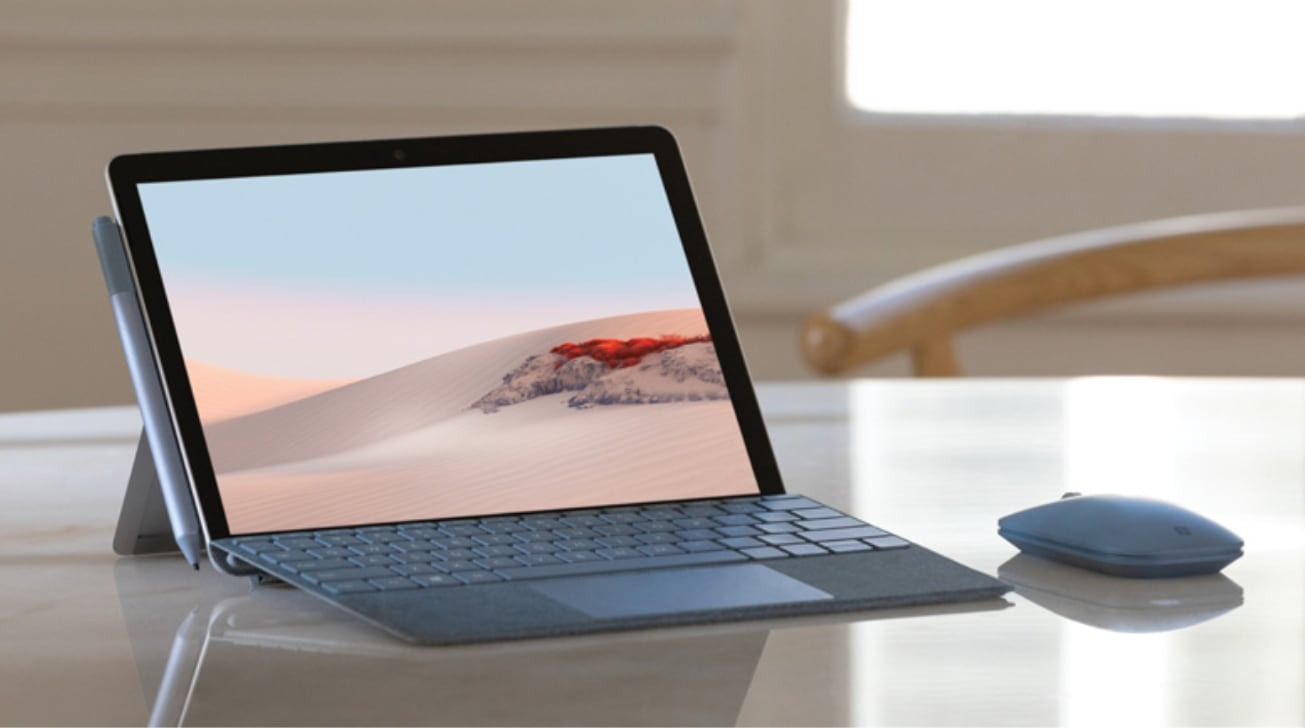 AppleInsider is supported by its audience and may earn commission as an Amazon Associate and affiliate partner on qualifying purchases. These affiliate partnerships do not influence our editorial content.
The Surface Go 2 is Microsoft's second attempt to offer a Windows tablet that directly competes with Apple's iPad lineup, but how does the thin and light device hold up against the iPad Air and the 10.2-inch iPad?
On May 6, Microsoft refreshed its Surface lineup again, with the Surface Go 2 accompanied by the Surface Book 3. While the Surface Book 3 is more or less a direct competitor to Apple's iPad Pro lineup, the Surface Go 2 instead focuses on being a lightweight and more iPad-like device.
The original Surface Go was Microsoft's cheapest and smallest tablet, which the Surface Go 2 continues in the latest generation. Packing more restrained specifications when compared to the Surface Book 3, the Surface Go 2 is able to cut its price down to a level that it could feasibly compete against Apple's core tablet product.
Given its cost, screen size, and general appearance, we are comparing the Surface Go 2's specifications and features against the third-generation iPad Air and the current 10.2-inch iPad, to work out if it stands a chance against the most popular tablets on the market.
Specifications
iPad Air (Third-generation)
10.2-inch iPad
Surface Go 2
Price (Starting Configurations)
From $499 to $649
Lowest iPad Air prices

From $329 to $429
Lowest iPad prices
From $399.99 to $629.99
Surface Go 2 deals
Dimensions
250.6mm x 174.1mm x 6.1mm

250.6mm x 174.1mm x 7.5mm



245mm x 175mm x 8.3mm

Weight
456g
483g
544g
Processors
A12 Bionic chip with Neural Engine and M12 coprocessor
A10 Fusion chip with M10 coprocessor
Pentium Gold Processor 4425Y,
8th-gen Intel Core M3-8100Y
Storage
64GB, 256GB
32GB, 128GB
64GB eMMC, 128GB SSD
Memory
3GB
3GB
4GB, 8GB
Display
10.5-inch 2,224x1,668 Wide Color (P3) display with True Tone
10.2-inch 2,160x1,668 Multi-Touch display

10.5-inch 1920x1280 PixelSense display
Graphics
-
-
Intel UHD Graphics 615
Connectivity
Lightning port, Smart Connector, headphone jack
Lightning port, Smart Connector, headphone jack
1 USB-C, 1 Surface Connect port, Micro SDXC card reader, Surface Type Cover port, headphone jack
Networking
Wi-Fi 802.11ac, Bluetooth 5.0, optional LTE
Wi-Fi 802.11ac, Bluetooth 4.2, optional LTE
Wi-Fi 802.11ax, Bluetooth 5.0, optional LTE
Cameras
Front: 7MP FaceTime HD
Back: 8MP
Front: 1.2MP FaceTime HD
Back: 8MP
Front: 5MP
Back: 8MP
Biometrics
Touch ID
Touch ID
Windows Hello
Audio
Stereo speakers, Dual microphones
Stereo speakers, Dual microphones
2-watt stereo speakers with Dolby Audio, Dual Studio microphones
Battery
30.2-watt-hour battery, 10 hours of usage
32.4-watt-hour battery, 10 hours of usage
10 hours of typical device usage
Size and Weight
Both the iPad Air and iPad have very similar profiles, with a footprint of 250.6mm by 174.1mm. The thickness is also comparable, at 6.1mm for the Air and 7.5mm for the iPad.
Microsoft's effort is within the same ballpark, trimming the length to 245mm but being marginally wider at 175mm. It is, however, the thickest of the group at 8.3mm.
In terms of weight, Microsoft still needs to learn from Apple, as the Surface Go 2's 544g mass is quite a bit heavier than the Air at 456g and the iPad at 483g.
Even so, Microsoft has managed to make a device that is pretty close to the iPads dimensions-wise, even if it is a bit heftier to carry around. This is quite commendable, and for tablet buyers, an important factor in making their purchase decisions.
Displays
Apple's iPad lineup is known for having high-quality displays, and it is evident in both of the models under scrutiny. The iPad has a 10.2-inch IPS display with a 2,160-by-1,620 resolution and 500 nits of brightness, giving it a pixel density of 264ppi.
On the iPad Air, there's a bigger 10.5-inch display at a slightly higher resolution of 2,224 by 1,668, giving it an identical 264ppi density, with it also able to kick out 500 nits. The iPad Air also uses a fully laminated display, which allows there to be less glass between the screen and an Apple Pencil, along with P3 wide color and True Tone.
The Surface Go 2 does disappoint with its screen, as while it is an adequate 10.5-inch PixelSense display with a 3:2 aspect ratio and 1,500:1 contrast ratio, it's operating at a much lower resolution. It can display a 1,920 by 1,280 image, which is slightly better than HD, but far below Apple's screens, complete with a pixel density of 220ppi.
In this particular case, Microsoft isn't keeping up with Apple, but it is still an improvement on the previous model. The original Surface Go sported a 10-inch 1,800-by-1,200 display, equating to a pixel density of 217ppi.
Performance
The easier to nail down of the trio are the known quantities: The iPads. Under Geekbench, the iPad Air achieves single-core and multi-core scores of 1,112 and 2,875 respectively, thanks to its use of the A12 Bionic SoC.
Understandably, the A10 Fusion-equipped iPad will be slower, but its two-generations-older chip still manages to reach 759 for the single-core and 1,404 on the multi-core tests.
For the Surface Go 2, there are a few factors at play. For a start, there are two processors available: the Intel Pentium Gold 4425Y in the lower-specification model, and the Intel Core M3-8100Y. The former is a dual-core chip clocked at 1.7Ghz, while the latter is an 8th-generation dual-core chip with a base clock of 1.1GHz and a turbo-boosted speed of 3.4GHz.
Furthermore, Microsoft includes options for 4 gigabytes or 8 gigabytes of memory for the Pentium Gold configuration, rather than the three gigabytes used in the iPads, which in theory gives it an advantage. All variants with the Core M3 have 8 gigabytes of RAM.
Searches on Geekbench reveal the Pentium Gold-equipped version with 4GB of memory resides in the ballpark of 420 points for single-core testing and 970 for multi-core, far below both of the iPads. The Core M3 does better, at roughly 800 and 1,590 for single- and multi-core tests respectively.
In theory, this suggests the Pentium version performs worse than the 10.2-inch iPad. While the Core M3 just about beats it, the higher-specification model still falls far short of getting close to the iPad Air.
Cameras
Since these are tablets, the imaging capabilities of each will be quite important to potential customers. Luckily for Microsoft, it seems to have gone down the right route.
All three of the tablets have rear 8-megapixel cameras, which are capable of recording 1080p video. This is to be expected for a camera of this resolution, with Apple's iPad Pro range capable of the better 4K-resolution video recordings.
Around the front, the 10.2-inch iPad is limited by a 1.2-megapixel FaceTime HD camera that can record 720p video, but the iPad Air's 7-megapixel version is capable of 1080p video capture.
Microsoft slots in between the two at 5 megapixels and 1080p video recording, but it also slips in a feature that the iPads don't have: facial recognition.
The included Windows Hello works with the front-facing webcam to provide face-based authentication, though it is probable that Face ID is more secure. For Apple users to gain Face ID instead of Touch ID, they would have to spend a lot of money to upgrade to the iPad Pro range.
Connectivity
On the wireless side, Microsoft edges out Apple slightly. Wi-Fi on the iPads offers 802.11ac support, whereas the Surface Go 2 boasts 802.11ax compatibility. The Surface also matches the iPad Air with having Bluetooth 5.0 support, while the iPad has Bluetooth 4.2.
In terms of physical connections, the iPads offer a Lightning port, a Smart Connector for attaching a keyboard accessory, and a headphone jack. On Microsoft's side, there's USB-C, a Surface Connect port for its accessories, the Surface Type Cover port, a MiroSDXC card reader, and a headphone jack.
LTE is also available as upgrades in both ecosystems, though only in the highest-specification model on Microsoft's side.
While it seems that Microsoft wins in terms of offering more ways for the Surface Go 2 to connect to other devices, it isn't by that much. With the Smart Connector and Surface Type Cover port serving roughly the same purpose, the only real differences are the inclusion of a Surface accessory-specific connector, the use of USB-C instead of Lightning, and a card reader.
It is also probable that those who care about inter-device connectivity will opt for a notebook or the Surface Book 3 to have extra options, leaving connectivity a relatively weak area for comparison at this price bracket.
Pricing
Unusually, for each model of tablet being compared, there are four different configuration options.
It is a similar story for the iPad Air, but at a higher price range of $499 for the 64GB model, $649 for the 256GB version. Again, LTE costs $130 more, making them $629 and $779.
The Surface Go 2's Pentium model is $399.99 equipped with 4GB of memory and 64GB of storage, rising to $549 for 8GB of memory and 128GB of storage. For the M3 with 8GB of memory and 128GB of storage, it is $629 without LTE, $729 with.
Close, but not quite
Comparing Microsoft's latest effort against Apple's tablet range should be an even match, with Microsoft taking advantage of the iPad's design and specifications to come up with a tablet to beat its main rival. In reality, it's not a close-fought battle.
While Microsoft can be commended with trying to keep up with Apple in the tablet stakes, the Surface Go 2 simply cannot compete against the iPad and iPad Air. Despite having potentially more performance due to higher RAM quantities and the use of an 8th-gen Intel Core M3 processor, not even the highest-specification model is able to make much headway beyond a years-old Apple-designed chip in the iPad and pales against the iPad Air.
The display, a key component of the entire device, isn't as good as Apple's version. Sure, points are scored for connectivity, but it's not a major leap and bound beyond the iPads.
As for pricing, though Microsoft seemingly is matching Apple for comparable steps in capacity and ranges, the sheer underwhelming performance compared to the iPads makes the Surface Go 2 seem bad in terms of value.
It's even hard to justify the Surface Go 2 as an ideal Windows tablet, as it is supplied with Windows 10 in S Mode, a locked-down version that forces the use of apps only downloaded from the Microsoft Store.
Ultimately, while it is fair to say that Apple continues to have the upper hand in this particular case, credit does have to be given to Microsoft for trying to take on the iPad with a device that squeezes a lot into a very thin and small iPad-like profile. It's just not quite where it needs to be to become a viable opponent.