What to expect inside reopened Apple Stores in the coronavirus era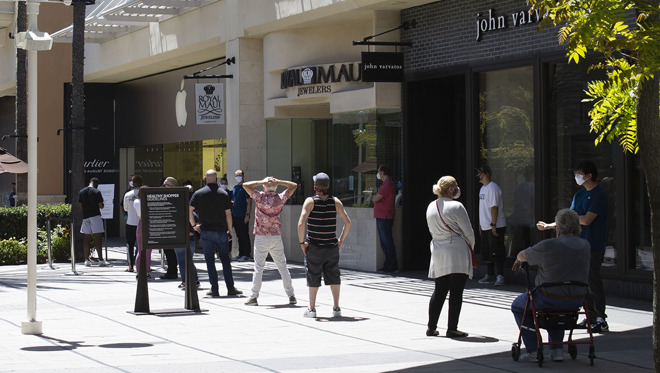 AppleInsider may earn an affiliate commission on purchases made through links on our site.
Apple is in the process of reopening 100 U.S. retail stores and, as expected, those outlets look a lot different post-coronavirus. Here's what we've seen in-store, and what you should expect if you need — or want — to make a trip.
How and where Apple is reopening its retail footprint is highly dependent on local conditions. In Southern California, for example, most Apple Stores in Los Angeles remain shuttered while others are reopening with curbside or storefront service.
By comparison, all five retail locations in San Diego County and the one store in Santa Barbara are slated to reopen this week. That includes Apple Carlsbad, which officially opened its doors at 11 a.m. on Wednesday, May 27.
While the San Diego locations, and other retail stores across the country, are fully open with in-store service available, Apple is still taking a number of cautionary measures. For example, the company is performing temperature-checks at the door and requiring facial coverings before entering the store. Apple has also indicated that it will provide facial coverings to customers if need be.
As you approach the Apple Store, you should notice some changes right away. In the Lynnhaven Mall in Virginia Beach, Virginia, the Apple Store had multiple employees outside to guide customers into lines — one line for walk-ups, and another for reservations. While waiting in line, an employee asks you a series of four questions and takes your temperature.
Questions you'll get asked before entering an Apple Store
Do you currently have a fever?
Do you currently have a cough?
Are you currently experiencing any respiratory issues?
Have you been in contact with any suspected or confirmed cases of COVID-19 in the last 14 days?
Answering "yes" to any question will prevent you from entering the store, even if wearing a mask. Answering "no" across the board will allow you to have your temperature checked. Apple assures customers that data isn't being recorded.
Deirdre O'Brien, Apple's retail chief, wrote on May 17 that customers will find themselves with "plenty of space," and that staffers will focus on "one-to-one, personalized service at the Genius Bar and throughout the store." To accomplish this, Apple retail is enforcing social distancing measures by mandating six feet of space between customers, reducing the number of products on display, and rearranging store features to allow for more space between them.
After being allowed inside, things are very similar to the normal Apple Store experience. Upgrading an iPhone from an iPhone XR to the iPhone 11 took about an hour, with plenty of disinfecting involved. Unless you paused to look around to see the masks and empty store, things proceeded as if nothing different was happening today versus how it would have been prior to the shutdowns.
If a device is handed from customer to employee, the employee will wipe it down on receipt, before beginning service or operation of the device. There are multiple stations with disinfecting wipes and hand sanitizer. Customers are kept apart, have a single employee helping them, and nobody was allowed to meander through the store and browse unattended.
Customer occupancy and store hours have also been reduced, with Apple encouraging customers to purchase online or opt for curbside pickup when possible. For simple purchases of accessories, Apple employees will bring the item out and process the purchase on the spot.
Customers come and go, excited to be in public, muttering about some issue or thing they wanted. The employees put on smiles beneath those masks and assured everyone that they were there to help. The only noticeable change in procedure outside of health related steps, was the abrupt end.
Apple wants a constant flow of customers, and can only have so many inside at one time. According to an employee, once users are logged into the new phone, they would normally show them how to use the device and set it up, but not today. Customers are being told to return home and contact Apple support if any issues occurred during setup.
Along with select locations in California and Virginia, Apple is also reopening stores in Arizona, Florida, Georgia, Indiana, Kansa, Kentucky, Michigan, Missouri, Nevada, New Mexico, New York, North Carolina, Ohio, Oregon, Pennsylvania, South Carolina, Tennessee, Texas, Utah, and Wisconsin.