Questionable mockup of 'iPhone 13' shows USB-C, under-display Face ID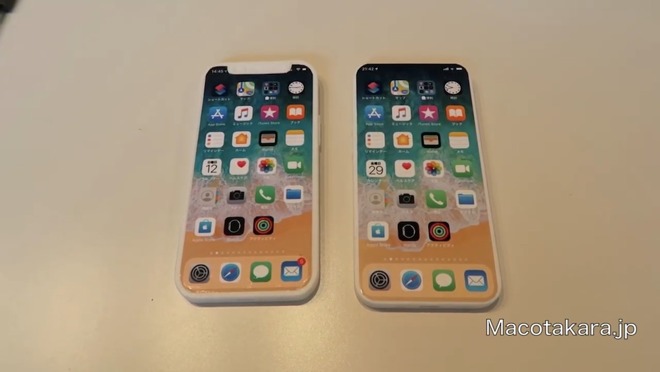 A 5.5-inch "iPhone 13" for 2021 may sport a USB-C connector and notch-free design, if a new 3D printed mockup apparently sourced from leaked schematics and information is accurate.
Though the "iPhone 12" lineup has yet to be announced, rumors about the "iPhone 13," sourced from accurate leakers, are already circulating online.
On Thursday, Japanese site Mac Otakara shared a new mockup, reportedly obtained from sources inside Alibaba, of a supposed 5.5-inch iPhone with a notch-less design in a YouTube video. A few days prior, the site shared similar mockups of the 2020 "iPhone 12" lineup.
Along with ultra-thin bezels, the newest mockup features a TrueDepth and FaceTime camera setup located in the front center, and the site claims that Apple could use Samsung's under-display technology to make it work. Mac Otakara adds that Apple is testing a "bottom-of-screen" camera system, a rumor that AppleInsider has not yet heard about any potential iPhone.
Interestingly, Mac Otakara's mockup also features a USB-C connector on the bottom. That makes the site an outlier as far as the ports for the 2021 iPhones. Most current rumors suggest that the 2021 iPhones will be completely port-less, instead relying on wireless charging and a Smart Connector. Analyst Ming-Chi Kuo, who has a long track record of accurate forecasts, says that the "iPhone 13" lineup will have a "completely wireless experience."
Jon Prosser weighed in on the mockups, which did not align with his previous statement that the "iPhone will be port-less before it gets USB-C." His tweeted response was a simple "no."
On the rear side, the mockup features an early camera module with five dots that suggest testing different camera modules. In May, a leaker claimed that the "iPhone 13" could sport a four-camera setup with LiDAR technology.
The Japanese site says this is just one prototype under development, so it's possible that it depicts a design that will ultimately not be used. Mac Otakara admits that it is "highly likely" that it won't end up being a final model.