Apple Stores now offer personal 'Shop with a Specialist' appointments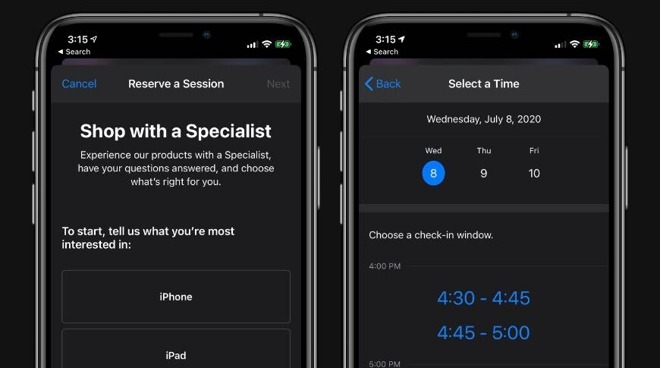 Apple is now allowing customers to book one-on-one appointments with Specialists at its Apple retail locations.
To help customers from having to wait in line or getting turned away at the door, Apple is launching a new "Shop with a Specialist" option in its Apple Store app.
Booking a time slot to shop with a specialist will allow customers to browse a store with one-on-one help. Appointments are being offered in 15-minute increments through the Apple Store apps and can be booked by searching for a local Apple Store or through the "Shop by appointment" search term.
When they arrive at the store, customers will still be required to wear a mask and have their temperatures checked.
Apple retail has undergone massive changes in the era of COVID-19, with many stores across the globe shut down and all in-person "Today at Apple" sessions suspended.
The Cupertino tech giant has been cautiously reopening specific locations in the U.S. since mid-June. However, new spikes in coronavirus cases have prompted the company to re-shutter at least 77 of them.