JP Morgan raises AAPL price target to $425 on 'long-term earnings trajectory'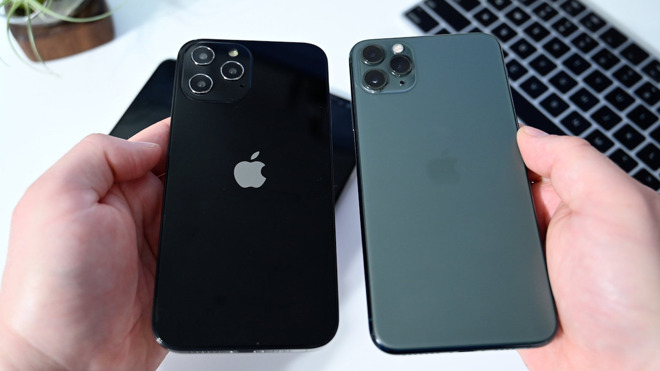 AppleInsider may earn an affiliate commission on purchases made through links on our site.
Investment bank JP Morgan has raised its AAPL price target to $425 on Apple's long-term upside as its near-term performance "surprises" investors.
In a note to investors seen by AppleInsider, lead analyst Samik Chatterjee says that analysts looking for further Apple upside "have to focus on the longer-term earnings trajectory rather than expect near-term upside."
That's largely because the likelihood of an earnings beat in the June quarter and strong "iPhone 12" sales performance already appear to be priced in. Shares are now trading at 25.1x in 12-month earnings and close to 22x in JP Morgan's 2021 earnings estimate, the analyst added.
The analyst is forecasting revenue of $49 billion and earnings-per-share of $1.97 in the June quarter. That's slightly lower than the consensus of $52 billion and $2.04 earnings per share. "We do not rule out the likelihood of earnings exceeding consensus led by greater than expected offset from WFH benefits; although, we do not expect investors to be surprised as much following the outperformance to lowered expectations in F2Q," the analyst wrote.
Broken down, Chatterjee's forecast looks like this:
iPhone: $16.9 billion
iPad: $6.3 billion
Mac: $7 billion
Services: $12.9 billion
Wearables, Home and Accessories: $6.1 billion
As far as product volume forecasts, Chatterjee bumped his iPhone prediction to 26 million units in the June quarter, up from 21 million in the previous quarter. On the backs of work-from-home and online learning tailwinds, he also raised JP Morgan's volume expectations for Mac and iPad to 4.7 million units and 14.7 million units respectively.
Services growth will remain resilient, the analyst said, although revenue for the sector is "likely to be impacted by the broader disruption to normal activity from COVID-19, including slowdown in ad and Apple Care revenue." Despite that, the analyst says App Store revenue will continue to be robust and predicts Q3 revenue growth to be 12.5% year-over-year.
Chatterjee also removed Apple from JP Morgan's "Analyst Focus List," citing the fact that AAPL has risen 26% in the previous three months — outperforming the S&P 500, which is up 10% in the same time frame. The AFL is based on analyst selections for growth, income and value, among other metrics.
Despite its removal from the AFL, Chatterjee says that JP Morgan is continuing to be positive on Apple shares based on the potential for a strong 5G iPhone launch, ongoing Services upside from Apple's user base, and an "underappreciated leverage" to work-from-home trends during the coronavirus pandemic.
Apple is "unlikely" to provide guidance for the September quarter or any color on launch timing. But Chatterjee reiterates that this isn't going to matter for the majority of investors.
"With a large majority of investors looking at a long time horizon on AAPL shares, we see limited headwinds to the investment thesis on a potential 1-month delay to iPhone launch timing, and expect investors will be using any weakness from further newsflow around launch timing as an opportunity to participate in the longer-term upside," Chatterjee wrote.
Based on all of the above factors, Chatterjee has raised JP Morgan's 12-month AAPL price target to $425, up from the bump to $365 in late May.
That price target is based on a blended price-to-earnings (P/E) multiple of 23x, which Chatterjee arrived at using an SOTP methodology with a 16x P/E for iPhone, 11x for Mac and iPad, 25x for Services, 20x for AirPods and Apple Watch, and 11x for other products.