Compared: Google Pixel 4a vs iPhone SE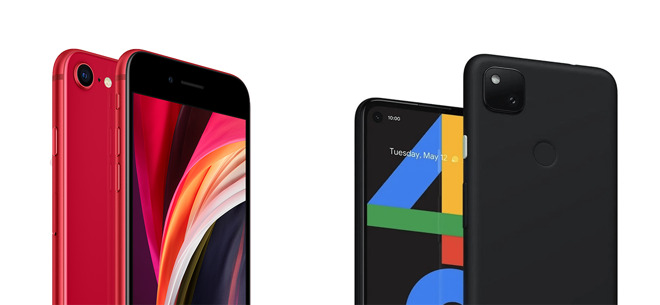 AppleInsider may earn an affiliate commission on purchases made through links on our site.
Announced on Monday, Google's Pixel 4a is an aggressively priced Android smartphone with a suite of competitive features. Here's how it stacks up against Apple's 2020 iPhone SE.
Apple's 2020 iPhone SE refresh, and the Google Pixel 4a both deliver a lot of features and capability for the price. In a one-on-one comparison, they're effectively on equal ground. There are, however, some considerations beyond the manufacturer and choice of operating system.
Here's a closer look at how the iPhone SE compares to the newly announced Google Pixel 4a.
iPhone SE (2020) versus Google Pixel 4a specifications
iPhone SE (2020)
Google Pixel 4a
Price
$399
$349
Dimensions (inches)
5.45 x 2.65 x 0.29
5.66 x 2.73 x 0.32
Weight (ounces)
5.22
5.04
Processor
A13 Bionic
Qualcomm Snapdragon 730G
RAM
3GB
6GB
Storage
64GB, 128GB, 256GB
128GB
Display type
4.7-inch Retina HD
5.8-inch OLED display
Resolution
1,334 x 750 at 326 ppi
2,340 x 1,080 at 443 ppi
Rear Cameras
12-megapixel wide angle
12.2-megapixel wide angle
Front Cameras
7-megapixel
8-megapixel
Biometrics
Home button Touch ID
Rear-mounted fingerprint sensor
Ports
Lightning
No headphone jack
USB-C
Headphone jack
Connectivity
4G LTE
Wi-Fi 6
4G LTE
Battery Size
Not disclosed, up to 13 hours of video playback
3,140mAh
Special features
DualSIM, Qi wireless charging
Google Maps AR
Always-on display
Colors
Black, White, Red
Just Black
Design and display
Apple hasn't reinvented the wheel with its 2020 iPhone SE. The device looks the same as its iPhone 8 predecessor and most of the changes are internal.
It is an aging form factor with a 4.7-inch LCD display and prominent head and chin bezels. On the other hand, the design is time-tested and is sure to be familiar with slow iPhone upgraders.
The Google Pixel 4a, packing a 5.8-inch OLED display, features more modern design considerations than its iPhone counterpart. Although its plastic housing and overall design are familiar to the Pixel lineup, there are some notable changes here.
In lieu of large front bezels, Google has gone with a hole-punch design for its front-facing camera. Although the Pixel 4a doesn't have a dual-camera setup, it does adopt an iPhone-esque square camera bump on the rear. As with past Pixel devices, the fingerprint sensor remains on the rear of the device.
Performance and storage
The iPhone SE sports 3GB of RAM, which is objectively low compared to most mid-range Android devices. It does, however, sport one of the fastest smartphone processor currently on the market: the A13 Bionic.
Google's Pixel 4a is slated to pack a mid-range Snapdragon 730G — a gaming-optimized variant of the Snapdragon 730. It's also equipped with 6GB of RAM, which is on-par for most mid-range Android devices and twice that of the iPhone.
However, Apple's iPhones have always delivered more performance with less RAM. Although the Pixel 4a may have more memory on paper, it's likely that it won't benchmark or perform as fast as the iPhone SE in real-world applications.
For internal storage, the iPhone SE comes in 64GB, 128GB and 256GB configurations. Per the latest rumors, the Google Pixel 4a will only come in a 128GB model.
Cameras
The iPhone SE has a single-camera setup with a 12.2-megapixel sensor. That lags behind other flagships, including iPhones, but Apple has included more computational photography and machine learning features in its latest entry-level handset.
That's a similar tune to the Pixel "a" lineup. The Google Pixel 4a is rumored to pack a single camera but will compensate with computational photography features.
On paper, both devices are fairly evenly matched. Google has long been ahead of the game when it comes to computer-assisted photography, though in recent years, Apple's devices have caught up.
When two devices have camera specifications and features this close, overall image quality is going to come down to subjective preference. We'll be looking more at this in the future.
Other considerations
The iPhone SE retains Apple's signature Lightning port, but doesn't have a headphone jack. For users who hate wires, Apple's cheapest iPhone also supports Qi wireless charging.
Google's Pixel 4a has a USB-C connector and, as with past Pixel devices, it still has a 3.5mm auxiliary headphone jack. But, there is no wireless charging capability.
Both devices have similar battery capacities, and will support 18W fast-charging with the appropriate hardware.
The iPhone SE has a water-resistance rating, carrying an ingress protection rating of IP67. Google Pixels "a" devices have never had an IP rating, and it's not likely that the Pixel 4a will change that.
The Pixel 4a 5G
Google on Monday announced two versions of its Pixel 4a model, including a 5G-compatible variant that's slated for a release later in 2020. Although the Pixel 4a is available to preorder, Google hasn't confirmed much about the 5G variant.
By the looks of it, it appears that the Pixel 4a 5G is going to be a different smartphone altogether. Rumors suggest that it'll sport a second camera lens and a larger display than the current Pixel 4a. It'll also cost more, with a $499 price tag.
Because of its higher cost and the fact that it's a 5G-equipped smartphone, it may not be as much of a direct comparison to the iPhone SE as the lower-priced Pixel 4a. There's also the fact that specifications aren't readily available for the 5G device. With all of that in mind, we've left the Google Pixel 4a 5G out of this comparison.
Apple's first 5G-equipped iPhones are expected later this year. And there may be mid-range or lower-priced devices among the so-called "iPhone 12" handsets that more accurately stack up versus the Pixel 4a 5G.
Our conclusions
The Google Pixel 4a is the cheaper device here, but still delivers a similar range of features. While the iPhone SE is a hit among consumers of every type, the Pixel 4a may just give it a run for its money.
Google has taken some cost-saving measures with its Pixel 4a, however. It doesn't support wireless charging, isn't water-resistant, and its overall construction isn't going to be as "premium" as the iPhone SE.
The iPhone SE actually packs flagship-level capabilities into a sub-$400 price point. That includes the A13 Bionic, which runs circles around the Snapdragon 730G — and pretty much any Android processor.
It does come down to iOS versus Android in this case, and fans of the respective operating systems will undoubtedly choose the device in their camp. Beyond that, dollar-for-dollar, the iPhone SE still delivers more features and better performance.