Compared: Apple's AirPods Pro vs Samsung Galaxy Buds Plus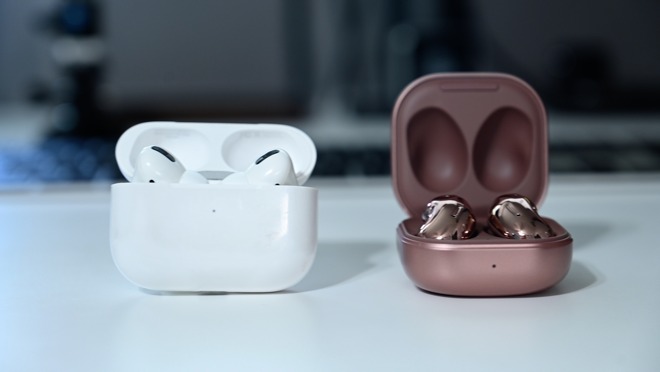 AppleInsider may earn an affiliate commission on purchases made through links on our site.
Samsung launched the Galaxy Buds Live on Wednesday, its latest attempt to take on Apple's AirPods lineup, but how does it compare against the AirPods Pro? We take a look at the ANC-equipped wireless earphones.
The Samsung Galaxy Buds Live are a continuation of the South Korean electronic company's take on wireless earphones, and are a direct competitor to Apple's AirPods Pro. Given the long-time rivalry between Apple and Samsung in the smartphone space, it makes sense that personal audio becomes another battleground for the two firms.
On the face of it, the two companies offer earphones with advanced features like active noise cancellation, but with Samsung opting for a more unique design and a lower price point. The question is whether Samsung has done enough with the latest Galaxy Buds iteration to make them worthwhile for people who may otherwise opt for the AirPods Pro.
Specifications
AirPods Pro
Galaxy Beats Live
Battery Life
Up to 4.5 hours with ANC,
Up to 5 hours without ANC
Up to 6 Hours with ANC,
Up to 8 Hours without ANC
Quick Charge
1 hour use for 5 min charge
1 hour use for 5 min charge
Water Resistance
IPX4
IPX2
Controls
Force Stem
Touch controls
Noise Cancellation
ANC & ambient listening mode
ANC
Fit
Customized oval ear tips,
three sizes
Two wingtip sizes
Weight
5.4g
5.6g
Speaker
Custom high-excursion Apple driver,
Custom high dynamic range amplifier
12mm speaker with
Sound by AKG
Microphones
1 outer,
1 inner
2 outer,
1 inner
Connectivity
Bluetooth 5.0
Bluetooth 5.0
Price
$249
$169
Apple AirPods Pro vs Samsung Galaxy Buds Live - Size and Shape
The AirPods Pro use the signature design of an element that fits into the ear with an ear tip, with an extra element that dangles down, making the AirPods Pro look vaguely like a musical note from some angles. According to Apple's specifications sheet, the earphones measure 1.22 inches long, 0.86 inches wide, and 0.94 inches deep.
Samsung has opted for a bean-like shape for the Galaxy Buds Live, with each made to fit within the ear cavity with minimal external exposure. People looking at the earbuds when fitted will see the shiny exterior, but there isn't any extra dangling elements or major protrusions.
The design works in Samsung's favor, with the measurements of 0.65 inches by 0.59 inches by 1.07 inches making them considerably smaller than the AirPods Pro. Though physically smaller, they are still slightly heavier, with each earbud weighing in at 5.6 grams apiece against Apple's 5.4 grams.
To keep the small units in place, Apple uses customized oval ear tips that can be changed for a snug fit in the ear canal. For the Galaxy Beats Live, Samsung uses an ergonomic tip-less design that supposedly offer all-day comfort, with options to improve the fit using two different sizes of wingtips.
Apple AirPods Pro vs Samsung Galaxy Buds Live - Charging Cases
Both products are supplied with a charging case, which can provide extra power when the user is on the move without access to an outlet. Unlike the AirPods case's opening at the top edge of the unit, the Galaxy Buds Live instead opens like a clamshell, a somewhat different approach, but one that also seemingly treats the units like they are jewelry rather than audio devices.
While Apple's charging case is 2.39 inches wide and 1.78 inches tall, Samsung's unit is squarer at 1.97 inches for width and length. Apple's case makes up for its wider design by being thinner, at 0.85 inches to 1.09 inches, but its still slightly heavier when unladen at 45.6 grams versus 42.2 grams.
For recharging the AirPods and Galaxy Buds Live, the two cases offer similar speeds for quick charges, with five minutes of charging equating an hour of usage. For overall battery life, Samsung claims the Galaxy Buds Live and case can offer up to 21 hours of usage, while Apple claims more than 24 hours of listening time.
Samsung's charging case does offer the extra party trick of working with Samsung's smartphone feature where it can provide a power top-up to the case via wireless charging. Apple's case can wirelessly charge, but such a feature is unavailable on current-generation iPhones.
Apple AirPods Pro vs Samsung Galaxy Buds Live - ANC
Both products offer ANC functionality, though they work broadly through the same method. Both use microphones positioned inside and outside of the ear canal to pick up background noise, and then generate an opposing sound that cancels it out before the user is able to hear it.
Samsung bills its version as the first ANC "for open type," with it having received UL Verification for cutting background noise by up to 97% in low-frequency bands. By design, Samsung is still allowing the bulk of sounds to pass through, but with its focus on low-frequency bands, the ANC will largely concentrate its power on droning sounds that greatly affect the music listening experience.
Because of this, the ambient sound mode from earlier models like the Galaxy Buds Plus isn't available, because it's effectively on all the time. Users will still be able to hear events happening in the environment, just it won't be able to block noise as well as full ANC.
AirPods, however, benefit from a Transparency mode that can be enabled, one which funnels through some environmental sounds to the user. This means the AirPods can provide both a full ANC experience and one with selective environmental audio, granting the best of both worlds.
Apple AirPods Pro vs Samsung Galaxy Buds Live - Audio Quality and Voice
The AirPods Pro use a custom-built high-excrusion, low-distortion speaker driver, in combination with a high dynamic range amplifier for a clear sound profile. Enhancing this further is Apple's Adaptive EQ, which alters the sound profile to match the shape of the ear, by using an inward-facing microphone to monitor the situation.
Samsung opts for 12mm speakers, which are tuned by AKG for a high quality spacious sound. The use of a large driver and bass duct enables a deep bass, while the duct and vents allows air to flow to keep things comfortable for the user at the same time as cutting occlusion.
Both systems take advantage of placing microphones outside and inside the ear canal, but while Apple uses one of each, Samsung uses two on the outside.
Furthermore, Samsung employs a Voice Pickup Unit, which can sense when a user's jaw is moving and converts vibrations into voice signals, which helps enhance speech for calls and for dealing with digital assistants.
Apple AirPods Pro vs Samsung Galaxy Buds Live - Interface and Digital Assistants
As both deal with earbuds plugged into the ears, it's not surprising to discover that both take advantage of touches for controls. Users can touch the outside casing of the Galaxy Buds Live to manage music playback and to answer calls.
The AirPods Pro uses its Force Stem for similar controls, which may be more useful for people worried about hurting their ear canal by directly tapping the Galaxy Buds Live wedged into it.
Both also provide access to digital assistants, with AirPods working with Siri while Samsung opts to use Bixby. Of course, each are limited to their respective ecosystems.
In each case, the users can trigger Siri or Bixby verbally using an always-on microphone. For Samsung, it does offer the option to disable the Bixby Voice Wake-Up function, which effectively turns off the function.
Apple AirPods Pro vs Samsung Galaxy Buds Live - Battery Life
In terms of how long you can use each of the wireless earphones, there's a fair bit of variation, but fundamentally each boasts hours of playback with periodic recharging via the charging cases.
Apple claims the AirPods Pro offer up to 4.5 hours of listening time from a single charge, which rises to 5 hours with ANC and Transparency turned off. Talk time runs to 3.5 hours.
For Samsung, it offers many variation in times, due to being able to have ANC and Bixby Voice Wake-up enabled independently. At the high end is 8 hours of play time with both turned off, 6 hours with one of them enabled, and 5.5 hours with both turned on.
Talk time is also better for Samsung, with it achieving 5.5 hours with ANC turned off, but a comparable 4.5 hours with ANC enabled.
Apple AirPods Pro vs Samsung Galaxy Buds Live - Other Details
Both models use Bluetooth 5.0 to connect to the smartphone. The AirPods Pro take advantage of the H1 chip for quick pairing with an iPhone and rapid device switching, but Samsung boasts the same switching capabilities with compatible devices. Samsung also uses its own proprietary Scalable codec alongside AAC and SBC.
While Samsung bestowed IPX2 water resistance on the Galaxy Buds Live, which allows it to handle dripping water, the higher IPX4 of the AirPods Pro can handle larger water splashes, which also makes it more resilient to sweat.
Along with the microphones and Force Sensor, the AirPods Pro also include a motion-detecting accelerometer, a speech-detecting accelerometer, and dual optical sensors. On top of touch sensing and the Voice Pickup Unit, the Galaxy Buds Live also have an accelerometer an infrared sensor, grip sensor, and a Hall sensor.
Apple AirPods Pro vs Samsung Galaxy Buds Live - Pricing
The AirPods Pro cost $249, including the wireless charging case, putting it at the premium end of the personal audio spectrum.
As usual for Samsung, it has opted to make its own accessory cheaper than Amazon's, with the launch price for the Galaxy Buds Live being $169.99. That works out to be $79.01 cheaper than its Apple rival.
Samsung also offers more choice, as while Apple's AirPods are sold in just white, the Galaxy Buds Live are available in Mystic Bronze, Mystic White, and Mystic Black color options.
Cheaper is not always best
On paper, it's a tricky decision to make, as Samsung offers quite a compelling argument for the Galaxy Buds Live. For wireless earphones with a charging case and ANC functionality, paying just shy of $170 doesn't seem that bad.
The appearance of the earbuds are also seemingly inoffensive, with most of it hidden by the user's ear edges compared to Apple's continued use of a dangling prong. In the right situation, the Galaxy Buds Live could be mistaken for earrings, or may not even be noticed at all.
While price is certainly in Samsung's court, there's still so much it has to do in order to be a real competitor to the AirPods Pro.
Apple still has the better ANC by being able to switch between full ANC and the Transparency mode, which Samsung's earbuds still lack. There's also the Adaptive EQ of the AirPods Pro that are likely to present a better overall sound than taking the tuned-for-everyone approach.
There's also the possibility that people may not be prepared for a new style of fitting the earbuds in the ear, the prestige of Apple products over Samsung, and the fact that AirPods Pro deal with Siri and not Bixby.
Samsung certainly has pulled its socks up and created a great alternative to the AirPods Pro. The problem it has is that the AirPods Pro exist.
Best deals on AirPods Pro and Galaxy Buds Live