Epic skirts Apple's 30% commission fee by implementing 'direct' payments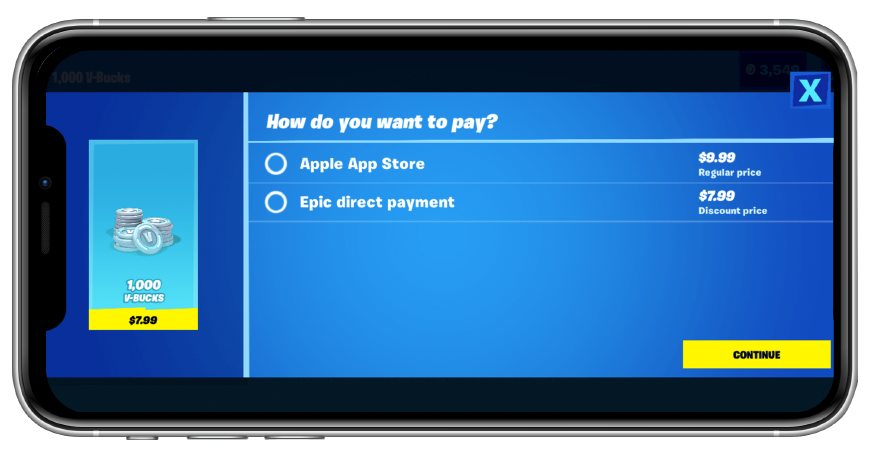 Epic just announced a permanent price drop for V-bucks and other digital purchases, but there's a caveat for mobile players — Fortnite players on both iOS and Android will need to pay Epic directly.
Epic's ongoing fight against Apple's App Store commission fees continues. The company has instated a permanent price drop to all digital purchases for Fortnite, provided they do not pay through Google or Apple.
"Currently, there are no savings if players use Apple and Google payment options, where Apple and Google collect an exorbitant 30 percent fee on all payments," Epic says. "If Apple and Google lower their fees on payments, Epic will pass along the savings to players."
Players can pay Epic directly through both the iOS and Android app, though it's not clear how this is possible. According to the company's FAQ, as pointed out by The Verge, they believe they're in the right.
"Thousands of apps on the App Store approved by Apple accept direct payments, including commonly used apps like Amazon, Grubhub, Nike SNKRS, Best Buy, DoorDash, Fandango, McDonald's, Uber, Lyft, and StubHub. We think all developers should be free to support direct payments in all apps."
While it may be true that the companies mentioned above don't have to pay the 30 percent transaction fee, there's an important distinction to be made. Companies like DoorDash, McDonald's, Uber, and Best Buy provide users with physical goods.
Epic, on the other hand, sells digital goods. Apple charges a 30 percent transaction fee on all one-time digital payments. It remains to be seen if either Apple or Google will take action against Epic for this move.
Epic also assures customers that these sorts of payments are every bit as secure as the ones processed through Apple.
"In operating Fortnite on open platforms and operating the Epic Games Store, Epic has processed over $1,600,000,000 of direct payments successfully, and uses industry-trusted encryption and security measures to protect customer transactions."
Companies like Epic and Spotify are not the only ones concerned about Apple's App Store practices. The U.S. Department of Justice and state attorneys general begun launching an antitrust investigation into Apple's App Store after developers continue to raise concerns over anticompetitive behavior.