Alleged 'iPhone 12 Pro' chassis revealed in video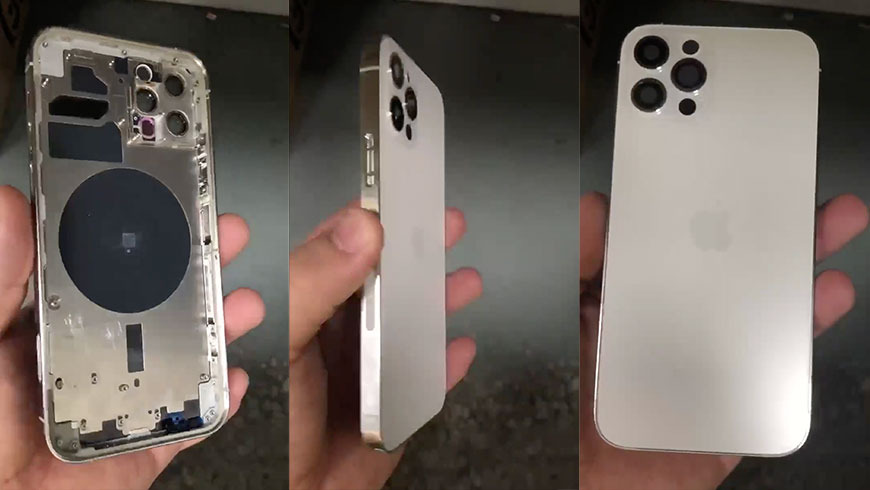 A video on Friday purportedly offers the closest look yet at Apple's "iPhone 12 Pro" chassis ahead of an expected release this fall.
The short, five-second video posted to Twitter by YouTube channel EverythingApplePro reveals what appears to be a next-generation iPhone chassis complete with iPhone 4-inspired design, cutouts for a triple-lens camera array, a rumored LiDAR Scanner aperture, repositioned SIM slot and more.
Referred to as the "official iPhone 12 Pro chassis," the metal casing looks to be of production quality, with milled edges, a white glass backing and a selection of assembled innards. Inside, a covering for what appears to be a wireless charging pass-through is seen in a circular area cut out from component shielding.
A module holding the handset's camera cover glass sports five large apertures — three for the main imagers, one for a flash, and another for the rumored LiDAR Scanner. Apple's top-end "iPhone 12 Pro Max" is anticipated to boast a rear-facing LiDAR system borrowed from the fourth-generation iPad Pro.
The glass side of the supposed chassis offers a better view of the camera stack and a faint Apple logo layered by white paint.
While most design aspects shown off in the video have been discussed in previous reports and parts leaks, today's video reveals a small rectangular window located on right side of the device, below the power button. The purpose of the strip is unclear, though at least one prior report notes its existence in early CAD drawings.
Close in appearance to iPad Pro's magnetic Apple Pencil charger, the window could be a design consideration for new accessories like a more compact wireless charging case.
Apple is widely expected to unveil "iPhone 12" this fall, though a release will come weeks later than the usual September launch. An upcoming special event scheduled for Sept. 15 is thought to bring word of new Apple Watch — and potentially iPad Air — models, suggesting iPhone's debut will be pushed to October.