Adobe Illustrator arriving on the iPad on October 21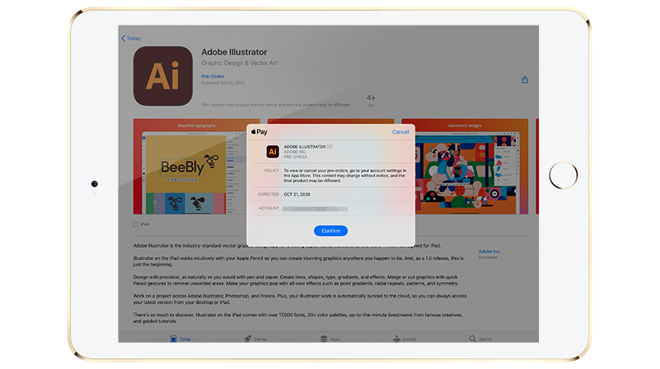 AppleInsider may earn an affiliate commission on purchases made through links on our site.
Adobe Illustrator for iPad is now available to "pre-order" in the App Store, with an expected availability date of October 21, 2020.
It's no secret that Adobe has been planning on bringing its popular vector illustration software to the iPad— it's just been a question of "when."
According to the listing in the App Store, that date appears to be October 21, 2020. This would place the release on the second day of Adobe MAX, a three-day virtual creativity conference dedicated to all things Adobe.
While listed as "pre-order," it should be noted that users will not be able to buy Illustrator outright as a standalone product. Like all Adobe products, Illustrator is available on a subscription-only basis. Those who subscribe to Adobe's Creative Cloud plan will pay $52.99 per month, which grants them access to all Adobe products, both desktop and mobile.
There may be standalone pricing available at the release date— Adobe already does an in-app purchase unlock for iPad apps like Adobe Photoshop on the iPad and Adobe Fresco — but there is no current information on pricing.
In March, Adobe began privately inviting artists and designers to test out Adobe Illustrator on the iPad. They had previously announced their plans to bring the program to the iPad in November of 2020, shortly after the release of Photoshop for the iPad.