Low-cost Apple Watch SE brings health tracking to more users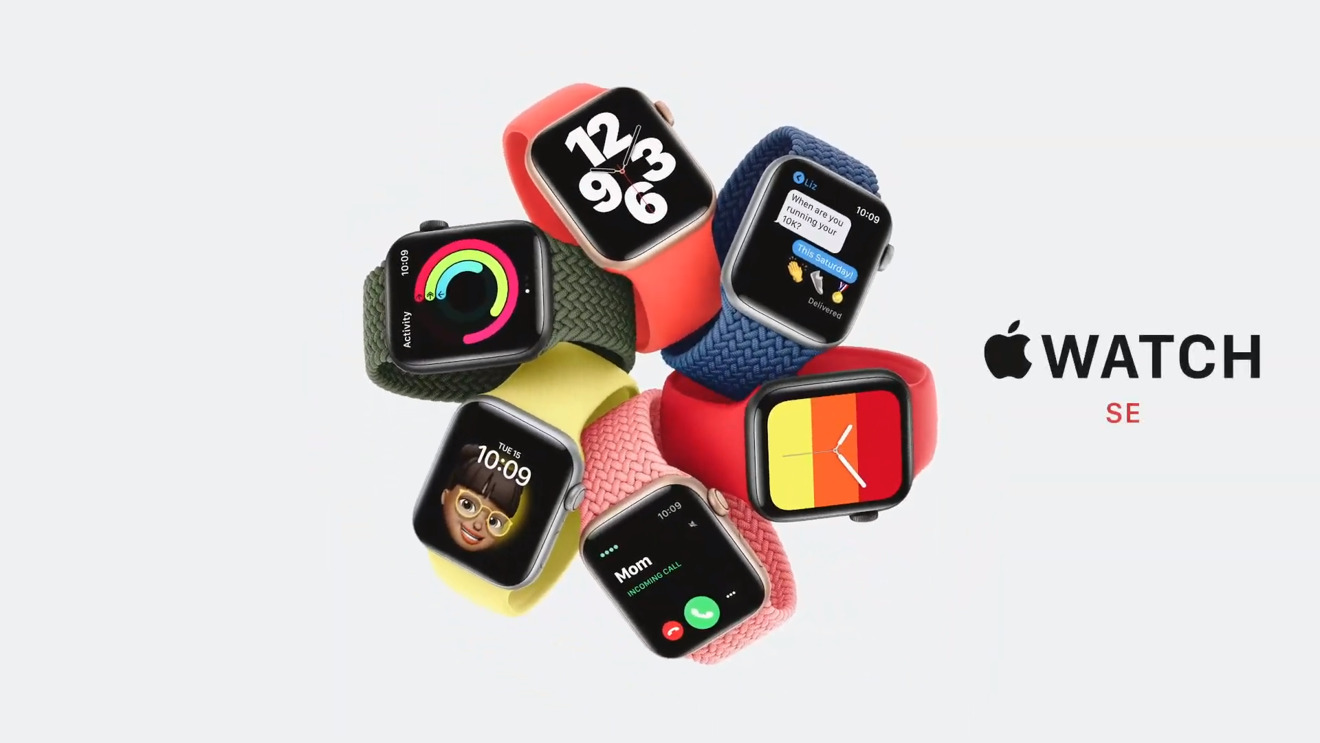 AppleInsider is supported by its audience and may earn commission as an Amazon Associate and affiliate partner on qualifying purchases. These affiliate partnerships do not influence our editorial content.
Apple's new Apple Watch SE is aimed at getting more people into using its health features, and does so by lowering the cost to $279.
Alongside its Apple Watch Series 6, Apple has unveiled a model that lowers the entry cost for users by bringing older capabilities in a new, less expensive shell. The new Apple Watch SE offers a compelling range of health-tracking features.
"Apple Watch SE combines elements of the Series 6 design with the most essential features of Apple Watch, all at a more affordable price," said Jeff Williams, Apple's chief operating officer. "Apple Watch SE... has everything you need to stay connected, to be more active, and to keep an eye on your health and fitness. "And like Series 6, Apple Watch SE uses our largest and most advanced Watch display, allowing you to see much more at a glance."
The new unit uses the S5 chip, versus the S6 in the new Apple Watch Series 6. While not comparing the Apple Watch SE to that new Series 6, Williams did say that the lower-cost device "uses the S5 chip for up to two times faster performance than the Series 3."
Apple has also compared the screen size of the Watch to the Series 3, noting that it is 30% larger. However, that makes it the same size as the Watches from the Series 4 onwards.
There are both Wi-Fi and cellular versions available, with the latest motion sensors. Fall Detection is supported on the Apple Watch SE, and it uses Bluetooth 5.0.
Compared to the new Apple Watch Series 6, the Apple Watch SE comes in the same sizes, and features the same Retina display — except that it isn't always-on. It has the same high and low heart rate notifications and is water resistant up to 50 meters.
The Apple Watch Series 6 has an ECG app which the Apple Watch SE lacks, but the new lower-cost model does offer the same altimeter, which detects changes in elevation as little as a single foot.
Previously, the new lower-cost Apple Watch had been predicted to come in a plastic casing for the first time. However, all models of the Apple Watch SE have an aluminium casing, available in silver, gold, or space gray.
The new Apple Watch SE is not Apple's lowest-cost model, however. At time of writing, the Apple Store continues to sell the Apple Watch Series 3 from 2017. That's currently retailing from $199, however it lacks very many of the Apple Watch SE's features, and uses a smaller display size.
The Apple Watch Series 4 is not available. However, that was removed from sale in 2019 when the Series 5 launched.
Pricing starts at $279, with Apple Card Financing available. Pre-orders start on Tuesday, with units arriving as soon as Friday.